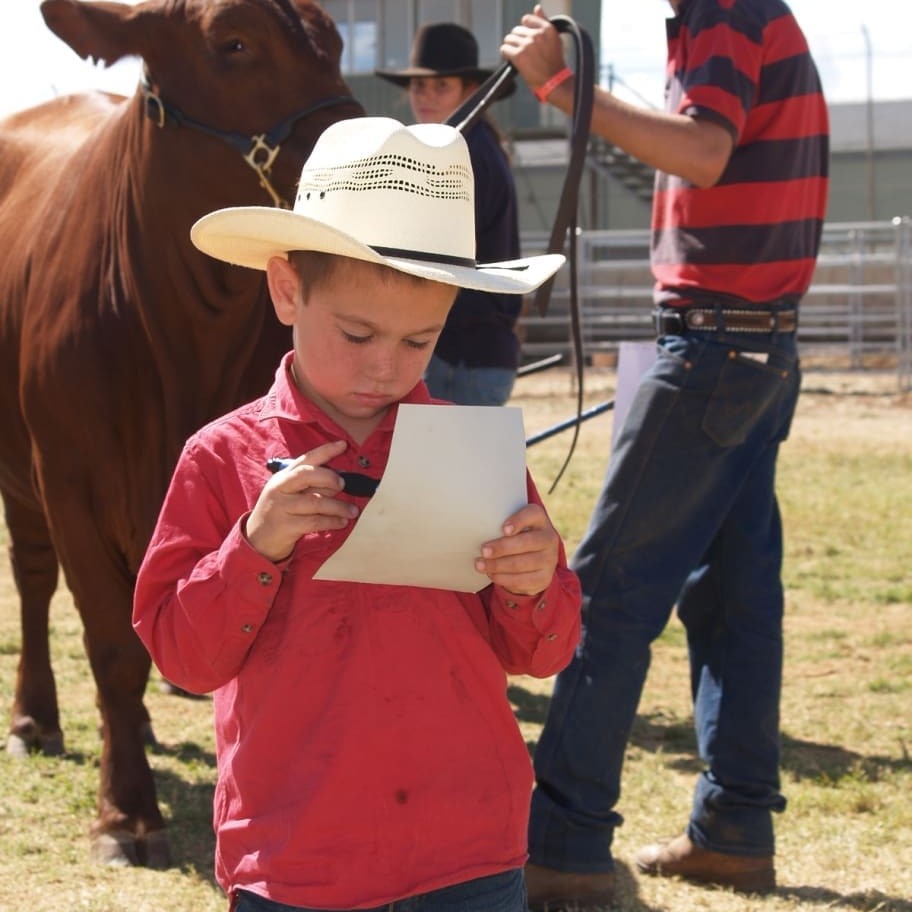 FOSTERING the talent that will drive the profitability and sustainability of the Australian beef industry into the future will be the focus of the inaugural Landmark Beef Championships in Tamworth next month.
The event, to be held at the Australian Equine Livestock and Events Centre and Tamworth Regional Livestock Exchange on October 7 to 9, will combine educational workshops with the traditional hands-on experience of showing, parading and judging cattle, Landmark Tamworth branch manager and event organiser Mark Witherdin said.
Landmark has worked closely with Sally Bannerman, Schools Animal Welfare Officer at the NSW Department of Education and Communities' Curriculum & Learning Innovation Centre, to produce an outstanding program that reflects the NSW curriculum.
"Components of these presentations are designed in part to cover off NSW Higher School Certificate (HSC) Agriculture syllabus requirements," Mr Witherdin said.
Already, 35 schools have registered to attend the Landmark Beef Championships, citing the opportunity to deliver components of set curriculum outside the classroom as a major attraction.
"This isn't just another cattle show; this is about providing a genuine educational experience that aligns youth with our beef industry and uncovers career pathways for school-aged children into agriculture," he said.
Educational sessions/workshops will include:
A low-stress livestock handling demonstration from industry expert, Boyd Holden, sponsored by Learning and Leadership Directorate, NSW Department of Education and Communities.
An emergency response demonstration in the event of a quad bike accident or injury.
A beef carcase breakdown, presented by Meat & Livestock Australia.
A workshop on animal welfare and its role in the Australian domestic and live export market, presented by MLA Australian Regional Head Lachlan Bowtell and Boyd Holden.
A workshop on animal nutrition and its importance, presented by Landmark animal nutritionist Luke Harrison.
Presentations on breeding better cattle from leading Australian breed societies.
Landmark's Tessa Archer, 25, will also be on hand to discuss career opportunities for youth in agriculture.
Tessa, a trainee auctioneer from Landmark's Roma office, said such events were vital for encouraging youth in agriculture.
"When I was finishing school, and even university, I knew this was the industry for me, however I wasn't aware of the vast array of career options that exist in agriculture," Ms Archer said.
"The Landmark Beef Championships will provide an excellent forum for like-minded youth to get together and get involved in something they love while learning more about the beef industry and possible careers available to them."

The Landmark Beef Championships will also host a vocational and tertiary career site open on Tuesday, October 8.
"The site is being represented by the best of industry and government institutions. It is aimed at assisting students investigate possible career pathways into agriculture or rural business and understand the necessary requirements needed to position themselves for such opportunities," Mr Witherdin said.
These include advice on available certificate courses, apprenticeships, TAFE courses and University pathways.
Organisations represented include Rural Skills Australia, VERTO Apprenticeships, State Training Services, Australian Apprenticeship Centre, University of New England, TAFE New England Rural Skills Centre, Future Farmers, Agrifood Career Access Pathways (AGCAP), Department of Education, Employment & Workplace Relations and the NSW Farmers Association Young Farmers Network.
The vocational and tertiary career site and educational sessions/workshops will run parallel to Australia's richest cattle show in Australia's premier livestock facilities, AELEC and TRLX.
The show has more than $40,000 worth of cash and prizes on offer across four classes of led steers, a hoof and hook competition, a jackpot competition and a further eleven classes of penned steers. There are also junior judging and junior parading events offering major prizes available.
"A pre-event worksheet is available for students with questions built around the beef industry, its industry bodies and related careers, with a $250 R.M Williams voucher up for grabs for the best entry across each of the competing age groups," Mr Witherdin said.
Click here to access more event details.