A NEW, less virulent European strain of calicivirus has been discovered in Australia, raising questions about future efficacy of biological control of rabbits.
How it got into Australia remains a mystery, and raises further questions about national bio-security.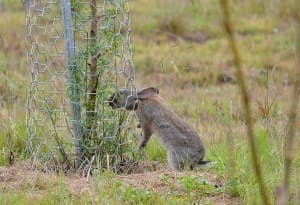 A single rabbit sampled in May as part of a routine surveillance program was found to be infected with a new strain of Rabbit Haemorrhagic Disease Virus. The infected animal came from the Black Mountain area near Canberra.
The new strain was confirmed by genetic testing at CSIRO as type RHDV2. The original strain released in Australia in 1991 was RHDV1, from Czechoslovakia.
The new strain was first seen in France in 2010 and has already spread rapidly throughout France and to several other countries in Europe. The source of the virus in Australia is apparently not known, but clearly suggests barriers to virus entry are porous.
"The new strain has already been well studied by French and Italian researchers, so we can make some judgements as to its possible impact in Australia," said Professor Linton Staples, adjunct Professor in Animal Science at University of Queensland.
Critically, RHDV2 appeared to dominate over RHDV1 and, though it does kill some rabbits, it is regarded as less virulent than the current strain that provides Australia's biocontrol for rabbits. Some rabbits infected with RHDV2 suffer from a more prolonged version of the disease.
"More worrying is that RHDV2 may cause the production of antibodies against RHDV1. Thus, this new virus has the potential to act a bit like the non-virulent version of the virus, now called RCV, to induce protective antibodies that prevent some rabbits from succumbing to the current virulent strains," Prof Staples said.
Studies of the RHDV2 also show that, while it is still a rabbit calicivirus, it also shares many genetic similarities with European Brown Hare Syndrome Virus (EBHSV) that can kill hares. Unlike RHDV1, the new RHDV2 strain has been shown to be able to kill hares of least two species.
"This could be a plus for the control of pest hares, but it also seems to be an example of mutation leading to a broadening of host range, which will be of interest to virologists," Prof Staples said.
There was no evidence that the new virus affects species other than rabbits and hares at this time.
"Given the potential for the new virus to spread and diminish the effectiveness of current virulent strains, or proposed new strains being assessed for release, it will be important to maintain a close watch on the impact of this new virus," he said.
"To date only one individual has been confirmed. Surprisingly, it appears that no effort to contain its spread has been mounted, presumably pending better surveys of its possible incursion spread."
"The impact of this new incursion will be great if it does cause a widespread and self-replicating reduction in effectiveness of current and planned virulent strains, at a time when rabbits in many areas are in threatening or rising numbers already," Prof Staples said.
Producers who may have been complacent about the ability of biocontrol to achieve total control of rabbits may need to look at more options and take advantage of conventional integrated rabbit control (baits, shooting and warren destruction) to establish local eradications, where possible.
Source: Animal Control Technologies Australia