Rennylea Angus average $8592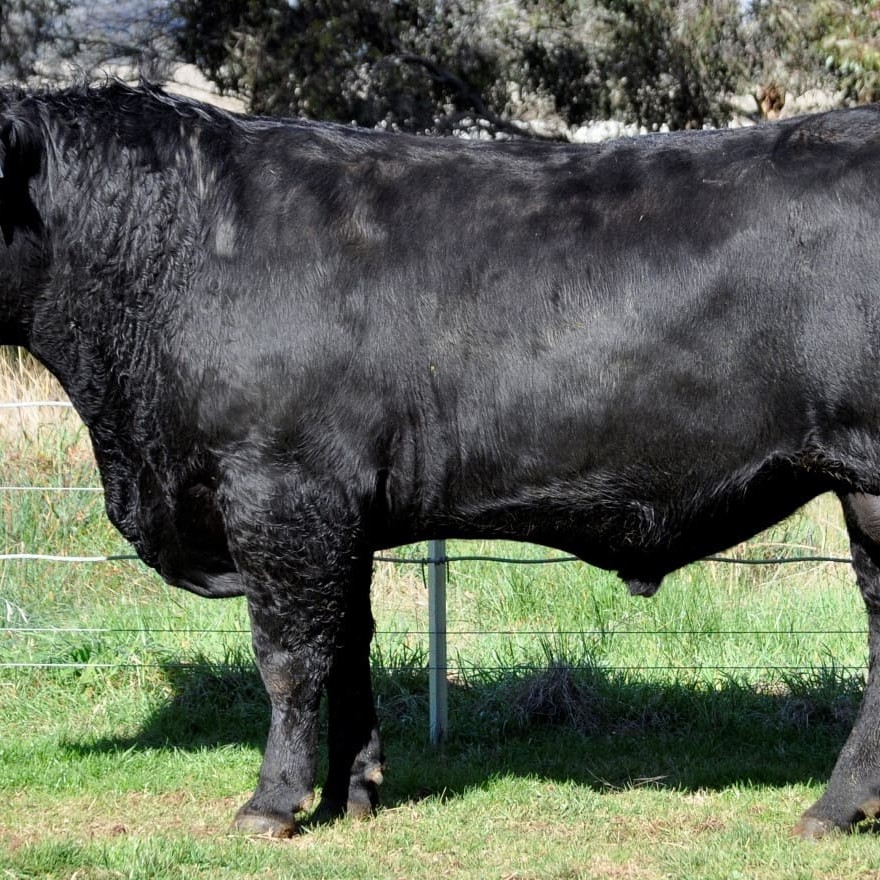 The sheer strength of support for Angus genetics this year was in clear evidence again at the Rennylea bull sale near Culcairn in southern NSW late last week, where 141 bulls produced a complete clearance averaging $8592.
The result produced a new stud record average price, and it may yet prove to be a record for any stud in NSW offering more than 100 bulls.
The result was particularly noteworthy, given that there was no "$50,000+" bull at the top of the listings, enhancing the average price of his cohorts.
More than 100 bid cards were received by the time Landmark Albury auctioneers Andrew Wishart, Peter Godbolt and Mark Barton got underway.
There were some keenly-discussed lots prior to the sale, but the general comments among buyers were that the bulls were very even. Apart from the bulls used by Rennylea in the spring of 2011, which were penned separately, the remaining 70 two-year-old bulls and a similar number of yearling bulls around 17 months were penned in their management groups. In the middle section of the offering were three pens of specialist heifer bulls, with industry-leading performance described by their EBVs.
The $19,000 top price, Rennylea F857, was bought by The Glen Pastoral Co from Walwa on the Victorian side of the Murray River. F857 was from a flush out of the outlier cow Rennylea W449. His performance is in the top 1pc of the Angus Breed for IMF and Longfed Index and top 5pc for carcase weight and EMA, as well as carrying standout structure and temperament.
Three lots from the same flush were purchased by Coolac Cattle Co, Shepstone Park Trust at Bookham and Kiah Lake Pastoral at Berridale. The six bulls from this flush sold at Rennylea's autumn and spring auctions grossed more than $79,000. Principal Bryan Corrigan says these bulls are herd changers, proven genetics from one of the legends in the Angus breed, who is now over twelve years old.
The first lot of the sale, Rennylea F227 by Te Mania Infinity was an outstanding carcase bull suitable for heifers with EBVs in the top 1pc of the breed for IMF, birthweight, carcase weight and Longfed Index. He was purchased by Peter Keary from Crookwell for $10,000. Lot 4, a bull from which Rennylea has collected semen for use in its 1100 cow herd, is also an outstanding heifer and carcase bull and was purchased by Markana Grazing on Flinders Island for $14,000.
The $17,000 second top price was Rennylea G14, purchased by Pinora Angus at Heyfield, Vic. He is by Te Mania Africa, out of the good breeding cow Lawsons Y5 who is also the dam of Tuwharetoa Regent. G14 is a cow bull, top 1pc for IMF and Longfed Index, and top 5pc EMA and other industry indices.
Bald Blair Pastoral Co from Guyra made a $16,000 purchase with Rennylea G10, another Te Mania Africa son, he was out of heifer Rennylea E55. Like every cow in the Rennylea herd, E55 calved at two years old and this is her first calf. He has a great phenotype, easy doing, great length, very good skin, structure and temperament. His performance figures were also outstanding being in the top 1pc for EMA, Longfed and Shortfed indices and top 5pc IMF and heavy grassfed index.
The Rennylea sale is conducted under an unconventional video auction system. The bulls are penned outside the sale shed, having been filmed earlier by Livestock Video. The auctioneers conduct the sale with a short video preview clip of each bull and their main attributes outlined on the screen.
Buyers this year attended from as far afield as Richmond, Queensland and the NT, from where long-standing client Crown Point Pastoral Co from south of Alice Springs paid $15,000 for Rennylea G107 – the highest marbling and Longfed indexing bull offered at auction this spring.
Volume buyers included Markana Grazing Co which purchased 13 bulls, TA Field Estates from Jugiong which purchased 9 bulls, and Don McRae from Goondiwindi, 5.
Yamburgan Shorthorns record cracking result
The annual Manchee Agriculture Yamburgan Shorthorn bull sale held by John and Liz Manchee last week at Narrabri, saw bulls sold to five states and territories, reaching a top of $15,500 for an excellent $6606 average.
Strong support from return clients saw a 100pc clearance of the 80 bulls offered, with bulls selling to NSW, Queensland, the NT, South Australia and Victoria.
"The industry support that we received from across Australia has shown the strength in our genetics to perform in all climatic conditions," principal John Manchee said.
Top priced Yamburgan Winston F63 was purchased by John Brownlie, Deepwater, Westmar, Qld, for $15,500. The 25-month-old roan bull was a standout of the sale draft, being in the top 1pc of the breed for weight for age, top 10pc for fat, with high carcase weight and intramuscular fat figures.
Mr Brownlie, who has bought at the sale for 12 years, said the bull ticked all the boxes. "He's a good growth for age bull, he's has good figures and he is structurally very sound as well," he said.
The Brownlies grows Shorthorn progeny through to bullocks, sold direct to works at average dressed weights of 350-360kg, with many still displaying milk teeth.
Winston F63 will join the five other bulls purchased by Deepwater Farming and head north to be put over Shorthorn x Santa Gertrudis cows.
Deepwater Farming was one of the day's volume buyers, averaging $9916 for its line of bulls.
Second top price of $14,000 was paid by return buyer Terry Pointing, Burracki, Yarrowitch, NSW. Mr Pointing purchased Yamburgan Ossie G58 with plans to put him over his 'best genetics' – his first-calf Shorthorn and Angus cows.
At only 16-months of age, the bull weighed 642kg and placed in the top 1pc for calving ease daughters, gestation length, rib fat, and domestic and export maternal indexes, and the top 5pc for EMA, rump fat and northern maternal index.
The day's volume buyers included the Counsell family, Barcaldine, Queensland, securing six bulls at a top of $7500, averaging $6250. AMG Grazing, Waverly, Guyra, NSW secured four bulls topping at $8500 and averaging $6625. Alcoota Station near Alice Springs bought three Shorthorn bulls to go with their bulk purchase of Durham Tropical bulls.
Among the two semen lots listed in the catalogue, a package of 50 straws from Yamburgan Tobermorey F90 sold for $200/straw to the Morgan family, The Grove Shorthorns, Condamine, Qld, and the McDouall family, Dunbeacon Poll Shorthorns, Upper Horton.
Stud principals John and Liz Manchee were thrilled with the outcome noting that 86pc of buyers were return clients with more than 80pc returning annually since the stud's first bull sale 18 years ago.
Marellan/Royalla Shorthorns tops at $14,000
The 2012 Marellan/Royalla Shorthorn bull sale saw a top price for Marellan at $14,000 with the Norland Pastoral Co of Moree being the buyer and Royalla topped out at $12,000 with their bull selling to the Hall family of Parkes NSW.
In total, 48 bulls sold to $14,000 and averaged $5100.
Futurity sets $6830 average
Jason and Kylie Catts of the Futurity Shorthorn Stud at Baradine NSW had a rock solid sale last week with a top price of $19,000 paid by Norland Pastoral Co (Norland's third major purchase for the week) and an overall average of $6830.
Send your concise Spring bull sale reports for inclusion on Beef Central's regular Friday weekly summaries to: admin@beefcentral.com