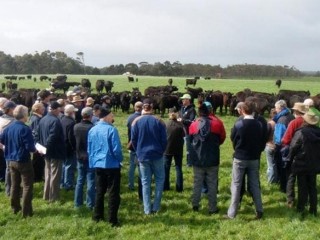 The top 25 percent of beef producers in Western Australia are six times more profitable than the industry average, according to results from the 2010-11 Red Sky farm performance survey outlined at a field day last week.
A take-home message from the Beef Bus Tour involving more than 50 producers from WA's South Coast was that they could improve their productivity by almost a third through improved grazing management.
The tour was organised by Department of Agriculture and Food in conjunction with the Wilson Inlet Catchment Committee and EverGraze.
Department development officer Victoria Surridge said the average producer can produce 30 per cent more beef per hectare as a result of higher stocking rates achieved through improved grazing management and pasture utilisation
These productivity improvements equated to additional annual returns of $65,600 for a 400 hectare beef property.
The department's dairy team leader John Lucey shared his experience with beef producers on how to optimise pasture utilisation by grazing pastures to match the biological clock of ryegrass or kikuyu.
"To optimise pasture growth and quality, ryegrass and kikuyu must be 'rested' after grazing for sufficient time to grow three or four new leaves respectively before being re-grazed," Mr Lucey said.
"This allows the plants to replenish their energy reserves through photosynthesis and maximises plant growth, as the last leaf represents 40 to 50 per cent of the plant dry matter.
"This is achieved by changing from the traditional set stocking, where cattle have free run over large paddocks or the whole farm to rotational grazing where cattle are restricted to small paddocks or areas of the farm."
Producers considering implementing rotational grazing were recommended to start small with one mob to gain confidence in this new grazing system and to start at the break of the season.
Two producers reaping the benefits of this grazing management were Albany producers Bevan Ravenhill and Sandy Lyons, who invited attendees onto their farms to demonstrate how they achieved their rotational grazing success.
Registrations are now open for a More Beef from Pastures workshop, organised through the department and Meat and Livestock Australia, which will run over two days, October 31 and November 2, at Mt Barker. The workshop will cover animal nutrition, understanding pasture balance and grazing management and building resilience into farming systems, with more workshops to follow in 2013 throughout WA. To register contact Fiona Jones on 9780 6263 or Ron Master on 9892 8521.