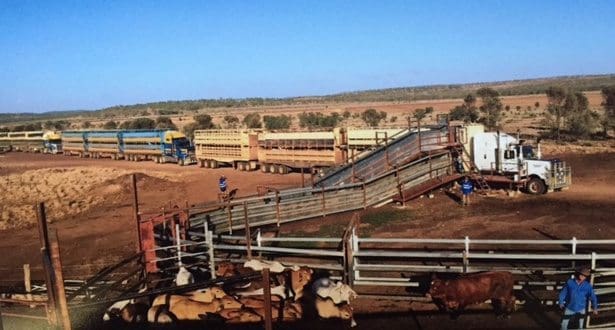 For the past three years the Llanarth Feedlot on the Suttor River between Clermont and Charters Towers has been overflowing with drought-affected cattle from northern and western Queensland, fed mainly for live export markets in Indonesia and Vietnam.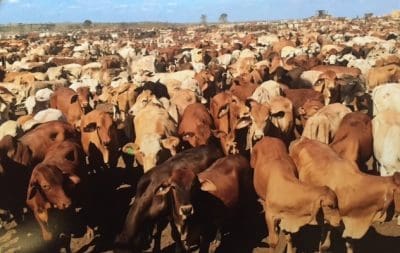 However, in a sign of how seasonal conditions have changed, demand for custom feeding in the region has all but dried up, with grass back in paddocks across large parts of the north, and producers able to focus growing herds again.
The Kenny family use their on-property feedlot at Llanarth as a trading tool, allowing them to change strategy depending on the flow of cattle and market circumstances at any given time.
As one of the northern most feedlots in Queensland, the operation is well located in terms of access to, and choice between, northern live export markets or meatworks from northern to southern Queensland.
With 800 hectares of irrigation the Kennys are able to grow large volumes of their own feed requirements, and are close to the large sorghum growing area of the Central Highlands just 150km to the south.
"It works well but it is still an opportunity operation, and we are happy to shut it down at any time," Clay Kenny says of the feedlot.
"If we stop making money and the demand dries up we will just shut the gate and forget about it until that changes."
So what is the strategy right now?
For most of this year the Kennys have been buying large mobs of cattle in to feed in their feedlot before sending them various ways depending on the right market at the time.
"At the moment we have about 2000 cattle ready to go out," Clay explained to Beef Central.
"Some will go on a boat to Vietnam or Indonesia and some to meatworks around Queensland.
"It just depends on what each class of cattle is, we split them for each market as they suit."
Focus changing to replacement breeder market
With the supply of cattle tightening and the Kennys finding it harder to get enough cattle to feed for the meat market, their strategy is changing again.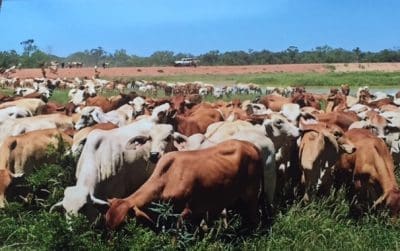 They are now looking to buy lighter heifers to feed for a short time up to mating weights, and then putting them in the paddock for joining to be sold as PTIC females.
"The margins are getting squeezed, considering what you have to buy cattle for and when you put the feed into them there is hardly anything left.
"We will still do some of that, but we're swapping the program across to the replacement breeder market."
Another factor that has changed considerably in the past 12 months is the cost of grain.
The dramatic pull-back in export demand from China for sorghum this year has led to an oversupply which has pushed sorghum prices below $200 a tonne.
"There is an oversupply of grain, and it is at a disgustingly low level for growers," Mr Kenny said.
"I would not like to be a grower selling on today's market.
"Our price for 70pc dry matter ration 12 months ago was $385 a tonne, it would be back to $300 at the moment."