Financial, animal welfare and labour-saving benefits are already flowing for cattle producers involved in a watering point telemetry Producer Demonstration Site in WA's Kimberley and Pilbara regions.
The MLA-funded PDS is designed to demonstrate the financial benefits of installing radio or mobile telemetry to monitor watering points on extensive cattle enterprises, while also identifying any issues preventing its adoption.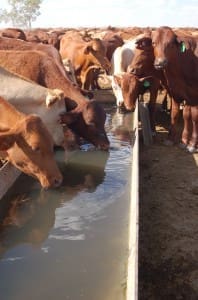 PDS leader Anne Marie Huey, from WA's Department of Agriculture and Food, said PDS participants were saving time and money.
"Bores are a big part of life in this region and conducting bore runs is a very expensive exercise, both in terms of time and money," Anne Marie said.
"Telemetry has proven successful elsewhere but hasn't had a huge adoption rate in this part of the world.
"A lot of the Kimberley has natural surface water so it may not suit everyone, but it's certainly been great for us."
Anne Marie's partner Mike De Long is one of the PDS participants and is trialling the Observant system using radio (UHF) telemetry on his Kimberley property, 'Dampier Downs'.
They have installed tank water level sensors, a camera and an automatic rain gauge on three bores.
"Pre-telemetry data from Dampier Downs showed the cost of checking the three bores from September to mid-December 2012 was approximately $4,500 in wages and more than $8,000 in vehicle running costs," Anne Marie said.
"Post-telemetry data showed a saving over three months of $1,200 and 16 hours from just one bore."
The dollar cost of physically checking water points is calculated by adding labour costs ($25/hour for a bore runner) to vehicle running costs (conservatively estimated at $40/hour and $0.30/km) over a three-month period during the dry season.
"That's the financial cost, but we're also interested in the opportunity cost," Anne Marie said.
"For example, the 16 hours spent checking one bore could have been spent fencing or working cattle, or doing something else to build value in the business." On the phone Dampier Downs is one of three properties in the PDS; the others are 'Anna Plains' in the Kimberley and 'Yarrie' in the Pilbara. Anna Plains and Yarrie are both using the 3G (mobile) network but different telemetry systems: Observant and BonTech, respectively.
At the start of the PDS each property submitted three months of pre-telemetry, dry season bore run data, to compare with their post-telemetry data.
"At this stage we're seeing a number of benefits, but we're also interested in the costs, or unexpected impacts," Anne Marie said.
"One of the benefits is improved animal welfare, because we're quickly alerted if water tank levels suddenly drop.
"There's also the peace of mind that comes from being able to check your water levels on your phone, from anywhere in the world.
"We've found there's also an occupational health and safety benefit, as it's good for tracking staff around the station. If you have inexperienced staff doing bore runs and they don't come back for a few hours, you can work out where they are on the station, based on which bores have been pumped.
"On the cost side, the system won't pick up on any problems that aren't directly related to water.
"For example, if there's a broken fence 2km from the bore or some issue you would normally notice on your bore run, such as dog activity, it won't pick up on that.
"So, we're not advising to replace bore runs altogether, because we recognise they still need to be done, but telemetry can reduce their frequency."
The PDS will conclude in mid-2015.
Source: MLA.