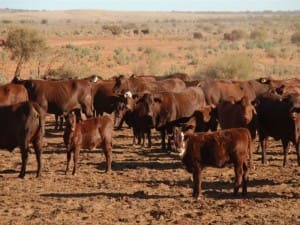 With much of Queensland in drought many producers are implementing drought strategies aimed at minimising losses and maintaining productivity.
There are many factors which influence the relief measures used to cope with drought conditions. These include: the expected duration of the drought, the current water and feed supplies, herd composition and condition, time and labour, present and future markets, financial resources and attitude to risk.
Having a written drought plan with strategies which are consistent with the goals of the grazing business is important. Producers who experienced the 2003 drought said that the key to staying in control is "forward planning –knowing what you are going to do and when". They said that their best decision was "destocking to critical dates" and their worst decision was "not acting early enough".
The following drought management strategies are important:
Adjust stock numbers according to currently available pasture and water supplies in order to last well into the next expected wet season. Good ground cover before the summer rains is important to improve infiltration and hold valuable soil nutrients in place for better pasture growth. While some may get early storms, it will be safer to cater for a later break to the dry season, especially in El Niño years. Four dry season forage budgeting videos can be viewed on the FutureBeef website www.futurebeef.com.au/resources/multimedia/#GLM.
Sell least productive, highest risk stock such as pregnancy tested empty and late calving cows, cull heifers, old cows, poor temperament and poor doers.
Wean calves, as young as 3 months of age, to help cows maintain condition and fertility. Calves will need good nutrition.
Pay attention to water quality and supply to make better use of paddock feed and prevent cattle bogging and polluting water.
Plan supplements ahead, establish contracts or purchase when there is greater availability and lower prices. Consider the cost of nutrients, moisture content, risks and chemical and weed vendor declarations. Supplements are used to value add pasture. Feeding is buying food as a substitute for pasture. Most people agree feeding is best kept to short periods or preferably avoided using appropriate stocking rates.
Segregate herds for more efficient supplementing of stock according to their needs.
Maintain good herd health to control risks such as botulism and parasites. Lice and worms can become problems in drought when cattle's immune systems are challenged.
Beware the break in particular weak cattle chasing green pick which is mostly water.
Wet season spell some paddocks each year for more productive pastures.
When stock numbers exceed, or are anticipated to exceed, feed supply options include; selling, agistment, feeding (production, feedlot, survival), drove, lease or buy more land. It is important to do the sums. Tools to help assess the cost of selling versus feeding, production feeding, custom feed lotting and costing nutrients are available at www.futurebeef.com.au/topics/business-management/beef-business-tools.
Selling: Past droughts have found many producers retrospectively regarding selling early to reduce stock numbers as one of their better options. Sales of normal sale stock and vulnerable breeding stock has the attraction of converting cattle into cash, preserving more paddock feed for remaining stock and tightening up calving.
As one cattle producer put it, "Every beast on the property represents dollars and dollars aren't subject to drought". Selling takes some of the stress off you, the paddocks and the remaining stock.
It controls downside risk of escalating costs and losses over an unknown period, and leaves you more time and opportunity for other work. It may rain the next week, but the philosophy adopted by many is that it was the right decision under the circumstances at the time.
Pastures will also recover more readily. Moving early provides a bigger pasture sparing effect and often has the advantage of stock having better condition and sale prices.
Difficulties in selling revolve around losing known stock and genetics bred up over time, uncertainties of low sale prices, buy back price and quality and hoping for rain. Forecasting the outcomes if it does not rain and remembering that productive pastures are the foundation of the business, can help decision making.
Agistment can work well to avoid feeding and spell home pastures, or it can be a very costly problem. Sending steers on a one way trip can work well. Contracts are important for both parties. Some problems include finding it, time and distance from home property, management, communication, fence maintenance, yards, feed running out and having to find more agistment or return home, poor performance, losses, bogging, diseases, parasites and plant poisoning.
Production feeding can work well if stock have nearly reached a price premium but won't quite get there without some better feed. The economics are better with lower feed costs, shorter feed periods, good performance and higher sale price. Cull cows can be an opportunity where there can be very significant increases in sale price by lifting carcase weight and fat above a critical threshold.
Custom feedlotting: ask for and do the budgets to check the likelihood of profit. Ensure sums are done consistently using 'as fed' or 'dry matter' figures. Understand charges, risks and marketing options. Check entry specifications and requirements and avoid putting poor temperament and poor performers into high cost feeding. Having a full pen load can reduce mixing stress and disease issues.
Survival feeding can work well if you're well prepared and it is not too long and expensive. Otherwise feeding can be very expensive, time consuming and stressful for you, stock, pastures, equipment and finances. Problems include not knowing how long it can go for, reducing feed availability, rising feed costs, less time and opportunity, stock may become unsaleable, stock losses, pasture damage, soil erosion risk and impact on future productivity.
For more information
This article originally appeared in the FutureBeef BeefTalk newsletter. To visit the FutureBeef website and to find more information on drought management strategies click here www.futurebeef.com.au/topics/drought