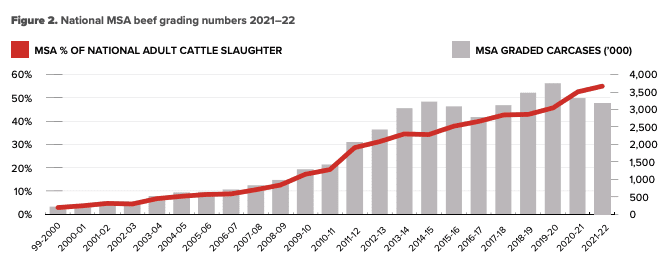 The percentage of national adult slaughter cattle meeting Meat Standards Australia grading requirements in Australia rose to a new record of 55 percent in 2021–2022, according to latest annual data from Meat & Livestock Australia.
That is up from 53 percent in 2020–2021.
The number of cattle MSA graded in 2021-22 was reported at more than 3.25 million, which compares to 3.3 million graded in 2020-21.
While this year's overall number was lower, the percentage graded was higher in a year of reduced overall slaugther numbers, according to MLA.
More than 3.25 million cattle were MSA graded through 39 Australian beef processors in 2021–2022, with an equal highest national MSA compliance of 95.5pc.
MLA said the MSA program delivered a record $204 million in estimated additional farm gate returns to MSA beef producers in 2020-21, a significant increase from the estimated $157m delivered in 2020–2021, and more than the previous record high of $198 million in 2018–2019.
MSA Program Manager at MLA, Dr David Packer, said the latest MSA Annual Outcomes Report demonstrated the red meat and livestock industry's growing commitment to eating quality and meeting consumer expectations.
"The record $204 million in estimated additional farm gate returns is a result of the year-on-year growth of the program, greater use and value extracted from MSA graded carcases which now underpins 193 beef and 22 sheep brands and improved on-farm performance towards better MSA outcomes.
"While there was a slight decrease in the number of cattle graded in the previous financial year, it reflects an overall reduction in slaughter numbers as producers take advantage of generally favourable seasonal conditions across many production regions to rebuild herds," Dr Packer said.
Over the past year, more producers across the country became MSA registered. In total, 2,157 cattle and sheep producers became MSA registered in 2021–2022, taking the total number of registered MSA producers to 47,188. To aid in improving on-farm performance, 2,502 producers used the myMSA feedback system to understand grading results and look for opportunities to improve, as well as 1,425 participating in MSA education activities.
Steps continue to be taken towards the commercialisation and rollout of a MSA cuts-based sheepmeat model in the past year.
"Working with supply chains across Australia, MSA continued carrying out benchmarking activities to understand the range in eating quality of the commercial flock through these supply chains.
"This has helped to deliver the value proposition of the MSA sheepmeat cuts-based model, which will ultimately allow for processors and brand owners to apply sophisticated eating quality segregation within their supply chains.
"The aim is to commercialise the model in the 2022-2023 financial year," Dr Packer said.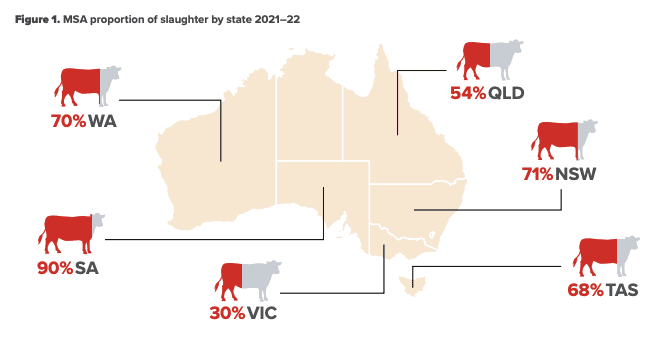 In 2021–2022, more than 2.1 million sheep followed MSA Pathways through 15 MSA-licenced processing facilities across New South Wales, Victoria and Western Australia. This represented 10% of the total lambs processed in Australia and of these, 84% were trademarked MSA.
Throughout 2021–22, 469 audits were conducted on MSA licensees from saleyards and processors, through to retailers, wholesalers, independent boning rooms, supermarkets and foodservice outlets.
In addition, MSA also conducted over 100 integrity checks with MSA-licenced processors to support their continued success in utilising the MSA Standards.
"Overall, these results indicate that the MSA program continues to grow and plays an essential role in the Australian red meat industry's goal to double the value Australian meat sales by 2030," Dr Packer said.
Source: MLA. Read the full report at Meat Standards Australia.