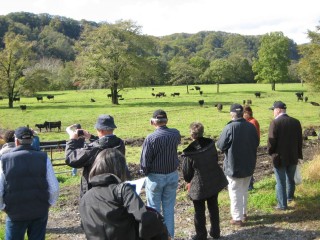 A Meat Profit Day planned for Eidsvold in Central Queensland next Tuesday will give producers timely and practical advice on strategies to improve their beef industry businesses.
Meat Profit Days are designed to help red meat producers get up to date with the latest information on industry research, new products and trends for achieving greater profitability within their business.
They are held twice a year around Australia, and the next one will be held at Eidsvold next Tuesday, June 28.
The organising committee of Northern Burnett beef cattle producers has put a lot of thought into planning a day that producers will be able to use to progress their own operations.
Organising committee member Alice Greenup said speakers and workshops had been carefully chosen in line with the overall theme of "Inspire, Learn, Act", with all aspects designed to help producers focus on controlling the elements of their operations that they can control to build better businesses.
"We felt this was a real opportunity for a real direction, and to make a really positive day that will take people forward," she said.
"I don't want to lose that even though there has been the live export issue. We want to put our best foot forward.
"This is really about honing in on the aspects of our business that we can really work on.
"Remember we're doing what we love, we're in an industry we love, let's believe in it, be inspired by it, learn more about it and then go home and do something about it.
"That is where inspire, learn, act comes from."
Meat and Livestock Australia chairman Don Heatley will provide the key opening address looking at the challenges and opportunities facing the beef industry. It will provide a timely opportunity for producers to learn about how MLA's work to improve animal welfare systems within Indonesia is progressing, and to receive the latest views on what the short to medium term future holds for Australia's beef and cattle industry.
Young South Dakota cattle producers Troy and Stacy Hadrick will discuss the proactive lengths they have gone to in the United States to tell the positive side of agriculture's story, and to counter the many negative stories and misconceptions perpetuated about agriculture by environmental and animal welfare lobby groups.
Dr Toby Ford will provide advice on practical ways to maintain and improve health while Australian Meat Industry Council chairman Terry Nolan will discuss strategic directions for the beef industry.
Three practical "Meating in the Middle" modules, each featuring a range of presenters, have been carefully devised to equip producers with a raft of useful and valuable tips on marketing, meeting production goals and balancing work and lifestyle challenges.
Dinner and drinks at the end of the day will provide an opportunity for participants to debrief and to celebrate the season.
The Meat Profit Day will be held at the RM Williams Bush Learning Centre on the Burnett Highway, Eidsvold, on Tuesday, June 28. Registrations and trade displays commence from 7:30am, with the official opening by MPD organising committee chair Kara Knudsen from 8:30am.
• Monday, June 20, is the last day for MPD participants to qualify for early bird registrations at the following rates: $20 for MLA members, $30 for non-members; $10 for students; $20 per person for dinner (including meal and limited drinks). It is also the last day that a special family rate of $80 for MLA members applies, which includes entry and dinner for up to four family/business members. From Tuesday, June 21, registration costs will be: $30 for MLA members, $40 for non-members, $10 for students, $20 per person for dinner (including meal and limited drinks).
• Registration details and further information can be viewed on the MDP Eidsvold information flyer by clicking here.