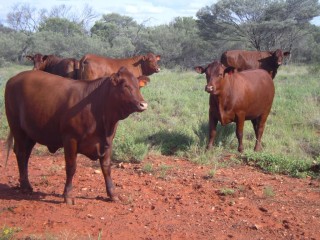 Central Australian beef producers will have an excellent opportunity to engage with researchers, veterinarians and other specialists at an upcoming Female Fertility Field Day to be held at the Old Man Plains Research Station near Alice Springs.
The day, being staged by NT Department of Resources and Meat & Livestock Australia, will be held at the research station's mulga dam from 9.30am on Friday September 23.
NT cattlemen and women will have the opportunity to see demonstrations of new and emerging technologies to assist with beef cattle pregnancy diagnosis.
One of the speakers will be Tim Schatz from Department of Resources, who will cover his recent research work in cost-effective improvement of heifer conceptions.
Other speakers include Dr Johanna Rheinberger from the Ironmines Veterinary Clinic; Tim Driver from Precision Pastoral Co; local producer Paul Smith from Tieyon Station, south of Alice Springs; and Dr Peter Saville from the Department of Resources.
Dr Richard Shephard of HEARD Systems will demonstrate the ePreg hand-held electronic pregnancy testing device, being developed with funding support from MLA.
People interested in attending should make contact by next Monday, September 12. The contact is Bryan Gill, mobile 0401 118 127 email bryan.gill@nt.gov.au