A new Angus breed record price of $117,500 headlined strong autumn stud sales results across three states last week, where figures generally stood up well to the impact of dry conditions across large areas of Eastern Australia.
Irelands Angus of Wagga Wagga set the new breed record at its annual autumn sale for Irelands Galaxy G43, a rising two-year old bull bought by Sam Trovatello of Adameluca Angus stud at Kyneton in Victoria. Irelands will retain a quarter semen rights share.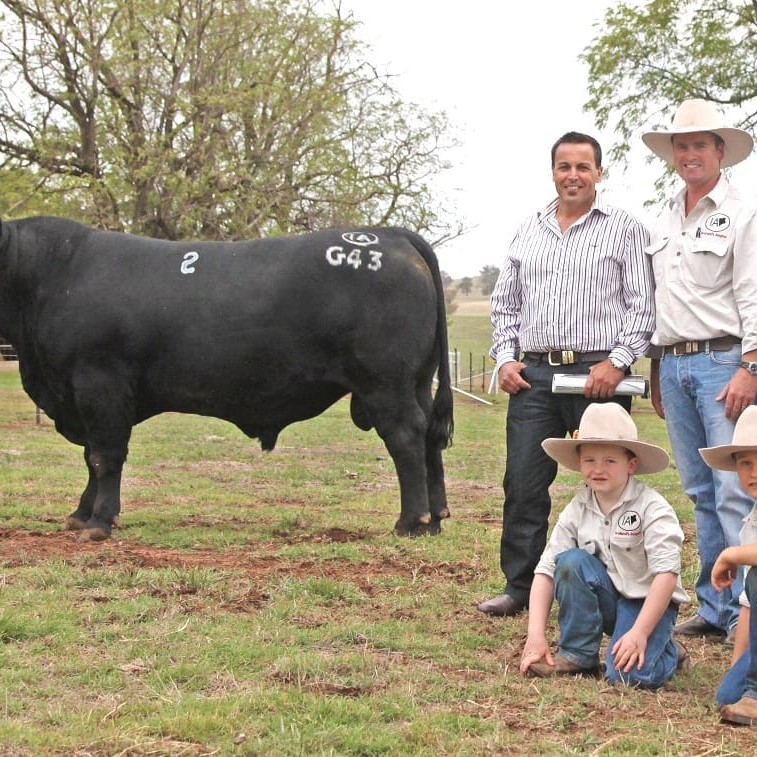 Vendors Corey and Prue Ireland said Galaxy was an outstanding individual that had already been used extensively within their herd, and they felt sure he would have an impact on the broader industry.
Irelands Angus last week recorded a 100 percent clearance for 60 bulls and also sold 400 commercial females. Bulls averaged $7071, only slightly back on the $7209 for a much smaller offering of 32 bulls sold last year. Bulls this year went to buyers from across Victoria and NSW.
Sired by Irelands Deltroit D2, the breed's new record-setter had a 600-day EBV of +107, well above the breed average of +92, and an eye-muscle area of +5.6, also above the breed average of +3.8.
The new recruit will be used over 100 select registered Angus breeders put together as the foundation breeding nucleus for Mr Trovatello's Adameluca stud, established only 12 months ago.
$6105 average for Lawsons bulls
Earlier, prominent southern seedstock producer, Lawsons Angus, recorded a solid result for its 43rd Victorian autumn production sale held at the stud's Glenburn bull depot.
The total clearance of 191 bulls and 92 females was a pleasing result for principal, Harry Lawson, who said that the season's mixed sales results to-date made it hard to predict the outcome of this autumn's Lawson's sale. As the day rolled on, it was clear that dry conditions in many parts of southern Australia weren't going to hold back the buyers from taking home the bulls they needed to give their herds a genetic boost.
In total, the 191 bulls averaged $6105, while 92 registered females averaged$3145, with strong support from new and current clients from all states of Australia and overseas.
Bulls sold to a top of $37,000 for a beautifully balanced Tank son, purchased by Dunoon Cattle Co, Holbrook, after strong bidding pressure from Rennylea Angus.
Females sold to a top of $8500, the top priced female bought by Independent Rural Agents in WA.
Volume buyers included were Carpenter Beef, WA which averaged $6500 for six bulls, King Islanders Tim Schurring and Claire Perry and Sustainable Agriculture Fund who bought seven and eight bulls respectively and Roy and Carol Peddle from Flinders Island who bought seven bulls.
Panshanger Estate Tasmania bought eight bulls. Panshanger has 200 Lawsons Angus bred PTIC females for sale on April 26 at Cressy, Tasmania.
Amongst the volume female buyers were King Isle Farms taking home 20 PTIC females, Ironstone Creek Angus, Tasmania with 21 and Balmoral Park Angus bought 20 PTIC females, all in calf to some of the top Angus bulls available in Australia.
Qld female record for Raff Angus
Further North, Raff Angus based at Drillham on Queensland's Darling Downs recorded a strong female production sale last week, against very dry grazing conditions across large parts of Queensland and a falling cattle market. The sale recorded a 90pc clearance, and was headlined by a $30,000 state record auction female price.
Stud principals Andrew, Anna, David and Jill Raff sold their 2012 Sydney Royal grand champion female, Raff Burnette B126 to regular repeat buyer John Toohey and Gillian Fahle, Murra Angus, Walwa, Victoria.
The prolific show-winner was in calf to successful sire, Raff Dictator D364, and will become Murra's leading embryo donor female.
Raff Burnette has a blue-blood pedigree being out of Raff Burnette U108, a full sister to Raff Ultimate U27, a bull which sold to Andrew Smith, Tieyon Station, Alice Springs, for the $30,000 Queensland private sale record price in 2002.
Angus seedstock breeders from Queensland NSW, Victoria and South Australia were active at the sale.
Marketing agents Glasser Total Sales Management and Ray White Livestock Sales Management sold 78 registered females for a $3307 average, and 14 in-calf APR Raff heifers in two pens for a $2114 average, selling to a top of $2400 – also believed to be a Queensland record in this category.
PTIC cows with predominately bull calves at foot topped twice at $6500, while a four-month 'pick of the flush' x five flush sister sold for $6000. PTIC cows topped at $5500 and PTIC heifers topped at $4500 selling to both studs and commercial producers.
Unjoined heifers topped at $4500 for a quality APR heifer selling to George and Lorraine Bartolo, Carrinyah Park, Nebo. The Bartolo family was a volume buyer purchasing 25 head, with the better cows and heifers going into an ET program this year to be flushed to both Angus and Brahman bulls to start a North Queensland Angus and Brangus bull breeding program.
Noel & Joanne Chicconi from Taylors Plains Mungallala bought a good line of females to be used within their Senegus/Senepol breeding program.
$5200 top for Nindooinbah females
Euan and Kaye Murdoch and the Nindooinbah team conducted their second on-property female sale on Friday.
In the breakdown 190 Angus, Ultrablack and Brangus females averaged $1542, with a stylish Brangus female topping the draft at $5200 when bought by Hallelujah Brangus at Wondai, in Queensland's South Burnett region. Buyers came from all parts of Queensland plus Central and Northern NSW.
Marketing agents for the sale were Ray White Livestock Sales Management with James Croft and Michael Glasser for GTSM as auctioneers.
Overall the result was pleasing, but there was some value for money in the buying especially in the Angus section of the catalogue, as the dry season further west had an impact.
The Ultrablack and Brangus sections of the catalogue drew keen interest with both sections commanding strong bidding support.
The Sale was conducted by new formed Ray White Livestock Sales Management with auctioneering duties shared by James Croft and Michael Glasser from GTSM.
Record $8633 average for Te Mania
As reported earlier on Beef Central, Te Mania Angus produced a new on-property sales record average for bulls, averaging $8633 at its Autumn sale in Mortlake a fortnight ago. The sale produced a total clearance of 113 bulls, with the average up $766 from last year.
The sale attracted strong international interest, with buyers from Russia, Switzerland, Kazakhstan and Thailand, as well as across Australia. The $24,000 sale topper bought by Rob Crosby of Kansas Angus, Boggabri, NSW and Hard Hat Angus was from one of Te Mania's first draft of bulls from Tuwharetoa Regent D145. His 12 sons averaged of $10,500.
Bulls by Te Mania-bred sires featured strongly. Ten sons of Te Mania Berkley B1 averaged $12,300 and nine by Te Mania Africa A217 averaged of $10,889. Long-time client Morella Agriculture from Goondiwindi, took seven bulls averaging $9714 while the Reid family's Minnamurra Pastoral Co, Wollar, NSW, selected six averaging $10,333.
In Sydney for the Royal Easter Show Angus judging last week, Angus Australia chief executive officer Peter Parnell said the new breed record price of $117,500 set last week was reflective of the society's members continually focussing on advancing the genetics of their seedstock, which in many cases was leading to outstanding sale prices in recent sales.