WITH rain drenching large parts of Queensland and New South Wales well into Autumn this year, the outlook for winter fodder crops is proving to be a mixed bag – with many producers struggling to plant on-time.
Both areas have hosted big fodder crops in the past two years, with many producers capitalising on the moisture profile coming out of drought and beginning to rebuild depleted herds. But a wet autumn has made it hard to plant and presented some waterlogging issues.
Darling Downs-based, Eastern Rural, livestock agent Peter Bird said the waterlogging issues have also been present in the native pastures.
"I think a lot of people are keen for the oats crops to come through, because the pastures response to that rain was a bit disappointing – perhaps that was because it was too wet," Mr Bird said.
"But there are a lot of cattle around here that have frame and will benefit from a good oats crop."
Mr Bird said the oats crops in the area were looking good and grazing was likely to start earlier than recent years.
"Last year we didn't get onto the oats crops until July, but this year we're ready for the start of June," he said.
"We've been able to plant a bit earlier this year because we haven't had to wait for the season to break. Last year, we were waiting until March for the season to break."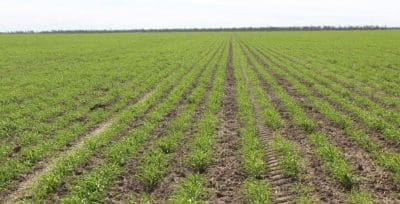 Northern NSW drenching makes for late planting
Tamworth-based agricultural consultant and grazier Sam Newsome said most producers in Northern NSW were enjoying a positive outlook. But he said fodder crops were a mixed bag.
"The New England graziers have had a pretty tricky time with wet weather as all of those coastal fronts, that caused the flooding on the North Coast earlier this year, also brought rain to the Tablelands," Mr Newsome said.
"A lot of producers have either struggled to get their crops in on time, or their crops have been fairly waterlogged since planting. Similarly, the wet weather has made it difficult to establish new perennial pastures.
"However, offsetting these challenges however is that the established pastures are doing well.  So, heading into winter, the feed on offer and condition score of livestock, were better than what is typically the case."
North West Slopes crops less profitable
Mr Newsome said some of the fodder crops on the North-West Slopes were looking significantly less profitable this year than other years.
"While there are some impressive crops, a percentage of the crops have either had short fallow or were sown late – which means if grazing management is not spot on, they may only have 120-150 grazing days as opposed to the 180-200 grazing days we have had in the past couple of years.
"Some of the crops are coming off a shorter fallow period as we had a very mild summer, so a lot of last year's fodder crops kicked on into the December and a lot of people were tempted to keep grazing these crops into the New Year, at the expense of a good fallow in preparation for this year's crop.
"With lambs and weaner cattle perhaps 10pc heavier than is normally the case going onto crop, this may compensate in terms of the eventual turn off weights."
Mr Newsome said there was big difference between crops that were sown late and the ones that were sown on-time.
"In a beef cattle example a handy crop may be grazed at say 900kg LW per ha for as long as 180 days compared to a lesser crop running at 650 kg LW per ha for 150 days, there will be a big difference in beef produced per ha", he said.
"The crops that had a reasonable fallow for December, January and February and were sown on-time, in late-February or early March, are looking pretty good after around 50 mm of rain in recent weeks which enabled the secondary roots to get established. The crops were anchored for grazing by late May and no frost up until this week."
Weed issues arising from wet years
Mr Newsome said with plenty of rain in 2021, producers have been battling weed issues, coming out of 2021.
"There has been a lot more tillage and use of speed tillers this year in preparation fodder crops, due to hard-to-kill weeds like fleabane and wire weed as well as pugging in fodder crop paddocks in 2021," he said.
"Nutrition of crops has also had its challenges with paddocks potentially having grown two high yielding crops in the past two seasons, which has taken a proportionate amount of nutrient from soils. Some areas have suffered a bit from waterlogging and the de-nitrification and pugging that can go with that.
"All in all, some of the crops will grow less dry matter and have less grazing days than budgeted. At say $2000 for an angus weaner at 2-3 head per ha, the interest bill (or opportunity cost of these funds) along with rising chemical and fertiliser input costs, all crops will have an additional cost base of 25-50pc on previous years. In summary, the gross margins from the fodder crops will vary greatly again this year, regardless of the cattle market."