TWO recent developments have put further obstacles in front of future prospects for Australian beef exports to the lucrative European Union market.
On Thursday, European Parliament legislators voted decisively to adopt much tighter controls over the use of antibiotics in production animals, as part of a move to fight against antimicrobial resistance.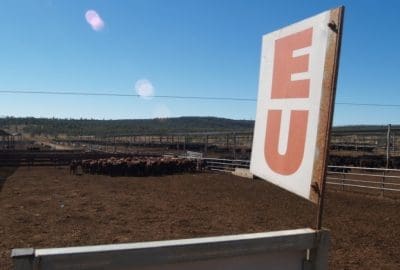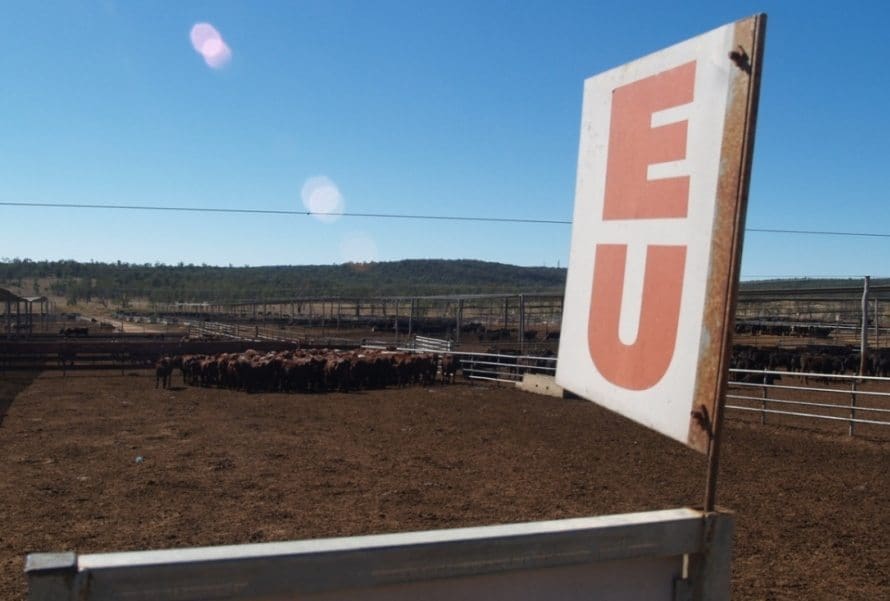 And in a separate development, Australian EU-accredited beef producers have received a warning from the Department of Agriculture over the use of popular oestrus synchronisation drugs used in artificial breeding programs in beef cattle.
The European Parliament on Thursday voted 583 to 16 to approve limits on the use of antibiotics in farm animals produced for food, which will apply to imported as well as domestically-produced meat protein.
The new regulations, which become effective in 2022, must now be formally adopted by the European Council. The agreement proposes to limit the use of antimicrobials as a preventive measure, in the absence of clinical signs of infection, to single animals.
A veterinarian must approve and justify the use of antibiotics in cases where there is a high risk of infection, and the proposed legislation says antibiotics should be administered only after a vet has diagnosed infection and prescribed antimicrobials, according to the measure. The new law also stipulates that antibiotics cannot be used to promote growth of animals.
Members of the European Parliament also approved new rules on the production, sale and use of medicated feed. New rules will ban prophylactic (preventive), use of antibiotic medicated feed.
The EU is a small volume, but high-value market for Australian grass and grainfed beef. Exports during calendar 2018 year to date have totalled 12,156 tonnes.
Challenge for fixed-time AI programs
In a separate EU market development, Australian beef producers operating under EUCAS accreditation have received an official advice warning them about the use of an oestrdiol-based drug used to synchronise breeding females as part of artificial breeding programs.
A leading cattle veterinarian who works with clients on large-scale AI programs says he has received phone calls from distressed producers and fellow veterinarians over the advice.
"Those producers see this as a threat to their enterprise, given that it greatly limits the opportunity for rapid genetic improvement," he said.
The DAWR letter received by EUCAS producers said the department was aware that as part of the European Commission's aim to assure compliance with EU standards, there had been an emphasis on the use and control of oestradiol during audits of trading partner countries.
"The purpose of this advisory notice is to remind EUCAS producers that oestradiol and its ester-like derivatives are prohibited for use on EUCAS-accredited properties," it said. "This includes in cattle than can be used to produce meat for export to the EU, as well as non-EU eligible approved breeding cattle."
The department said gonadotropins and prostaglandins were permitted for hormone treatment during oestrus synchronisation on EU-accredited properties when used as per product directions, but both products are considered by AI practitioners to be greatly inferior to oestradiol in terms of performance in synchronisation.
"Australia needs to stay out in front in terms of integrating genetic technologies like fixed time AI in beef production, and this development represents a considerable setback for any producers targeting the EU market," the concerned cattle vet said.
"It's taking one of the really important tools out of the genetics toolbox. A lot of work has gone into the development of fixed time AI protocols in Australia and South America, which rely heavily on the value of oestradiol to initiate the synchronisation program," he said.
"There are alternative synchronisation products available prostaglandins, but there's no double that oestradiol is the superior product for the initiation of fixed-time AI programs, especially for heifers."
The vet said dosages of oestradiol during AI synchronisation were so low, and the half-life was so short, that any anabolic effect would be 'miniscule'.
"And the fact that it is being administered to heifers for breeding purposes means that any risk of the animal being sent for slaughter soon after treatment are about zero. At very least, it is five to six weeks after AI before they can be preg-tested, and then most heifers need some grass or grain finishing before they are ready for slaughter."
The concern vet said it was "really unfortunate" that the issue had come up at a time when there was growing recognition of the value of integrating fixed time AI into southern and northern beef enterprises across Australia.
He suggested affected producers had two main courses of action – either dropping their EU-accreditation to allow them to continue to use oestradiol in their fixed time AI programs, or use a product with less efficacy that would impact AI conception rates.
"The EU market is a little fickle at times, so some may elect to drop out of the program," he said.
"The cynic in me wonders whether this is a bit of a broader play by the EU, to try to squeeze Australia out of this market."
DAWR suggests EU-eligible producers should seek clarification from their vet around fixed time AI practises, for animal husbandry treatments.