ON THE the eve of Brisbane's annual 'Ekka' Royal Show there's been a call from the 'engine room' of the Australian beef industry  for cattle to get more credit for their positive impact on the carbon cycle .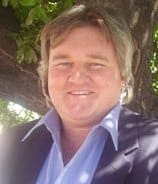 Central Queensland stud cattle breeder and successful Ekka exhibitor Geoff Maynard says until now the debate over cows and carbon has focussed almost exclusively on the animal's 'exhaust emissions' – methane.
"But taking a more holistic view, I'd argue that  cattle are also nature's carbon-capturers and converters," Mr Maynard said.
"One hundred percent of their diet is stored carbon – grass – and by running cattle on grasslands that in many cases aren't suitable  for any other type of agricultural production , they're grazing 'carbon' into food," he said.
In the process, cattle also prevented millions of tonnes of stored carbon being released into the atmosphere through wildfires.
Mr Maynard is calling on Australian scientists  and researchers to help quantify the total impact of cattle, to better inform the carbon debate.
And to kick it off he conducted a small-scale trial with his own cattle being agisted at the Belmont Research Station near Rockhampton. Under the project, a time-lapse camera was focussed on two adjacent paddocks  for twelve months – one of them grazed, the other left fallow.
"The camera took a snapshot every 20 minutes and gave us a unique insight into a year in the life of the animals and their environment  – both grazed and ungrazed," Mr Maynard said.
At the end of the trial, the fallow paddock was set alight to simulate the dramatic impact wildfires have across northern pastoral areas each year .
"There's no doubt cattle play a significant role in minimising  the release of  even more carbon into the atmosphere by converting that grass into meat protein, and manure, which contributes to soil fertility," he said.
A two-minute video using the time lapse photography sequence and other footage has been produced, which Mr Maynard hopes will spark a lively debate over 'cows and carbon.'
Click the link below to access the video:
"The beef industry deserves  to get more credit for its positive impact on carbon,  instead of the continual negative emphasis on methane emissions," Mr Maynard said.
Geoff Maynard is a director of Meat & Livestock Australia.