Angus cattle continue to perform at a high level for JBS Australia's grainfed programs, based on extensive statistical data presented at the Angus Australia national conference held in Ballarat on Tuesday.
JBS assistant livestock manager Duane Woodham presented a range of key performance indicators comparing Angus with other breed derivatives used in the company's feedlot programs, ranging from 70-day domestic cattle to 220-day longfeds – all now sourced direct.
He told the conference the figures were compiled across all cattle slaughtered at JBS's Beef City abattoir over 30 months from January 2010 to June 2012, and drawn from the company's Beef City, Caroona, Mungindi, Prime City and Riverina feedlots.
In total the sample included 198,000 Angus cattle, 96,000 'Mid-fed 1' category (MF1) cattle (mostly black baldies and Shorthorn x Herefords) and 82,000 'Midfed 2' category (MF2) cattle, including Herefords, Angus x Santas and other flatback derivatives.
Adjustments were made for days on feed, and grouping effects including feedlot exit and feeder type to 'normalise' the data.
Mr Woodham said JBS had not monitored any great recent decrease from its targets on all three groups, despite the change to feeding programs and the general departure from feeding cattle 260 days or more.
Among the key performance indicators:
Average daily gain: across the Angus cattle fed, ADG averaged about 1.42kg/day, with the MF1 group 1.39kg/day and MF2, 1.38.
Hot standard carcase weight: Angus 391.5kg; MF1 388kg; MF2 385kg.
P8 site fat depth: Angus 23mm; MF1s 23.5mm; MF2s 21.5mm.
Eye muscle area: 83sq cm for Angus, 82mm for MF1 cattle, and 82mm for MF2s.
Marbling: AusMeat BMS of just below 2 for Angus cattle (still on target, despite the reduction in days on feed in some programs); 1.8 for the MF1 group and 1.4 for the MF2s.
Saleable meat yield: the Angus component is averaging 251kg (64.1pc); MF1s 249kg (64.2pc); MF2s 249kg, (64.6pc).
Using JBS's feeder steer index (not a profitability calculation, but used to estimate the value differences between feeder steer classes) there was a +$23 difference in value of Angus (400c) over an MF1 steer (380c), with the MF2 feeder cattle further back on 350c.
Converted back to a liveweight price, that might represent 200c for an Angus, and 195c for an MF1 steer, he said.
"All in all, Angus cattle are performing very well and continue to deliver what we want, as a business, because ultimately we still sell into these markets on a marbling score, meat quality and texture."
BRD pre-vaccination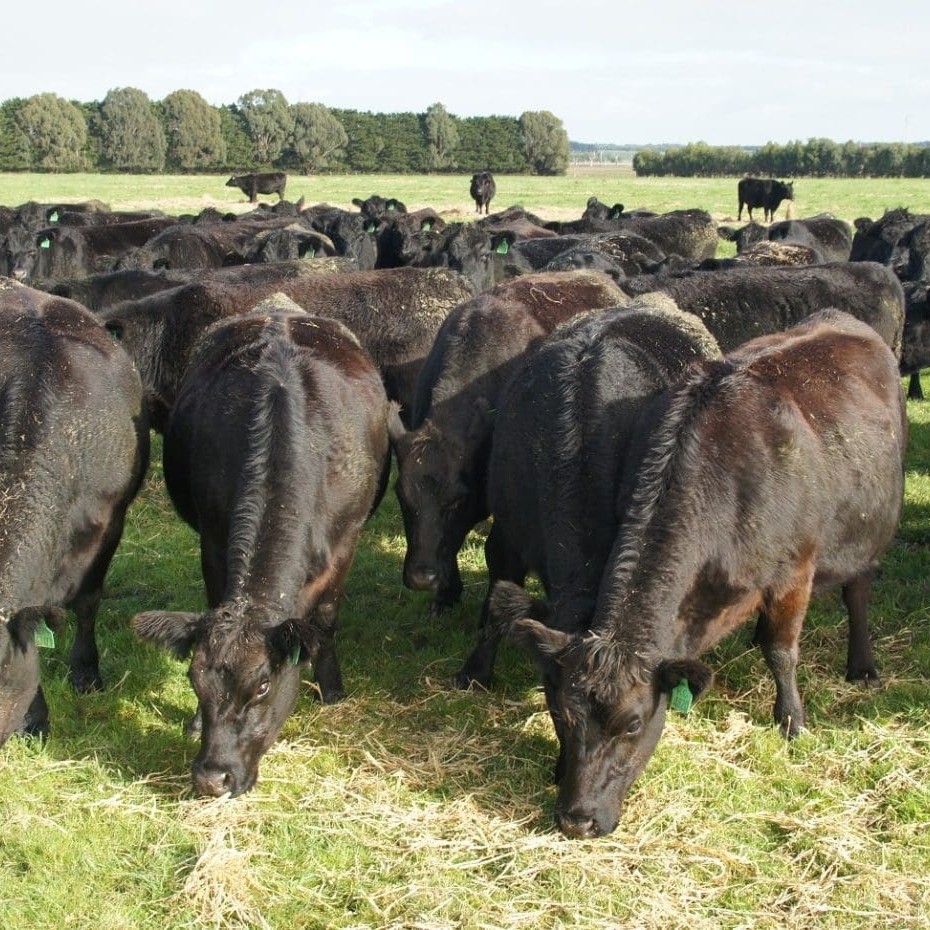 Mr Woodham also used the conference as an opportunity to again advocate for pre-feedlot entry vaccination programs to optimise respiratory disease performance during grainfed programs.
"BRD is a global industry-related problem in cattle, adding significant cost to our business," he said. "Any time we have a significant health challenge, where we have to do a pull on the majority of cattle in a pen – and we had a particularly hard one last month – it costs a significant amount of money. A mass treatment can equate to around $43.75 a head, and if we have to give them a second treatment using a product like Micotil, it can cost $70 a head."
"That obviously impacts significantly on our bottom line, both in terms of animal health treatment cost, labour and performance of the livestock. There's a big push on within the feedlot industry to encourage uptake of these pre-entry BRD vaccination programs."
In JBS's case, it pays a premium above the normal price of $23.50 for properly pre-vaccinated cattle, under programs like FeederGuard (Elders) and MaxiStart (Landmark).
"Producers might say they won't get rich on that, but it's all part of improving performance across our business, and the supply chain," Mr Woodham said.
Push for productivity
A constant theme in JBS's industry presentations over the past six months has been to highlight the disparity between processing costs in Australia and other major beef exporting nations. Recent challenges including the Federal Government imposition of the carbon tax and full cost recovery on AQIS inspection fees and charges have only widened the cost efficiency gap between Australian and competing nations like Brazil and the US.
Mr Woodham told the Angus conference that JBS had projected additional costs of $6-$8 a head due to the carbon tax alone. The company's Dinmore plant was likely to be subjected to the $23/t carbon tax on emissions calculated at around 80,000t, worth around $1.84m alone.
He said currently in Australia, it cost JBS about A$260 a head to process grassfed slaughter cattle, while in Brazil, the cost was A$110 a head on the same animal.
The same comparison on grainfed cattle was $300 a head in Australia and in the US, $160 a head.
"That's giving away a big advantage to our competitors in the international marketplace in processing cost," he said.
"We need to continue to make productivity gains right across the processing level, but also at the farmgate level. Angus producers have already done a good job of doing that through breed indexes and other objective measurement tools, and through other management areas including pasture management and fodder conservation."
"Australia is in a great position to capitalise on some of the emerging opportunities in the global beef trade, but we can't rely solely on an increase in red meat price to get us out of trouble. It has to be supported through greater efficiency and productivity up and down the chain."
Given the abandonment of longer-feeding programs, and the general marbling performance improvement being seen in shorter export feeding programs, Mr Woodham was asked whether JBS would consider introducing marbling incentives in 100-day grid pricing structures.
He said greater marbling focus was likely to emerge for some EU grainfed market segments (120 days), as customer requirements became clearer.
"The EU grainfed segment will probably develop much like Japan or Korea, with a greater emphasis on marbling within some segments of that business," he said. "We believe some premium/price indicators will start to emerge."
Mr Woodham said the expanding EU grainfed quota was "quite exciting for JBS as a business", and was an opportunity that more producers "really needed to look at."
The EU grainfed quota will expand to 47,000 tonnes in August, from its current level of 20,000t, and unlike the Hilton (grassfed) quota, it is tariff free."
"We're starting to see a lot more inquiry for this product, and it's a part of our business that we can see growing in coming years. But we need those EU-eligible cattle to place on feed for the required 120 days."
Beef Central's Jon Condon acted as moderator during a session on how breeders can hasten the improvement of Angus and Angus influenced cattle at Tuesday's conference. See more conference reports next week.