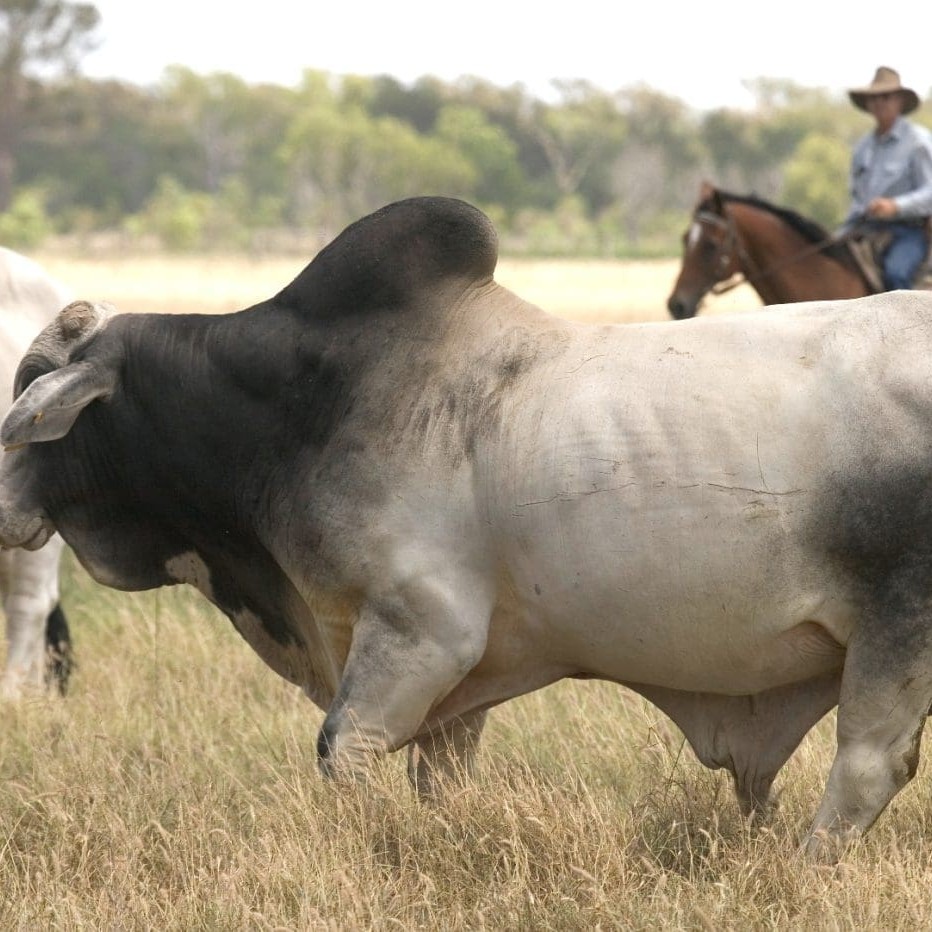 Beef Central's 2013 survey of bulls sold at auction reveals that the eight largest beef breeds were responsible for 17,440 bulls being placed with new owners during the year.
That's a decline of 1279 head on 2012 figures, which was regarded as probably a record for total number of bulls sold at auction.
With record high rates of female slaughter experienced across the two largest beef producing states, Queensland and NSW this year, it's little wonder that demand for bulls has been down, especially for spring mating, as opposed to autumn mating, more common in southern states.
Individual breed numbers sold this year varied quite dramatically, Beef Central's latest survey has shown.
Numbers sold at auction should not be regarded as some form of 'popularity contest', however, as direct breed to breed comparisons lack value for several reasons. In the dominant tropically-adapted Brahman and Droughtmaster breeds, for example, an overwhelming majority of herd bulls used are not in fact sourced via the auction system, but out of the paddock, where no publicly-accessible records are kept.
Credible estimates have suggested that up to two-thirds of all Brahman bulls employed in northern Australian herds are either bought from seedstock breeders via paddock sales, or home-bred by commercial cattlemen retaining their own herd bull producing nucleus stud herds. A similar circumstance applies to Droughtmasters, especially those used on more northern regions.
Brahman breed contacts suggested that an even greater number of bulls than normal was probably diverted into paddock sales this year – in an effort to keep production costs down, in a year which was always going to be tough, results wise.
For this reason, it was no great surprise to see total Brahman numbers sold at auction this year decline to 1602 bulls (with another 200 Wilangi bulls yet to be sold), theoretically a 19pc decline if all the Wilangi bulls are sold next week, from last year's figure of 2225 .
Similarly, Droughtmaster numbers were well back, falling to 1596 bulls sold, down 28pc from last year (2241) in the face of low momentum from heartland buying areas which have been heavily drought affected this year.
One theory to be offered for both these breeds is that while there has been major lightening off in breeder numbers in dry areas this year, bulls rarely join the females in going to agistment or to the meatworks – instead sitting out the season at home, unemployed, and waiting for things to turn around. That would suggest some owners might gamble on getting another season out of them next year, given how lightly worked they are like to have been in 2013.
Santa Gertrudis, similarly, took a hit in bull turnover this year, seeing numbers decline from 2284 head sold last year to 1822 this year – a 20pc decline.
Among the larger Bos Taurus breeds, however, trends were less consistent.
Limousins and Shorthorns both struggled to find buyers: Limos sold 477 bulls this year, a 24pc deficit on last year; Shorthorns sold 703 bulls, based on Beef Central's own analysis – a decline of 12pc or 98 bulls on last year. The absence of an Arubial sale in Queensland this year may have partly explained the Shorthorn decline.
Similarly, Herefords appear to have sold fewer bulls in 2013 (2198) than the year before, but available Herefords Australia sale data is incomplete, representing only about 75pc of last year's fixtures (3054 head in 2012).
Charolais sold 1518 bulls for the season, an 11pc drop on the previous year. Part of that may be explained by 60 fewer bulls being offered at auction during 2013.
Angus sell more bulls
Surprisingly, given the events outlined above, one breed breed managed to sell considerably more bulls in 2013 than it did a year earlier.
The star performer this year, numbers-wise, was Angus, which recorded another 8pc rise in bulls sold, reaching 7324 head, up from 6858 last year.
The result was underpinned by a lot more Angus bulls being offered at auction, however, with an additional 20 auction fixtures appearing in the already heavily-congested spring and autumn bull selling calendar. There were 149 Angus auction sales offering Angus in 2013, up from 129 last year, and the year before.
Angus Australia has also reported a strong 12 percent rise in membership numbers over the past year, perhaps spurred-on by the strong progress and market penetration made by the breed over the preceding half decade. The breed's registered cow inventory has also experienced a further increase of 5pc in the past 12 months.
Average prices for Angus bulls sold across Australia have improved quite dramatically over the six years from 2007 to 2012, before copping a check, along with other breeds, this year.
Angus bulls back in 2007 averaged only $3924, but showed consistent, strong improvement over the next few years, to finish last year averaging $6069.
Producers possibly wishing to 'get into Angus' for this reason, vave possibly driven this latest surge in membership and bulls offered and sold.
The sheer momentum in Meat Standards Australia grading, with an expected 2.8 million carcases expected to be graded during calendar 2013, is also likely to have underpinned the recent rise in meat-quality oriented Angus genetics, breed watchers say. Demand for Angus live export cattle is another potential factor, with more than 30,000 exported to Russia and surrounding states this year.
This year's result for Angus should be put into some context, however, as the breed sold as many as 7544 bulls way back in 2006. Numbers started to gradually decline after then, followed by a gentle resurgence seen since 2012. Worth noting, however, is the fact that the average price for Angus back in 2007 was just $3924, suggesting an element of over-supply might have been in play.
Outlook for sales in 2014
With up to a million head of cattle removed from the Australian beef herd this year due to drought, many of which are breeders, the question must be posed: what's the outlook like for bull sales in 2014?
The rate of female slaughter for the calendar year to September was up 23 .7 percent, and MLA expects the female breeding herd next year will be down by about 761,000 head on where it sat this time last year.
One credible recent seedstock sector analysis suggested that will mean that total bull demand will be down approximately 19,000 head, or about 5.6pc next year, even given a return to decent seasonal conditions.
Given how dry things remain across many heartland beef producing areas, the estimate suggested overall bull demand next year could be back a further 7-10 percent on 2013 results, and possibly 12-15 percent in worst-hit regions like Queensland, if western grazing regions do not get significant amounts of rain in the next three months.
If that forecast holds true, it might be a year for studmasters to sharpen the castrating knife.