SOME large export processors have retreated in their offers provided on slaughter cows this week, knocking 20c/kg off the record-high numbers available over the past three weeks for kills across eastern Australia.
One large multi-site, multi-state export processor has reduced heavy cow money from 620c/kg to 600c for Queensland kills, and back to 590c in southern NSW and South Australia.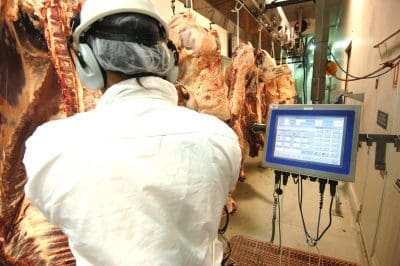 When asked for the reasons behind the change, Beef Central received a one word answer: Pain.
There has been some modest rises in prices for imported lean grinding beef into the US in the past fortnight (separate story later this week) but nowhere near enough to offset the record losses being racked-up by processors on slaughter cows in the early stages this year.
At the time this report was compiled, other large export processors had not followed suit with grid adjustments, but pointed to the big losses being recorded at current rates.
Grassfed steers remain at, or near record highs, with four-tooth heavy steer in Queensland at 680-690c/kg this morning (some of those higher offers for HGP-free only), and 655c/kg in southern states.
One feature which is helping underpin beef kills in Queensland presenting is dry conditions across large areas of cattle country in the state. With mid-February approaching, some producers are evidently again lightening off numbers, in anticipation of another failed wet season.
That's pushing a few more slaughter cattle to market, and keeping kills a little more intact than they would otherwise be, Beef Central was told.
Widespread rain between now and the end of April would see supply dramatically tighten across the region, however.
Optimism in Industry Projections
Yesterday's annual Beef Industry Projections released by Meat & Livestock Australia (click here to access our report) contained some important metrics.
In 2021, MLA anticipates cattle slaughter to decline by another 3pc to 6.9 million head – the lowest level in 25 years. During the first few weeks of 2021 this dynamic has already been evident, with yardings and slaughter numbers well down on year-ago levels.
Despite the decline in slaughter numbers, MLA suggests beef exports will lift 2pc in 2021 to 1.1 million tonnes shipped weight, growing to 1.2 million tonnes just two years later, in 2023. Given the herd rebuilding that must happen first, and the generational cycles involved in beef breeding, it would be a miracle if that was to occur in such a short time-frame. The last time exports exceeded 1.2 million tonnes was 2019, when the industry was in full-blown herd liquidation.
Kills remain subdued
Last week's eastern states beef kill at 96,891 head remains 31pc down, year-on-year, and continues the unusually quiet start to the 2021 processing year. The previous week's figure was incorrectly reported by NLRS at 107,092 head, but this has since been corrected to a dramatically lower figure of 78,001 head. Beef Central has now adjusted its home-page graph to reflect the correction.
Central and North Queensland beef processors remain in a state of flux, with some yet to open for the season; others about to close again, after starting their killing year earlier; and still others already underway.
In an unusual move so early in the year, Borthwicks at Mackay has elected to stop its beef chain for a fortnight, starting today, and returning to work on 22 February. Ostensibly for 'maintenance' reasons, it would appear that severe cattle supply shortage in the region is the underlying reason.
JBS Townsville is not expected to start it's season until early next month; Teys' Lakes Creek plant performs its first kill of the year on Friday this week; and Biloela opened soon after Australia Day.
Reports of some extraordinary prices being paid in North Queensland this week for heavy live export cattle bound for Vietnam have put an additional supply challenge in front of the region's beef processors this year.
One line of close to 900 slaughter weight steers were reported bought this week, sold over the scales Charters Towers, for 410c/kg liveweight. With freight to port added, that's the equivalent of close to 800c/kg carcase weight, at a time when the very best that central and northern processors are offering is around 670-690c/kg on the same steer.
That's a yawning 110c/kg competition gap between live export and processing, which is inevitably being reflected in lower kills.
Such dramatic price differences inevitably attract attention, for all sorts of reasons. One theory doing the rounds this week is that the incredible competitive position currently evident from live export buyers out of Vietnam is being fuelled by finance (at least) out of China. Some even suggest that the meat from Australian live export slaughter cattle is in fact crossing the border into China – but one line of investigation contradicts that, because the port destinations for live export cattle into Vietnam are principally in the country's south, some considerable distance from the Chinese border.
Others say the 'China finance' or 'final customer' theory cannot be supported, pointing to the dramatic growth in population and standard of living in Vietnam, as evidence that the beef is in fact staying local. Ninety million people can eat a lot of beef, especially as some of Vietnamese transition into middle-class status.