FURTHER easing in saleyards pricing in the past ten days, combined with adequate supplies of paddock cattle has produced a softer trend in some Queensland processor direct consignment grids this week.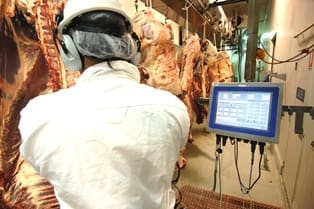 Some Queensland processor grids dropped 5c/kg on ox, and 10c/kg on cows on Friday, but other competitors – at the time this report was compiled this morning at least – have remained unchanged.
It means a reasonably wide spread in offers currently in southern Queensland, with four-tooth heavy steers for slaughter in coming weeks quoted this morning in a range from 550-560c (some grids 10c/kg less for HGP-treated cattle), and cows from 440-455c.
It's the first downwards correction in price seen in close to two months, after a five-week period of strengthening prices since the start of July.
While saleyards prices across eastern Australia have clearly come off the pace, processors also claim their current slaughter livestock positions remain reasonably healthy, with numbers continuing to be driven by the weather.
September/October still shapes up as the problem supply period, with the prospect of very few spring oats-finished cattle on the horizon, and the traditional channel country bullock turnoff looking modest, at best, this year.
Normally by Brisbane Show time a few Channel Country cattle appear in kill rosters, but the late arrival of beneficial flooding this year around April (following February/March rain upstream, further north), and the backward condition of many young cattle being placed on the available feed means turnoff from the region is likely delayed by a month or two this year.
October might produce a few grass-finished bullocks off the channel country region, but numbers are not anticipated to be great this year, processors suggest.
"There will be a turnoff from the Channels of sorts in spring, but it won't be massive," one processor who normally kills large numbers each year from the region said.
Big numbers of cows continue to flow out of northern Australia into processing establishments in Victoria, NSW and Queensland, with one recent large uplift accounting for about 4000 light-conditioned cows, in a single line. Freight on those cows was understood to be around $175/head.
NSW slaughter grids last week were unchanged, with grown four-tooth grass steers +300kg averaging 542c/kg, and heavy cows +280kg 455c. Victorian grid prices were also steady last week, with the exception of a few cow grids which eased slightly. Heavy grass steers, four-teeth were averaging 564c in Victoria, with cows quoted at 458c.
Grainfeds go against the trend
Grainfed slaughter cattle pricing continues to go against the trend, with spot market MSA-70 day steer +260kg last week a little dearer in Queensland on average at 573c/kg, and 100-day steer (two teeth, +300kg) up 5c at 592c/kg.
Australian dollar hits 10-year low
Adding wind to the sails of export processors competing for slaughter stock presently in the performance of the A$, which hit a ten-year low against the US$ on Wednesday last week of US67c. That's the lowest level since the Global Financial Crisis rocked the currency in late 2008 and into the early part of 2009. This morning, the A$ had recovered just a little to US67.6c.
The prospect of fresh US tariffs of 10pc on $300 billion worth of Chinese imports, due to take effect on 1 September, has raised global tensions as the US-China trade 'arm wrestle' escalates, rattling currency markets, including the Australian dollar.
How much impact does currency movement have in terms of value of Australian slaughter cattle?
Here's what Beef Central columnist Simon Quilty wrote on the topic in his column last week:
"I estimate a 100 point movement (i.e. our currency moving from US68c to US67c) in the A$ would see slaughter cattle (cows in particular) liveweight prices go up by 12c/kg carcase weight, or 6c/kg liveweight – in a 'perfect world'.
"There are always many variables impacting cattle prices based on weather, local demand and other markets' needs, and customers' respective currencies, but if all variables were held constant, then 12c/kg on carcase weight is the likely livestock upward movements, and therefore a 300-point fall in the A$ in the last two weeks should see prices improve by 36c/kg CW, or 18c/kg LW. In reality, the world is far from 'perfect', however, and other influences are still reflected in cattle price.
"Our beef supply competitors' currency movements are of equal importance. If they should weaken more than Australia against the US$, then we are at a disadvantage. Equally, should they go higher, then we have a comparative advantage. As an example, Argentina's currency has fallen 55pc against the US$ since the global trade war began.
"The impact of key beef market buyers' currencies is also important, as their buying power goes up and down depending on the value of their own currency. This is particularly important for our export markets including Japan, China, US and Korea.
"Japan and the US currencies are relatively firm compared to Australia, which is good for Australian beef exports, given that we dominate both these countries as beef suppliers and our major competitor is the US, which has a much higher currency.
"South American countries' currencies have devalued anywhere from 17-55pc since the trade war began last year, and as a result have a significant advantage over Australian beef exports in China.
"Our greatest concern is that the US looks to lower interest rates as a means of devaluing the US$, and results in US interest rates below Australia's interest rates. This would see the A$ rise dramatically, and could see our currency close to parity – similar to the 2011-2013 period which saw the A$ average US103c.
"If the A$ was to go to parity with the US$, this could remove close to 30pc off livestock prices in Australia, should all other variables remain constant," Mr Quilty said.