THE Eastern States weekly kill for the seven days ended Friday took a predictable 7 percent downturn last week as a result of the Australia Day public holiday.
But even accounting for the impacted working week, it's now ominously evident that rates of slaughter across Australia are struggling to get out of second gear this year.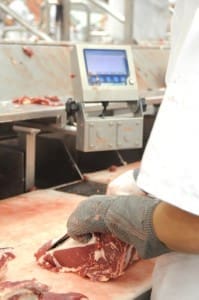 The National Livestock Reporting Service logged a five-state kill last week of 128,284 head. The week before it reached a little over 137,000 head.
Contrast this with kills consistently above 165,000 head for long periods last year, and peaking above 175,000 head.
Predictions made on Beef Central around September last year that Eastern States weekly kills in the 130,000s might be commonplace for beef processing activity in 2016 are now starting to look realistic.
Queensland's throughput last week was less than 59,000 head, down about 8pc on this time last year. NSW was down 7pc year-on year to about 31,600 head; Victoria -10pc to 26,000 head; South Australia -21pc to 7900 head; and Tasmania -1pc to around 4000 head.
A few cancellations of bookings were reported out of the Roma district and elsewhere last week due to isolated rain disruptions, mostly pushed back in kill rosters by only a week or two. Further rain is forecast across large parts of Queensland over the next eight days, so weather disruptions may continue for some time yet.
As MLA offered in its 2016 Industry Projections issued last week, Australian adult cattle slaughter is predicted to decline 16pc year-on-year in 2016, to 7.6 million head – one of the largest yearly drops ever recorded.
Even without widespread drought-breaking rain, the decline observed is predicted to continue well into 2017 – resulting in eastern states weekly cattle slaughter moving from above 150,000 head for most of 2014 and 2015, to a range between 120-140,000 head over the coming two years.
Reflective of the smaller national herd and challenged by the anticipated strong live export demand, Australian adult slaughter in 2017 is expected to become particularly low, declining a further 8pc year-on-year, to 7 million head – the lowest number processed since 1995.
As highlighted last week, export processors are showing little inclination to push grid offers higher to try to flush-out more cattle, while losses on the meat front are as significant as they currently are.
Export meat sales desks continue to report very flat conditions in trading, and a rise in currency to above US71c this week has not helped the numbers.
Many large Queensland and northern NSW beef plants are again scheduling skipped shifts this week, or winding back tallies within shifts to the bare minimum. That's likely to continue in coming weeks, Beef Central was told.
If there's any consolation, the 90CL grinding beef price into the US is showing some mild signs of improvement, but as our home page industry dashboard graph shows, it still sits well below +US600c rates seen for most of last year.
Grids show little movement
Southeast Queensland and northern NSW export processor grids have shown very little movement over the past week.
One multi-site processor lifted rates 5c/kg on four-tooth grassfed ox to 510c this morning (515c on 0-2 teeth), but that was only to re-gain price alignment with competitors, following earlier adjustments.
Over the hooks prices seen yesterday and today show four-tooth heavy steer offers from 490c/kg to a high of 515c, with other offers in between those two extremes.
Heavy slaughter cow rates this week for SEQ delivery are unchanged at 455-465c, back 35-40c on December offers. Best quotes seen for MSA grassfed this week were at 515c, with 100-day grainfed spot price 530c.
Grids in southern states appear to range from 5-15c below those rates on most descriptions this week.
Southern Australia saleyards continue to contradict some of the direct consignment pricing being seen at present. Against a top sell for heavy cow of 465c in northern grids at present, one NSW processor has apparently been paying up to 470c/kg dressed weight equivalent at the yards as far south as Shepparton, Victoria – no grading, no freight attached. That's got to be 30c/kg over the grid value. The reason is a mystery, but may be linked to current internal business structural changes.
"There's no doubt that the wet track this past week has had an impact on supply," one large processor buying cattle out of the south said.
Queensland processors admitted it was a 'struggle' to put together a kill at current rates, especially as those producers who had been fortunate to receive some worthwhile rain had now withdrawn from the market, concentrating on adding weight and condition first.
"There's been no real numbers in northern or western cattle at this point of the season," one processor contact said. "But nor would we expect to, so early in the season. It's meant we've had to live pretty locally, supply-wise. The next three or four weeks will see everybody competing for the limited supply that's available, but nobody wants to push rates up, knowing what money is out there in the boxed meat market."
"There's a natural limit there at present that processors are reluctant to go beyond."