IT'S no surprise that last week's Eastern States beef kill mounted something of a rally, picking up 3.7 percent or about 5700 head on the tally seen the week previous.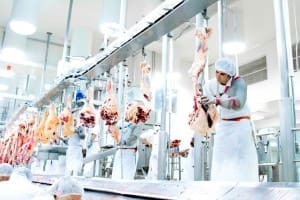 That's because the prior week was impacted by both the Brisbane Show public holiday which took a number of southeast Queensland export sheds out of the play for a day, as well as the accumulated effect of Cloncurry and Mt Isa rodeos that saw mustering camps in the state's northwest take time off for a break.
Although last week's tally reported by the National Livestock Reporting Service is somewhat recovered, it still reflects the consistent decline in throughput seen since the April drought-fuelled high-point at close to 180,000 head.
Comparisons year-on-year are also showing the industry is now killing significantly less cattle than it did during this period in 2014.
Queensland's kill last week (85,782 head) was back 1pc on last year, while NSW (32,981 head) was back 23pc in a yearly comparison. Victoria's tally last week was down 19pc year-on-year to 24,783 head, with widespread reports of Victorian plants now operating four-day kills or less, as numbers dry-up. Tasmania (4252 head last week) was -9pc on this time last year.
The only outlier was South Australia, which recorded an unusually large kill last week of  9610 head – up 15pc on the week before, and +17pc year-on-year.
Some encouraging falls of 15-25mm in northern NSW and southern Queensland early this week, particularly across oats-growing areas, could add to processors' supply challenges in coming weeks – particularly if the weather persists through this week and becomes more widespread, as forecast.
The size of last week's eastern states kill has surprised some processor contacts, who consistently report difficulty in raising a kill for comings weeks. At best, most large Queensland plants are currently now committed no more than two weeks forward, Beef Central understands.
It has been reflected in a further modest rise in some grid offers for southeast Queensland slaughter in coming weeks.
Exporter grids seen by Beef Central this morning now have heavy cows hitting the processor sweet-spot at 500-505c/kg, and heavy four-tooth grassfed steer at 510-515c/kg. Milk and two-tooth Jap ox are typically 5c above that, at 515-520c, depending on killing location.
As widely anticipated, the Eastern Young Cattle Indicator has taken a breather this week from its recent relentless rise, easing to 563.25c/kg, down 5c on its record set last Monday.