EASTERN States slaughter numbers eased for the seven-day reporting period ended Saturday, but perhaps more significant is the anecdotal evidence that forward booking pressure among major Queensland export processors is in decline.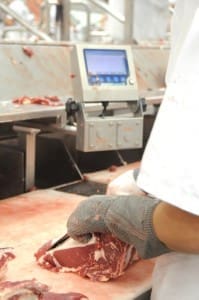 The National Livestock Reporting Service had last week's seven-day kill at 168,626 head, back about 1.4 percent or 2300 head on the near-record kill the week previous.
The change was influenced mostly by a 2pc drop in Queensland's kill, back 2pc to 85,441 head, but significantly, still 7pc higher than this corresponding week last year.
Again, southern kills in both Victoria and NSW appeared to be well-supported by slaughter cattle heading south from Queensland, as discussed in detail in last week's kill report. Illustrating this trend, NSW has recorded its largest-ever and second largest-ever kills in the past two weeks. It reached 41,836 head a fortnight ago, followed up last week by another massive kill of 41,763 head, a mammoth 15pc above this time last year.
Victoria was not far behind, registering 29,160 head last week, +24pc on this same week in 2013.
As discussed on Beef Central in this article last week, these extreme figures are being fuelled by big volumes of Queensland cattle, principally cows, heading south for slaughter. One estimate last week suggested as much as 15-2opc of some southern processor kill rosters is currently made up of Queensland cattle.
Cattle out of Queensland's Central west and north have ended up at abattoirs as far south as Warrnambool on the Victorian coast in recent weeks. Others have flowed into Primo's plant near Scone, Singleton and Echuca on the Murray.
To do the exercise on freight, in one example, the run from the loading point at Winton in Queensland's central west to Warrnambool is 2400km. That sounds like an unheard of distance to truck slaughter cattle, but keep in mind that Barkly Tableland cattle are routinely consigned to Beenleigh and Dinmore in the state's southeast – a similar distance.
At a delivered rate of $4000/deck on the cows to Warrnambool, that works out at $165-$170 per head, on light cows loaded at 24/deck. Add $5 to $10 a head for one/two spells and possibly some feed along the way, and there's not a lot of change left from $180 a head.
But what's driving it is the extraordinary, all-time record prices being paid for imported 90CL grinding beef into the US. As this earlier Beef Central article illustrates, southern processors have the capacity to pay some enormous freight money in order to secure big numbers of cows suitable for slash packs for the US export market.
Forward bookings easing
The difficulty in finding kill slots in a heavily-congested Queensland slaughter market has only exacerbated that trend, but there are now some encouraging early signals that forward bookings on slaughter cattle at Queensland export plants are starting to ease. Some processors told Beef Central this morning that while August was still heavily committed, they were now sailing into clear air for September, after months and months where kill space has been very hard to procure.
From Townsville to the NSW border, plans now have kill spaces for September starting to open up, it seems.
In other southern state kills last week, NLRS reported 7724 head killed in South Australia for the week, down 4pc on the week previous but still 22pc higher than last year, while Tasmania's kill reached 4538 head, minus 3pc on the week prior, but 13pc higher than last year.
Grid prices remain unchanged
It's hard to remember a more stable long-term period for southeast Queensland grid pricing than at present.
Many grids have changed little since the short-term adjustment back in early April, following rain, with many offers now virtually unchanged for the past 12 weeks or more
Again, there has been no significant changes evident in southeast Queensland grids over the past seven days.
Sell prices sourced yesterday indicated grassfed four-tooth Jap ox at 320c/kg, 330c for milk and two-tooth, best cow 290c/kg. Grassfed MSA steer for slaughter ex-SEQ has held up relatively strongly, worth 375c/kg in one quote seen this morning.