IT'S taken just days for export processors to show their hand in terms of slaughter cattle pricing for the 2015 year, with a series of strong upwards corrections during the early stages of January to previously unheard-of price levels.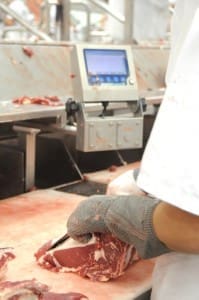 Big jumps in cattle price early this year have been widely forecast across the industry during the back half of 2014, and the arrival of widespread beneficial rain (see yesterday's weather wrap on Beef Central) has seen that clearly expressed through both the saleyards system and direct consignment offers.
Shortage of cattle supply after two unbelievably tough drought years, combined with overwhelming international demand for Australian beef have made big cattle price rises this year a safe bet. But it's happened quicker, and perhaps more sharply than some had anticipated.
Some market observers had considered that it might take some weeks for the market to find its new level in 2015 – perhaps not until the end of January – but solid recent rain has swept that forward.
The following public grid prices were included in a prominent southeast Queensland export processor's updated offer released yesterday afternoon:
Grassfed heavy steer – top of the tree 0-4 teeth, 425c/kg
Grassfed trade steer 0-2 teeth, 430c/kg
Best grassfed cow 0-8 teeth, 415c/kg
100-day grainfed steer, 0-2 teeth, 450c/kg
70-day grainfed steer, 440c/kg.
MSA steer 455c.
Those prices are all-time records for slaughter cattle in Queensland, representing a fundamental shift in pricing that is likely to persist throughout the 2015 year.
In the case of cows, they peaked at 375c at the height of the brief price spike late last year, but today's grid offer is a full 40c/kg above that. That represents a bonus of $120 on a 300kg dead weight cow, compared with the best money last year.
On the milk and two tooth heavy steer, today's price at 425c/kg is 25c/kg better than pre-Christmas, worth an additional $80 on a typical 320kg Jap ox. Most slaughter categories appear to be up 30-35c/kg carcase weight on late 2014 rates, based on yesterday's grid.
To put these prices into context, they are some of the biggest short-term corrections in direct consignment price seen in recent memory, and more might lie ahead, depending on rain.
It follows very strong price performance seen in saleyards across Eastern Australia since the start of selling for the New Year – albeit on mostly reduced numbers. A sample of recent sales is listed below.
While some large Queensland processing sheds are yet to get back to work, others, like Beenleigh and Dinmore are back at work, albeit in 'soft-start' mode. Dinmore, for example, is killing only a single shift this week, as it did last week, but hopes to ramp-up to its normal double shift kill next week – cattle supply willing.
This soft start, especially in Queensland, contributed to a total Eastern States weekly kill for the seven days ended Friday of 121,987 head. That's about 3000 head or 2pc more than this time last year.
Barring rain disruptions, more representative kills will start to appear from next week, as more plants return to work and resume normal shift cycles.
Saleyards show sharp rises
While most Queensland saleyards are only returning to work this week, price signals out of southern sales in the past week have been universally stronger.
At Pakenham sale this morning, a small yarding of 410 head attracted spirited competition, driving prices into record-breaking territory as processors reacted to the decline in cattle supply and a significant rise in enquiry from feeders and restockers after widespread rain across much of the eastern states.
Quality was good, with a large proportion of the yarding being heavyweight beef cows showing good finish and only limited numbers of lightweight and lighter conditioned cows offered. Heavy cows gained 30-35c, while the lights and lighter conditioned cows lifted 10c to 20c/kg. Heavy grown heifers sold from 195c to 215c/kg. Most light and medium weight cows made between 150c and 175c/kg. Heavy weight cows sold mostly between 176c and 212c/kg.
At Forbes yesterday, numbers lifted, although quality continues to be mixed. There was good numbers of well-finished cattle on offer along with the plainer types. Yearlings made up the majority of the offering along with a handy offering of cows. The usual buyers were present and competing strongly in a significantly dearer market.
Yearling steers to slaughter jumped 25-30c/kg. Medium weights sold from 235-254c, with heavyweights ranging from 211-249c/kg. Those to feeders were 35c better to receive from 184-254c/kg for medium and heavyweights. The heifer portion to processors lifted 30c to receive from 179-243c/kg.
Heavy steers and bullocks were 25c dearer, selling from 193-237c/kg. Cows showed the biggest increase, jumping 40c/kg. Heavy 2 score cows sold from 183-196c and the 3 to 4 scores received from 184-207c/kg.
At Landmark's Toowoomba sale yesterday, supply increased as more buyers returned to the market, including a full panel of export processors along with the usual feeder and trade buyers, plus a large number of restockers. The overall standard was generally good.
Prices improved across all classes, with restockers displaying renewed confidence in the market. Feeder operators were also keen to make purchases and prices lifted by 30-40c/kg compared to the closing rates of last year. A small selection of cows also experienced a large lift in price, with good heavy cows consistently making over 200c/kg live.
Lightweight yearling steers to restockers made to 251.2c to average 234c/kg. The best of the mediumweight feeders made to 253.2c, with a small selection averaging over 250c/kg. The occasional heavyweight to the trade made to 263.2c, while most of the heavy feeders averaged 251c and sold to 256.2c/kg.
At yesterday's Elders Toowoomba sale, numbers lifted as a full team of buyers returned to the buying panel. Prices for all classes experienced a very positive trend with export processors, trade and feeder operators plus restockers all keen to make purchases. Larger samples of medium and heavyweight yearling steers to the trade and feed lifted in price by 38c/kg and this trend also flowed on to the heifer portion. A handful of heavy grown steers sold to a very strong market. A small selection of cows lifted in price by 20c to 30c/kg.
Lightweight yearling steers returning to the paddock averaged 240c and made to 254c/kg. The better end of the medium weights to feed averaged 238c and made to 248c/kg. A handful to the trade made to 250.2c to average 240c/kg. Heavyweights to feed mostly sold around 240c with some to 249c, while local trade lines averaged 234c/kg. Medium weight yearling heifers to feed made to a top of 250c with most sales around 209c, while local trade lines made to 251c, to average 226c/kg. Heavyweights also to the trade averaged 224c/kg.
The small selection of heavy grown steers made to 235c to average 230c/kg. Medium weight 2 score cows averaged 151c and the better classes, 200c/kg. Good heavy cows made to 205c to average 201c/kg.
AuctionsPlus mirrors saleyards trend
Friday's first AuctionsPlus sale for the year mirrored the strong price trend, with 3059 head of cattle offered. With the majority of stock listings for cattle in the heavier weight ranges, we saw plenty of buyer competition from the processors and lotfeeders. Angus steers under 250kg sold for 254-262c, 250-300kg steers ranged from 205-276c to average at 252c/kg, and 300-350kg steers averaged 250c.
Steers 350kg+ ranged in price from 228c-251c, to average at 239c/kg. Top price was for Charbray and Brahman steers at Biloela weighing 444kg, selling for $1113 or an impressive 251c.
Light Santa weaner heifers at 169kg made 272c or $460, 250-300kg heifers ranged from 206c-243c to average at 226c, and 300-350kg heifers ranged between 183c-227c. 350kg+ heifers ranged between 165c-231c to average at 214c. The top price of $930 was for 408kg Braford & Braford cross heifers at Dirranbandi.