SEVERAL large Queensland processors have been forced to lift direct consignment offers this week, as further rainfall impacts slaughter cattle supply.
Solid falls of 50-100mm have been received across substantial areas of Central and coastal Queensland over the past week (see today's weekly rainfall wrap), on top of substantial rainfall registrations throughout eastern Australia in March.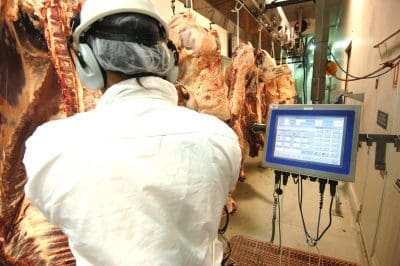 Faced by empty post-Easter kill slots, offers from some Queensland processors have lifted 20c/kg on heavy grass steers this week, while slaughter cow rates have increased 10-15c/kg.
The rapid turnaround follows 20c/kg declines in offers from some processors just the week before.
It means a narrower spread in offers on both steer and cow across southern Queensland this week, with best offers seen this morning from 630c to 660c/kg on heavy four-tooth steer, grassfed (some of those offers HGP-free only), and 580-585c on heavy cows. The 100-day grainfed bullock, spot price, is 665-670c/kg among competitive processors. Central Queensland prices are typically 10c/kg behind southern parts of the state this week.
Further south, there has been only minor grid price adjustments, with southern NSW public quotes at 645c for four-tooth steer (10c less for HGP), and cows 590c. Competitive processors in South Australia this morning were offering 655c/kg on four-tooth steer and 600c on cows.
The upwards adjustments in Queensland are entirely driven by the need to build adequate numbers to perform even rudimentary kills, as processors across all states are clearly in no mood to offer more money because of dismal trading conditions in export meat markets at present. Many operators are killing cattle at present principally to retain a core workforce, rather than because of any prospect of making a profit on the meat in the export market.
While NLRS eastern states kill data for last week is yet to be lodged today, the widespread expectation is that the two weeks either side of Easter are going to register very low throughput figures – and possibly among the lowest on record for this period.
Among a host of plants that have been shut, JBS Dinmore only returned to work today after an extended 11-day Easter break caused by cattle supply challenges.
Critically tight supply looms
Following substantial and fairly persistent rain across large parts of eastern Australia's cattle country since February, there's a growing expectation that slaughter cattle will be in critically short supply between now and mid-May.
Cash-flow reasons excluded, anybody who has had rain will be on no hurry to liquidate cattle now. Cattle are currently doing like steam, and with the prospect of adding further weight, especially while conditions remain mild, there's a distinct lull looming in supply for a while.
This could put extreme pressure on processors trying to fill kill rosters during April, and suggests that between now and around the Beef 2021 event in Rockhampton on 2-8 May is shaping as the optimum time, price-wise, to sell slaughter cattle in the first half of this year.
After that, prices could well start to deteriorate as the industry heads deeper into May, and slaughter numbers again start to accumulate. Additionally, the extensive pastoral regions in the far north and west of Queensland are starting to get into gear, many a little later than anticipated because of the shape of the season since Christmas.
With the feed that's now about, cattle are shifting out of Queensland's far west into the south, and aged slaughter cows, particularly are likely to be retained for another year to try to extract another calf.
Note that today's weekly kill report is a day later than normal, because of Monday's Easter holiday. The weekly NLRS eastern states kill report was not available by the time this item was published, again due to slow lodgement of figures by processors. It will be added here after it is released by MLA.
Later this week: In his monthly Beef Central column from the US, Steve Kay from Cattle Buyers Weekly contrasts the record losses being recorded by Australian processors with record profits being enjoyed by their US equivalents.