WEATHER challenges continue to plague beef processing operations across large parts of eastern Australian this week.
Flooding across parts of NSW and Victoria after torrential unseasonal rain (see today's separate report) have caused widespread delays and cancellations, both in the ability to muster drenched and waterlogged paddocks, and getting stock off-property to plants further east.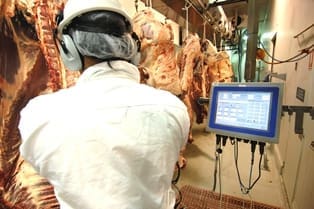 One example quoted to Beef Central this morning involved a consignment of three B-doubles (totalling 180 head) out of western NSW, with the first truck getting through, but truck two getting bogged. When truck three came to its rescue, it too became bogged – as did a D7 dozer that was bought in to assist. Eventually the 120 head of cattle remaining on the two bogged vehicles had to be jumped off the back and walked home.
Absolute chaos, and it suggests it could take weeks for the situation to correct itself in some areas.
"If you (producers with cattle) get an opening, put them on a truck and ring us," was one large processor's exasperated plea this morning. "We'll juggle things around to get them in – it's opportunistic and a bit chaotic, but we'll try anything at present to get enough to raise a kill."
To make matters worse, BOM is forecasting another major rain event across southern and western Queensland starting tomorrow, and extending towards the end of the week.
Large parts of Queensland can expect "high impact weather" in coming days, with intense rainfall, destructive wind gusts and giant hail forecast.
A significant weather system will move into western and central Queensland from Tuesday night, bringing severe storm activity for parts of the channel country, BOM said.
The trough is then expected to expand and push east from Wednesday, with parts of the northern and southern interior expected to receive another 50-100mm by the end of the week.
It's meant that there is still a strong presence of southern processors and non-packer exporters sourcing cattle out of Queensland last week, where conditions are less extreme.
Bindaree has been strong on Queensland cows this past week, with others including Throsby, JDE, Midfield, Ralph's, Charles King and others still operating strongly in the Queensland market – at a time of year when they have normally retracted south.
A significant number of NSW, Queensland and Victorian processors only operated four days or less last week, due to the logistics challenges.
Grids steady
Grids have shown little movement over the past two weeks, with Queensland competitive grids this morning showing 690c/kg on heavy cows and 740-755c on four-tooth grass steer. Central Queensland rates are much the same.
Recent kills have seen cattle much heavier than anticipated, suggesting they have been subjected to long delays earlier due to weather, one processor contact remarked.
"It means we're ending up with 8kg steer rumps in some packs – just too big for what the market wants," he said.
On the upside, there is a little improvement evident in the domestic market, which is now evidently a little short of meat, due to particularly small recent kills and a rise in demand as weather warms up and footie season finals barbecues crank up.
In southern states, representative direct consignment quotes included 720c/kg on heavy cows and 820c/kg on grass four-tooth bullocks. However little business is being done at those rates, due to the conditions, apparently.
"There's been a few cattle on offer over the past week, but once we've done the deal, we just can't get at them," one regular processor contact told Beef Central this morning. It's been the story since the start of spring."