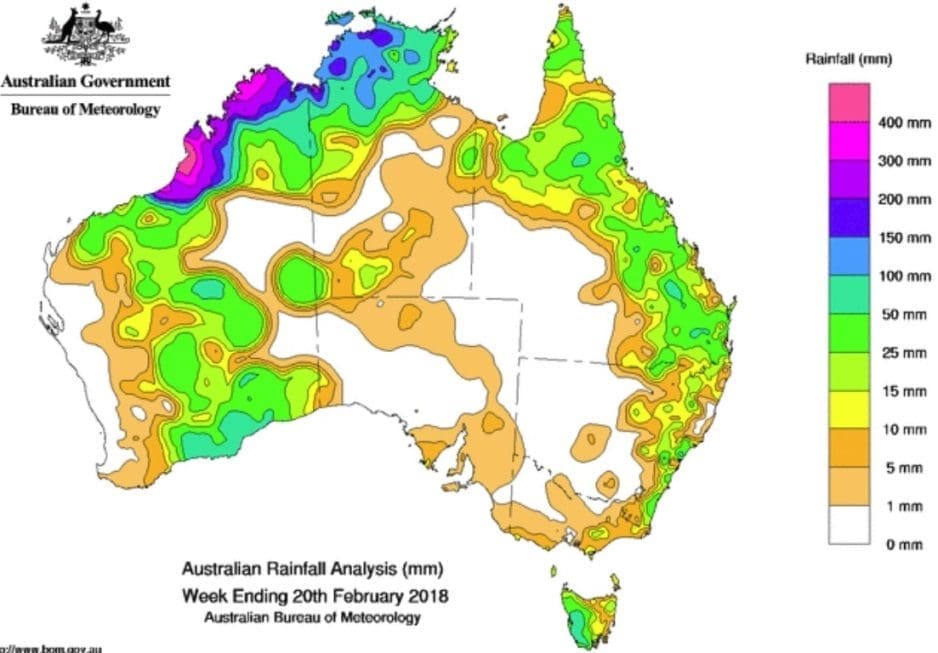 ENCOURAGING, and in places substantial rain across areas of Central and Southern Queensland and into NSW overnight has added some relief to a rapidly deteriorating seasonal outlook for many cattle producers.
As the BOM map for the seven-day period to 9am this morning published above shows, good falls of 50-75mm fell across a large band of eastern Qld and NSW, however severely drought-impacted regions of Central western Queensland again missed out.
It's still raining in some areas this morning, and the four-day forecast offers considerable hope for further rain up to the weekend.
Falls of 50-75mm have been reasonably common in Queensland in the past 24 hours, with some damage to local infrastructure from wind conditions reported. Here's a few reported registrations: On the Darling Downs, Dalby received 60-70mm, Oakey 16mm, Kaimkillenbun 135mm, and up to 100mm towards Kingaroy. Falls were generally lighter further west, with Roma about the western perimeter, recording 25mm, but still raining this morning; Condamine reporting 30mm, Injune 32mm, and Taroom 47mm, but still patchy.
There were further good falls in cattle country above Taroom, with Theodore 39mm, Clermont 36mm, and Moranbah 40mm. Patchy storms fell in the Charters Towers area in north Queensland, with recordings up to 51mm.
Mungindi on the NSW border received 63mm, with Goondiwindi lighter still, but falls petered out across the border. Come back tomorrow for our regular Wednesday weekly rainfall wrap.
Underpinning store market
The result is a promising, if late break for those producers lucky enough to get under the better falls. It will help reinject some backbone into the northern store cattle market, and build prospects for a better flow of finished cattle through the middle passage of the year.
Early reports out of this morning's Roma store sale, for example, suggest competition was strong from restockers, and prices fully firm to dearer for some descriptions. The overnight rain came too late to impact the size of the 10,000 head-plus yarding at Roma store sale today, but Dalby numbers for tomorrow's weekly sale have been halved, to around 2000 head, agents reported.
In areas where oats is an option, latest falls on top of rain earlier in February will see planting underway before the end of February, with ample soil-moisture now present to get a crop started.
BOM's four-day forecast map published above shows encouraging signs for the northern and easterly quadrants of Queensland with falls of +25-50mm predicted, but little follow-up in NSW or Victoria.
Grids show little change
In direct consignment slaughter cattle markets, southern Queensland processor grids have remained unchanged, although the overnight rain impact is perhaps still too recent to have been reflected in grid offers. Certainly some processors this morning reported postponements of slaughter cattle consignments for kills in coming days due to the rain impact, but those delays are likely to be only temporary.
Direct consignment prices seen this morning for slaughter in southern Queensland sheds in coming weeks included offers from 480-490c/kg on grassfed four-tooth steer, with heavy cow 420-430c. A northern NSW processor had offers this morning of 440c/kg on four-tooth ox and 415c on heavy cow.
NLRS direct consignment reports had NSW grids last week declined 5c/kg across the board, with four-tooth grassfed heavy steer averaging 466c/kg and heavy cows 280kg+ 406c. Victorian prices were unchanged at 483c/kg for heavy steer and 376c/kg for heavy cows.
Processors' remain reasonably comfortable for bookings in coming weeks. Queensland's most northerly processing plant, JBS Townsville gets back to work on Tuesday next week, meaning the normal summer holiday closure period has now drawn to a close. It's not at all uncommon for Townsville to start its season in late February or even March, given the heat and normal prospects of wet weather in the north.
Kills steady
Last week's eastern states slaughter report from NLRS showed throughput in most states was steady, producing a five-state total of 133,369 head for the week.
That figure was up 1pc on the previous week, and the largest kill for the calendar year so far.
Queensland's kill lifted 2pc on the previous week to 65,621 head, while NSW was up 10c to just short of 34,000 head. Victoria lifted 1pc to about 24,600 head; South Australia jumped 5pc to 4500 head, and Tasmania eased 1pc to 4755 head.
March and early April will see a sequence of reduced production weeks impacting on processor demand, due to the Easter/ANZAC Day holiday sequence.