RATES of slaughter across eastern Australia appear to have steadied last week, after dramatic declines were reported the week before.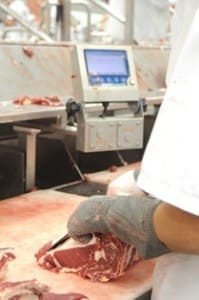 There are delays in the delivery of the official NLRS weekly report today, but it will be added to this item when it arrives later this afternoon. * See additions below.
Anecdotally, however, there may be a slight rise in the eastern states tally for the week to Friday – hardly surprising since the previous week sank to an extraordinary, almost unprecedented low.
For the week ending 14 August, NLRS reported eastern states cattle slaughter at 97,800 head, down 17pc on the previous week, and a dramatic 30pc down on this time last year. It was in fact the lowest weekly winter total recorded since August 2008.
The lower turn-off has been exacerbated by reduced processing capacity and a tightening supply of finished cattle across the eastern states. In Victoria, cattle slaughter eased 27pc on the week prior to 14,900 head. In Queensland, processor throughput eased 28pc from last week to 43,500 head, while New South Wales turn-off increased 8pc to 31,000 head.
As reported earlier, JBS Dinmore is now on a two-week closure, not due to return to work until 7 September. On top of that, it operated only two days last week, further reducing output. Its sister factory, JBS Brooklyn in Victoria, is closed indefinitely, adding further challenge to Victoria's ability to process larger numbers. Other processing plants may follow in coming months.
It's impossible to see those results lifting much for the week ended last Friday, when they are posted later today, but even a modest rise would be welcomed by most supply chains.
The slump in production comes in the face of sustained supply pressure caused by the past two years of drought-forced herd reduction.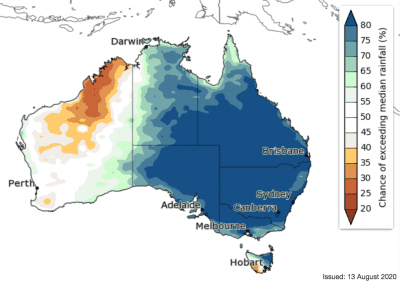 Processors are telling Beef Central this week that the problem has been exacerbated during the back half of the 2020 year, because rates of slaughter were surprising high from January-June, as producers continued to take advantage of high prices to market slaughter-weight cattle. Bringing that kill 'forward' this year has left an even larger hole to fill during the back half of 2020, processors say.
Adding to supply concerns is the latest BOM three-month weather outlook. If the enormous patch of blue (much higher than expected rainfall between now and November) delivers, the degree of difficulty in sourcing slaughter cattle will inevitably go up another large notch – if that is humanly possible – between now and Christmas.
Direct consignment rates unchanged
There has been little or no change in direct consignment slaughter rates this week, despite the absence of couple of larger processors due to plant shutdowns, as described above.
JBS Dinmore buyers have been absent from the saleyards scene this past few days, but the overall shortage of cattle has kept competition strong.
Competitive direct consignment quotes for kills in southern Queensland this morning ranged from 560-570c/kg for heavy cows, while four-tooth heavy grassfed steers remained unchanged at 625-640c (some offers at the top of that range are for HGP-free only).
Central Queensland rates are again similar to southern parts of the state, while in southern states, competitive rates around 615c are being seen this week on four-tooth steer, and cows 550-560c.
In the saleyards channel, some recent markets were more impacted that others. Gunnedah this morning saw heavy grown steers sold to cheaper trends under reduced processor demand. Well finished grown heifers sold to a slightly cheaper trend with solid discounts applied to those carrying 6 teeth. The cow market saw cheaper trends of 8c to 15c/kg with demand weaker.
Naracoorte only yarded 711 head today, with the usual array of trade and processor buyers operating along with feeder and restocker orders. Quality was generally good across the majority of the offering which received very strong buyer support, to sell to much dearer rates then the previous week.
Wodonga this morning attracted only 750 head after substantial rain across the supply area. The quality of the offering was good to fair with some yearlings crop finished and supplementary fed. It was a smaller group of buyers at the rail which caused prices to fluctuate as the market progressed.
* NLRS has reported last week's eastern states kill up 9pc from the week before, to 106,674 head. While a significant increase on the previous record low week, the figure is still 29pc below this time last year, and the second lowest mid-season full-week kill this year. Queensland lifted 25pc from the previous week (impacted by a Brisbane show holiday for plants close to the capital city) to 54,324 head, still 33pc down on last year. NSW declined 2pc to 30,542 head, 13pc down year-on-year, while Victoria was 7pc down on the previous week to 13,793 head – 46pc lower than last year.