IT'S been a volatile start to the 2020 beef processing season, with grid offers opening at rates similar to late December, before pushing lower last week in the face of further heavy drought-forced cattle supply pressure.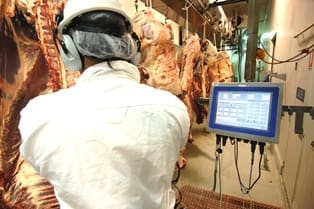 Since then, however, cattle numbers and bookings have dramatically thinned-out due to the anticipation of widespread rain across the eastern parts of NSW, Queensland and Victoria (see BOM eight day forecast image below).
With many southern Queensland processing sheds re-commencing operations on 6 January, competitive Queensland processor offers started the year at 475-480c/kg on heavy cows, before falling to 460c in the face of heavy supply due to continued drought. Grass four-tooth steer prices this week are in a wide range from 525-560c (some quotes HGP-free only), also back 20c/kg since the opening offers this year, and 20-30c/kg lower than final offers in 2019.
EU steer is being quoted this week in southern Queensland at up to 590c/kg and MSA grass steer, 575c.
Central Queensland plants, most of which start their season on Friday, are currently offering the same money as southern parts of the state.
Southern states
With the exception of yearling steers and heifers which remain in short supply, most other categories trended down in direct consignment prices offered in southern states last week. Supply was the over-riding factor.
In NSW, cows and grown steers eased 4-5c/kg on rates seen a week earlier. Heavy cows peaked at 449c/kg, while four-tooth steers topped 515c. It was a similar story in Victoria where grown steers were back 3-4c/kg on average, and cows down 3-4c to a best price of 450c/kg.
Many processors are already well-covered for kills through January, with some accepting first bookings for week commencing 3 February. Booking congestion may not be as severe as it appears, however, as reports are circulating of producers making space bookings (no price attached) on the same cattle at two or three different abattoirs. This inevitably means that some kill slots may re-appear, closer to delivery date.
Rain could change dynamics
Anticipation about forecast rain over the next eight days has seen the brakes well and truly applied, however, with large parts of eastern NSW, Queensland and Victoria forecast to receive anywhere from 25mm to 100mm by 21 January.
One large export processor livestock manager said his phone had 'gone dead' since the eight-day forecast was posted yesterday.
The rain anticipation factor was also evident in Warwick and Roma store sales earlier today, and would have an immediate impact on direct consignment cattle – provided it delivers. Cows at Warwick sale this morning were 20c/kg dearer in places than rates seen only late last week. Early reports out of today's Roma sale indicate that young cattle have jumped in price, yet there has not yet been a drop of rain to speak of, to justify it.
Should rain arrive as anticipated, its likely that supply, especially of cows, will dissipate quickly, and may push grid offers higher again.
The dramatic declines in imported meat prices being witnessed in China and the US (see tomorrow's separate report) are impacting processor profitability, with much of the attractive margins seen late last year now lost.
Bushfire impact
Some southern processors are reported this week to be re-arranging their kill schedules to accommodate stock from burnt-out properties with no access to feed, pushing other cattle bookings back to later slots.
Speculation is now starting to focus on the extent of livestock losses from eastern Australia's devastating bushfires. Early estimates vary widely – based on a range of assumptions, but little first-hand evidence – from tens of thousands to hundreds of thousands of sheep and cattle.
It will be some weeks or even months before a clearer picture emerges about stock losses, but for the time being, fodder access and fencing and water infrastructure will be a key priority on burnt-out properties battling to retain stock.
2020 outlook
Given the combined effects of continental-scale drought, bushfires and floods over the past 12 months, Australian beef production is forecast to decrease nearly 15 percent year-on-year in 2020, to the lowest level since 2010. Beef exports are likely to decline by 19 percent from 2019 levels.
As a result, Australia is expected to drop to fourth place among global beef exporting countries behind Brazil, India and, for the first time, the US.
Drought-forced cattle liquidation is pushing total cattle numbers to thirty-year lows, at about +24 million head in 2020.
After peaking in 2014 at 29.3 million head, the national beef herd dropped to 25 million head in 2017, recovering slightly in 2018, before decreasing again in 2019 as drought resumed.
Weekly cattle slaughter in the fourth quarter last year was about 217,000 head or 13pc higher than the same three month period in 2018. Direct fire and flood losses, combined with higher feed costs and forced liquidation due to continued drought could result in a significant shortfall in cattle/beef supplies in the second half of 2020.
Weekly kills gain momentum
The eastern states beef kill reported by NLRS showed signs of emerging from its holiday lay-off slumber last week, reaching 119,251 head for the seven days ended Friday. That was close to double the tally reported the week before, as more export sheds return to work, facing a heavy supply of stock.
Queensland's kill reached 49,359 head for the week, up 16pc on the same week last year, while NSW was 3pc higher year-on-year at 31,302 head.
Victoria's weekly kill reached 29,422 head, 12pc up on last year, while Tasmania was 3pc higher at 5067 head. South Australia was the only state to record a decline in numbers, being 24pc lower than this week last year at 4101 head.