AS eastern Australia's drought wears on into the second half of the year, challenges continue to emerge which highlight the impact that such conditions can have on Australian beef's competitiveness in a globalised meat industry.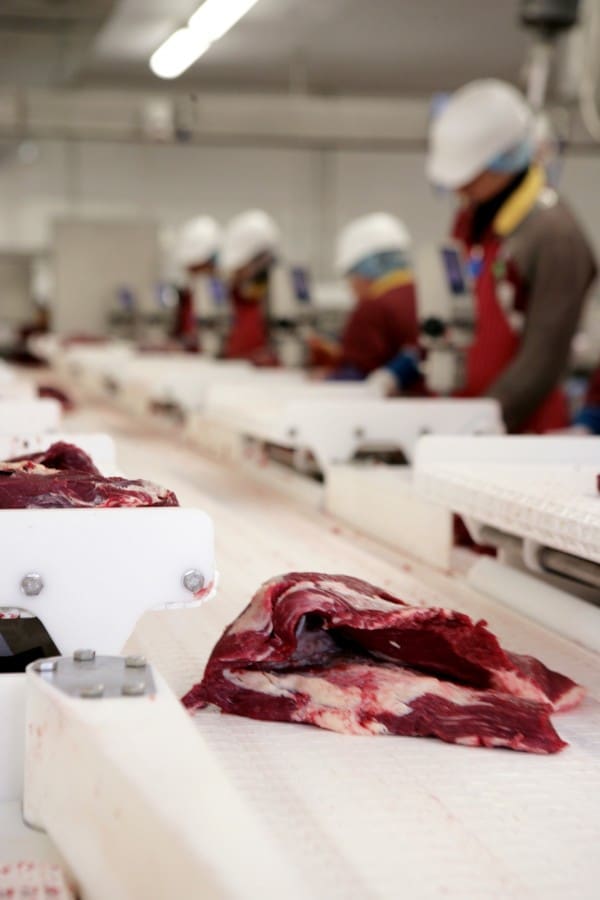 Cow weights – or the lack of them – are starting to impact processing efficiency. That's because fixed costs on killing a beast don't vary that much, regardless of whether a carcase is 200kg or 350kg dressed weight, while potentially delivering another 80-100kg of boneless beef at little extra production cost.
Heavier, better slaughter cattle continue to tighten up in supply, replaced by more and more plain-conditioned lighter cattle, a large multi-site processor said this week.
With current very depressed hides values included, one processor said killing 200kg or lighter (carcase weight) cows at present was close to a loss-making proposition in his business.
"There's only a very limited amount of meat on a 180kg cow carcase, by the time you bone it out," he said.
Some plants recording long-term average carcase weights of around 300kg across their steer/cow kills are presently averaging carcase weights around 250-260kg due to drought impact, suggesting there are a lot more very light bodies on the rails at present.
Virtually all processors killing cows have grids which carry larger price penalties, the lower the cow carcase weights go. While gradients of 5c/kg decline every 20kg carcase weight reduces are more common at the upper end of the cow weight spectrum, anything below around 200kg carcase weight is often much more heavily penalised in grid pricing.
One NSW grid example seen this week has a drop of 30c/kg for cows below 225kg carcase weight. That represnts a difference of $67/head between falling above or below that line, and it's fairly typical of other works grids at present. Below 180kg, and many cow grids plummet, as processors essentially send the message that they don't want the article, at any cost.
One processor with operations in southern Australia said many suppliers were trying to feed cows to stay on the right side of the 200kg equation at present, to avoid the worst of the price deductions – but it was coming at a considerable sacrifice, in terms of spiralling stockfeed costs.
Cows 180kg or less are typically only boners (also called tinners or canners, harking back to the days of tinned meat) where the entire boneless production is directed into the 'slash-pack' grinding beef market, with no cuts salvaged for the whole-muscle market at all.
In southern states, a lot of cows had been these manufacturing types for quite some time, one processor said. In contrast, most Queensland cow weights were still reasonably good, if perhaps starting to slip in some regions.
Particularly cold conditions across large parts of eastern Australia since early July are seeing cattle slipping rapidly in condition as heavy frosts take effect, and its being reflected in a modest lift in supply this week, some processors said.
Some grids rise again
Following the price trend in direct consignment slaughter cattle seen in the past three weeks, some Queensland and NSW processor grids have risen again in the past couple of days.
Competitive grids this morning for kills in coming days in southeast Queensland had four-tooth grassfed steer at 500c/kg, milk and two-tooth steer 505c/kg, and heavy cow 445c/kg. Other local grids for plants with cheaper transport access are around 430c/kg on heavy cows and 480c on grassfed ox.
A large northern NSW export processor has grids out today for four-tooth grassfed heavy steer of 490c/kg, and heavy cows 30c higher, at 430c/kg.
Slaughter numbers ease again
Rates of slaughter across eastern Australia continued to slip last week, with NLRS recording a five-state kill to Friday of 141,709 head. That's down another 1pc on the week before, and continues a sharp decline that started back in mid-June.
Queensland's kill at 78,100 head was much the same as the week before, but still 11pc higher than this time last year, while NSW numbers were down 6pc on the previous week, at 31,300 head.
Victoria's kill at almost 22,900 head was down 3pc on the previous week, while Tasmania fell 1pc to 4874 head.
Only South Australia lifted numbers last week, jumping 18pc to 4580 head. The SA kill is still heavily hampered by the closure of the TFI Murray Bridge plant, being down 42pc on throughput compared with this time last year. Many of those foregone Murray Bridge cattle are now trucked into Victoria for slaughter at O'Connor's, reflected in Victoria's kill up 11pc on this time last year.