IS IT simply 'wet weather money' or is the latest round of rises in direct consignment prices for slaughter cattle being driven by the continued supply/demand dynamic?
The truth is, probably a little of each, but regardless, there are some eye-watering over-the hooks prices on offer this week across eastern Australia, with only 4-5 weeks' worth of operations left for the year before seasonal plant closures set in.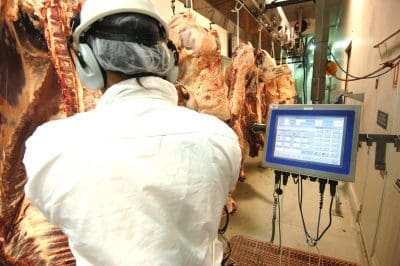 As of this morning, competitive export processors in southern Queensland were offering a dizzying 790-810c/kg on four-tooth heavy grass steer, up as much as 30c/kg on previous rates, and 775-780c/kg on heavy cows.
Some operators are offering those prices with a fortnight's lead, suggesting the new rate is more than just a reflection of short-term difficulty in supply caused by recent rain.
What does this mean in larger mob terms? Beef Central has heard of one recent consignment of eight decks of good heavy grass steers sold direct that returned $456,000. In effect, in today's market, a million dollars will buy an export processor just 17 decks of slaughter bullocks, or a little over 300 head. To put that another way, that accounts for only two hours' worth of kill (or less) in a mid-sized export beef processing plant.
For premium lines, rates this week are showing 815-820c/kg for MSA yearling steer 0-2 teeth, with certified grassfed programs in Queensland starting at 830c/kg this morning. Good MSA grainfed yearlings for major supermarket programs are this week fetching well north of 900c/kg in some regions, with some forward contracts in the south at 920-930c heading into summer grilling season.
With good feeder heifers 340kg making 615-625c/kg (liveweight) at Roma store sale this morning, it becomes easier to understand why supermarket trade cattle are making the outrageous money they are. Heavier choice heifers to return to the paddock made 680c ($2480) at Roma this morning.
The last couple of weeks each year normally delivers a few late cattle that vendors want to tidy up before the new year.
The rate of live export out of Northern Australian ports currently could also present some opportunities for beef processors early in the new year, putting a few numbers back into the system.
There may also be a small flush of older cows early next year, some observers suggest, once calves are pulled off. Given the effort in the past two years to mate every available female, there will be a lot of cows ten years and older in the paddock early next year, which some may be tempted to move on, one observer said.
There's also a growing view that given the abundant and early grass season being experienced this summer, that steers will start to flow to market a month or two earlier than normal next year. Steers that would normally find their way to market in April-May might be presented at similar weight in February-March next year, one source suggested last week.
Selling centres continued to show the impact of rain early this week, with about 2800 yarded at Roma this morning, while Gunnedah this morning saw a lift in numbers to 1890, after a very small rain-affected market the week before.
MLA revises 2021 kill numbers downwards
MLA's November Industry Projections update released yesterday included a downgrade in slaughter numbers for the calendar year, now forecast to reach six million head, as a result of post-drought rain. That figure, down from a 6.3 million head forecast earlier, represents the lowest national kill number in 36 years. While carcase weights are still expected to reach record levels, they have been revised slightly down to 308kg.
On the back of lower slaughter than predicted and carcase weights dropping slightly, beef production has been revised to 1.848 million tonnes cwt – 12pc below 2020 levels (the first three months of 2020 kills remained high, until the drought started to break). Similarly, throughout all of 2021, Australia continues to be limited by its current low supply outlook in terms of what can be produced. The 2023 outlook has total beef production at 2.3 million tonnes, up 25pc on 2021 levels as herd numbers build.
Kills slump after rain
Last week's national kill reached just 93,375 head – one of the lowest weekly totals all year for weeks not impacted by public holidays. Rain impact on cattle supply and saleyards numbers across the eastern states was the main reason.
Last week's kill was down another 4pc on what was already a poor figure the week before. Throughput has in fact declined more than 10pc on this time last month.
Queensland's production has been heavily impacted, falling 5pc to 46,174 last week, and declining more than 7600 head or 14pc on this time last month.
NSW processors, also impacted by rain delays and postponements last week, saw numbers crash by 12pc on the previous week to 24,666 head.
Victoria and Tasmania broke the trend, lifting almost 1200 head or 10pc to 12,818 head, and 27pc to 3543 head, respectively.
South Australia and Western Australia were steady, at 2981 head and 3193 head, respectively.