DIRECT consignment and saleyards cattle markets have shown little or no effect from JBS Australia's week-long closure last week, following the dramatic cyber-security breach of the company's operating systems on either side of the Pacific.
Most JBS beef processing sites returned to work yesterday or today after the week-long break, which paralysed the company's operations.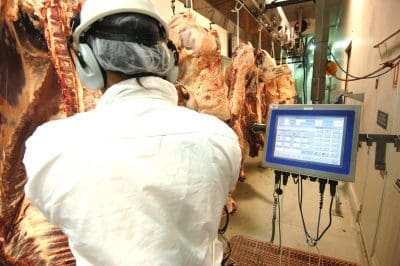 Neither saleyards nor over the hooks grid offers have displayed any real impact from the lack of buying competition last week, agents and market watchers say.
JBS is yet to re-activate its over-the-hooks grids following the incident, having a backlog of slaughter cattle procured before the breach occurred to work through first. Grainfed cattle, particularly, have tended to back-up during the week-long break, and are now being given killing space priority. The backlog should not take long to clear, Beef Central was told.
While JBS buyers have been attending some physical sales early this week, buying interest has been limited, do to cattle committed-to prior to the closure. The company anticipates having active direct consignment quotes in the market later this week or early next week.
Competitors' direct consignment grids showed no change while JBS plants were closed, and again have not moved significantly this week.
Some cow grids lifted on the Thursday prior to the JBS cyber attack, largely in response to the boom in demand and price for manufacturing beef into the US and other markets. That trend, which started back in April, is discussed in this earlier article.
Export processors other than JBS in southern Queensland this week continue to offer 680c/kg on four-tooth steer (some of those quotes HGP-free only) and a record-equalling 620c/kg on heavy boner cows. Those figures are up 30-50c/kg on offers seen just before Beef 2021 started in early May.
Central Queensland operators are 10c/kg behind those rates, while in southern states, grids in southern NSW this morning showed four-tooth grass steer at 695c/kg and cows 620c; while in eastern parts of South Australia, grids have steers at 695c and cows 640c.
Kills decline
Last week's NLRS weekly kill report issued this morning shows the impact of the JBS closure, in those states where the company conducts processing operations.
The entire seven-day national kill (NLRS now includes WA kill figures for the first time) reached 89,332 head last week, down about 17,000 head or 16pc on the week prior to JBS's shut-down.
Queensland's kill retracted to 41,341 head, down about 27pc or 15,000 head on the previously reported week. In Queensland, JBS operates four large plants at Dinmore, Beef City, Rockhampton and Townsville.
The NSW kill was much less affected, declining only 2200 or 9pc. In Victoria, numbers increased a little from the week prior to the closure, to 14,600 head, while Tasmania dropped almost 1500 head or 33pc to 2937 head.
In South Australia, numbers processed last week lifted about 670 head to 3294 head, suggesting some cattle previously destined for JBS plants in other states may have been killed elsewhere. In Western Australia, kills eased a little last week, reaching 2700 head.
The impact of last week's JBS cyber-closure was also seen in the US, where cattle slaughter last week reported by USDA reached 538,000, down almost 15pc on the week before. That's due in part to the JBS closure issues, but also to the fact that last Monday was a national US Memorial Day holiday.
Other US packers took advantage of JBS's shutdown last week by sharply raising their boxed beef prices on Tuesday and Wednesday. The USDA Choice cutout on Tuesday gained US359c/CWT and a further 560c/CWT on Wednesday, while the Select cutout was up 555c/CWT and 543c/CWT over the same two days.
Imported beef continues to trade very firm in US
The cyber attack on JBS and Memorial Day holiday had significantly limited US beef supplies, both fed and non-fed, Steiner Consulting said in its weekly imported beef market report.
Steiner anticipates US cattle slaughter will rebound this week to around 655,000 head, up 2pc from last year but still about 2pc lower than the comparable week in 2019.
"It will be difficult for US packers to make up the lost supply in the coming weeks, as they were already bumping up against capacity constraints," Steiner said. "As a result, we think the shortfall in production last week will continue to impact the market in the near term."
Imported beef continues to trade very firm in the US on limited spot supply availability and escalating domestic lean beef prices, Steiner said.
Demand in the US domestic market remained a key point for discussion. A restaurant performance index created by the US National Restaurant Association jumped to record levels in April.
"That's understandable given the quick rollout of COVID vaccines across the US and lifting of many restrictions on the industry," Steiner said. "The improvement in restaurant traffic is especially important as it will impact not just dollar sales, but also the volume of product moving through this channel."
While the JBS closures last week no doubt added some icing on the cake in terms of US meat prices, as the USDA Choice Beef Cutout value graph published here shows, the sharp rising price trend has in fact been evident since around the start of April.