DIRECT consignment grid prices in Queensland and NSW have shown an upwards trend in the past week – the first positive sign since a brief rally back in early March.
Most works grids have lifted 5-10c, as a combination of three supply/demand factors come into play.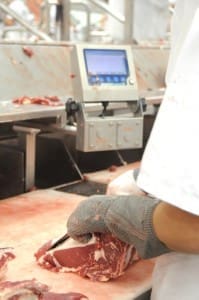 The first has been an encouraging decline in the value of the A$ this past week, falling from a recent high of US78.2c to a much more comfortable US73.7c yesterday. A 4c shift in currency makes Australia's exports much more competitive on the world stage, especially in the face of a mounting challenge from sharply-priced Brazilian exports.
The second is a gradual improvement in lean manufacturing beef prices into the US over the past month, lifting from A540c/kg in early April to a much more respectable A595c/kg last week. Demand out of the US for manufacturing meat has been bleak during the first four months of this year, but outlook and pricing is now starting to look a little more encouraging.
Having said that, fattier trim prices are still looking fairly sick into the US, meat desk traders say. A rise in rates of beef kill in the US over the past fortnight has some exporters optimistic that that could mean a consequent rise in demand for Australian lean trim, to complement the abundant fatty US domestic trim in the blend.
Rain has significant impact
The third factor has been the weather during the past week. Substantial rainfall 50-75mm over parts of western Queensland, large parts of NSW and Victoria has put the brakes on supply this past week, forcing processors to adjust grids to maintain current rates of slaughter.
Even in those areas that did not receive beneficial rain, the prospect of it last week put something of a handbrake on supply patterns, contacts told Beef Central this morning. Come back for our weekly rainfall wrap in tomorrow's bulletin.
Last week's Eastern States kill reached just over 144,000 head, down from close to 150,000 head a fortnight earlier. Saleyards also clearly reflected the trend, with less numbers yarded at many selling centres towards the end of last week, and so far this week.
Direct consignment grids issued this week for SEQ and northern NSW kills before the end of May show rates around 490c/kg for the four-tooth YP grassfed ox, and best heavy cows 445c. Those rates are up 5-10c on where they sat a week or less ago.
Southern grids, driven by seasonal supply, this week appear to be a little better at 505-515c for the YP steer and around 440-445c on the cow.
Dairy selloff influence may have a bearing on market
Another likely factor in coming weeks on supply and demand could be a significant selloff of dairy cows, following a dramatic drop in milk pricing announced by Murray Goulburn and Fonterra on Friday.
Hot-boning processors in the south are also reporting much larger inquiry for dairy cow disposal, as milk producers cut production in the face of prices below cost of production across Victoria and southern NSW.
This could add an unusual aspect to the southern slaughter in coming weeks/months. Firstly, it could assist southern processors killing cows to maintain higher rates of kill later into the season, at a time when they normally start to struggle for numbers. Secondly, it might also reduce the tendency for southern processors to head north to buy cattle out of northern NSW/southern Queensland to supplement their kills, as has been happening in recent weeks, processor contacts suggested.
It remains to be seen just how extensive the dairy liquidation is, but judging by reaction to the latest milk price cuts, it might be more substantial than what some expect, Beef Central was told.
Worth noting is the shape of Victoria's kill in the latest weekly NLRS eastern states slaughter report. While all other mainland states are minus 17 to minus 26pc on throughput compared with this time last year, Victoria stood out like a sore thumb, being only minus 2pc, year on year.
"This dairy sell-off looks like having some part to play in the immediate future, but just how big remains to be seen," one large southern processor said this morning.
"There's certainly a lot of dairy cows around," another contact said. "But rather than impact on other, better quality cattle, I think it will just help fill the supply shortage, for those plants that can operate on them. I don't think there will be much displacement of conventional cattle."
EU prices settles after quota pressure
Another grid price segment worth noting this week is EU grassfeds.
The last of the Australian beef shipped against the previous quota year left a couple of weeks ago, creating a few spikes in EU grid offers later in the shipment year as some processors moved to try to cover their quota allocation.
Australia, as a nation, had only shipped about 85pc of its 2015-16 EU quota with only a few weeks to go in the shipment year, pushing some EU-eligible processors to lift grids briefly to try to flush-out some suitable stock. Other EU processors had already met their quota requirements, creating a 'two-tiered' market for a few weeks.
EU grids this week appear to have settled down again, as the new shipping year starts. Best quotes for EU grassfed steer SEQ kill this week appear to be around 515-520c/kg, depending on kill location.