SLAUGHTER cattle prices have surged again this week – in some cases to record levels – as the accumulated benefit of recent significant rain across parts of eastern Australia and the prospect of more to come sinks in.
The meatworks cattle pendulum has now well and truly swung, with many processors now suggesting they have only a week's (or less) worth of bookings on hand.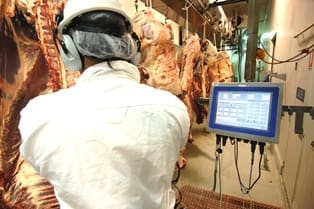 In the nation's biggest concentration of processing capacity in southern Queensland, many grids rose another 20-30c/kg in the past seven days, on top of rises typically 20c/kg the week before.
Grassfed four-tooth steer prices have now lifted to all-time records of 620c/kg this week, well past the previous record of 600c/kg seen briefly last year. That's added another $175 a head to bullocks, compared to rate seen just before the rain arrived.
Cows are now in increasingly short supply as rebuilding mentality starts to take hold, hitting 530-535c/kg on some Queensland grids this week. Good heavy cows in southern Queensland grids reached a peak of 550c/kg during short periods in 2019.
In the saleyards system, good cows are in shorter supply, but were consistently making 280c/kg liveweight in the past few days in southern QLD/northern NSW sales. Some of those cows had spent time on grain. That's worth around 560c/kg dead weight, where they stand.
It's not at all uncommon for saleyards prices to get ahead of direct consignment offers during times of shortage like this.
Central Queensland direct consignment rates this week are much the same as southern parts of the state, as fierce competition emerges from live exporters looking for heavy cattle after rain interruptions to roads and paddocks. Typical Indo steers in Darwin are quoted at 340c/kg liveweight this week, reaching an 18-month high.
JBS's Townsville export plant is now shut for a planned three weeks, as a result of recent torrential rain and damage to roads and rail infrastructure. The plant only started its 2019 season a couple of weeks ago.
"The silly season has well and truly set in," one multi-site processor said this morning. "It's a day-to day proposition to raise kills at present."
Wariness over meat markets
While slaughter cattle prices have reached headline-grabbing levels this week, processors remain cautious about the meat trading environment – particularly in China, where the meltdown occurring due to coronavirus is taking new and unexpected directions, virtually on a daily basis.
Talk in some processing circles yesterday suggested China might close all its ports, as part of an effort to control people movement and limit the spread of the virus. That followed yesterday's news that the Chinese Government would offer 'force majeure' (Act of God) certificates to companies struggling to cope with the impact of the coronavirus epidemic on their business with overseas partners. Such certificates effectively excuse importers from contractual agreements.
"There's just so many different directions that the China market could go, it's impossible to predict what will happen at present," a trade source said this morning. "You couldn't rule anything out, but certainly economic confidence in China is now being significantly damaged."
It's an understatement to suggest that uncertainty surrounds trade into China at present, and its likely implications for the Australian beef industry, now that China accounts for more than 24pc of all Australian beef exports.
While the recent rain has made procurement much more difficult for processors heading into February, the longer-term impact on the grazing industry will be profound, and potentially long-lasting. Good well-finished grass bullocks are now virtually assured from across Queensland's extensive grazing areas, and regions in the Channel Country may see some beneficial flows in coming months.
The industry is also getting excited about the prospect of more rain ahead. BOM's eight-day forecast (see image below) suggests at least 50mm of rain may fall across large expanses of Central and southern Queensland and northern NSW between now and 11 February. Some regions, including the western Darling Downs, may receive considerably more than that.
Follow-up rain would be priceless on top of January falls, and for some, would guarantee a grass growing season, at least.
Strong interest out of the south
Some southern Australian processor grids have also risen 20c/kg in the past week or ten days – partly in response to growing buying pressure from competing processors located further north.
Cow numbers in southern NSW and Victoria have held up remarkably well, with 1800 cows yarded at Wagga yesterday, perhaps partly lured to market by the higher prices on offer.
Queensland processors have been active across southern and central NSW saleyards and into Victoria over the past week, because of big price differentials on cattle. In some cases southern slaughter cattle are up to 50c/kg cheaper than their equivalents north of the border, making a big freight bill much more palatable.
Reasonable lines of cows bought out Shepparton this week, bound for southern Queensland plants, looked good buying, once road freight was factored in.
Another example suggested cattle were sourced this past week out of centres like Forbes, Carcoar and Tamworth, bound for Borthwicks at Mackay, where rain impact has been seen. That's a road distance of 1660km in the case of Carcoar, likely to cost around $200 a head.
Kills retract
The Eastern States weekly kill contracted substantially last week, partly influenced by the Australia Day public holiday, but also by constraints due to weather. Some large export processors scheduled shifts on the public holiday Monday.
The five-state kill was back 15pc on the week before, to 125,112 head.
Queensland was down 16pc to 61,122 head, while NSW was 10pc lower at 32,526 head. In Victoria, numbers were back 20pc to 22,268 head, and in Tasmania, kills declined 18pc to 4081. Showing no change from the week before was South Australia, processing 4755 head.