TODAY'S regular Tuesday weekly kill summary is more of a weather report than a dialogue about slaughter cattle prices and movements – and for good reason.
What's been widely described as 'game changing' rain has fallen across large parts of eastern Australia over the past week to ten days, with more to come, according to BOM forecasts.
The rain event has dramatically turned around seasonal prospects across large parts of Queensland, the northern half of the NT and eastern portions of NSW – just as it looked like the cattle industry was heading into desperate seasonal territory over the autumn/winter period.
This time a month ago, cattle were on the move, with large runs of cull cows from parched western country being processed, prompting claims by large Queensland processors that the north was rapidly re-entering herd liquidation territory.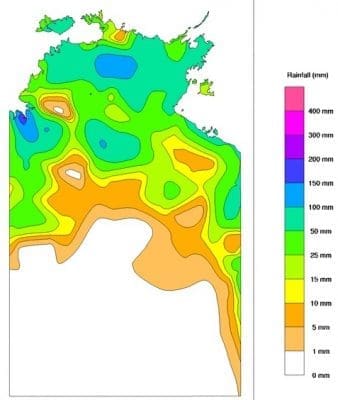 Fast forward to today, and as these state seven-day rainfall maps on this page show, it's a very different picture. There's more colour showing than on a Jackson Pollock pallette. Falls of anywhere from 50mm to 150mm have been widespread across Queensland in the past week, with isolated areas well above at range.
With March only just getting started, there's still plenty of heat left in the ground for a late season to produce good pasture growth, before winter sets in.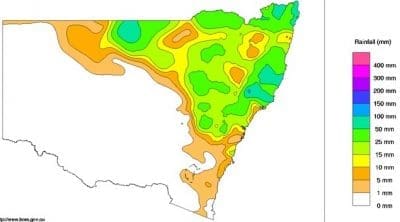 The rain has impacted processing operations on two levels:
The immediate challenge of getting cattle already booked for slaughter out of waterlogged paddocks and onto trucks, or getting trucks across sodden roads and creek crossings, and
An almost immediate reduction in appetite among producers to sell cattle for slaughter.
Most processors spoken to this morning are struggling to fill this week's kill rosters. Production days will be lost again this week all the way from Townsville to southern Queensland, as processors struggle to raise a kill. Several operators in the state's south fear shifts will be lost before the end of the week. Specialist grainfed processors are much less affected, because slaughter-ready cattle are easy to access, and feedlots tend to be on larger all-weather roads.
Most processors anticipate that the rain effect could shorten slaughter cattle supply for at least the next couple of months.
There was an immediate reaction to the rain at this morning's Roma store sale, the nation's largest weekly store fixture and arguably best barometer of store market sentiment, with prices surging dramatically for many restocker lines.
But for many, surging store cattle prices may make it difficult to sell bullocks and buy backgrounders or growers to replace them. In that situation, some grass producers may simply elect to hold the cattle they have and add further weight, rather than pay over-the-odds for lighter replacement cattle.
For those areas of central western Queensland that were already partially or totally destocked before the rain, the challenge now begins to buy back into a rising market.
Whereas June, July and August were previously looking like being particularly challenging for processors trying to fill kills, those months should now be much better supplied, given the feed growth that lies ahead.
Overall, female kill for the remainder of the year is now likely to be lower than how it was shaping back only three or four weeks ago, Beef Central was told.
Grids lift 10c on 'wet weather money'
Grid offers this week have lifted an average 10c/kg across southern and Central Queensland. That follows sole similar rises over the previous fortnight.
Processor offers for kills in coming weeks in southern Queensland now have four-tooth grassfed heavy steer at 500c/kg, and heavy cows 440c. Prices in Central Queensland were typically 10c below those rates.
Those prices are basically back to where they finished off at the end of the 2017 season in December, before taking a dip during January-February due to heavy supply pressure fuelled by the poor seasonal outlook and heatwave conditions.
A large northern NSW processor has grid offers this morning for week commencing 12 March of 450c/kg on four-tooth steer. Grids last week in NSW trended slightly higher, averaging 468c/kg for four tooth grass ox and 410c for best heavy cows. Victorian grids for heavy steers were unchanged at 483c last week, with best cows 400c.
Kill eases 2pc
The onset of the widespread rain saw the eastern states seven-day kill to Friday decline 2pc last week, NLRS reported.
Queensland retracted another 3pc, on top of earlier weather-driven declines, falling to 62,900 head.
NSW dropped another 1pc to just over 33,500 head, with a significant 15pc decline in female kill on the previous week; while Victoria was unchanged at just over 24,500 head.
South Australia saw a big reduction to 4427 head (back 37pc on this time last year, due to the ongoing closure of TFI Murray Bridge due to January's fire); and Tasmania's kill was unchanged at 4800 head.
Further reducing Australian beef production in coming weeks will be the two Easter-shortened holiday weeks, followed by ANZAC day holiday a couple of weeks later.