THE elevated COVID challenge being experienced in southern Queensland – easily the largest concentration of beef processing capacity in the country – has seen operators redouble their efforts to keep illness out of factories over the past fortnight.
To this point, none of the region's major processors have reported cases of worker infection, but some have experienced elevated absenteeism this week, as staff in worst-hit lockdown areas await COVID testing results.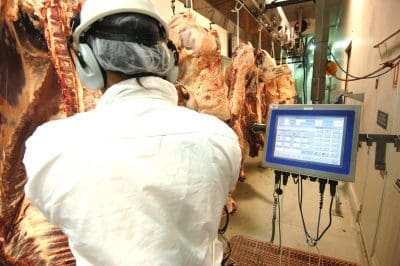 Processors across all areas of eastern Australia where recent COVID Delta strain breakouts have occurred, are working feverishly to avoid a repeat of last year's disease spread episode, where a number of large beef plants were shut down due to COVID infection. Several southern plants lost their China export licenses as a result of that, and importantly, have not yet regained access.
"The heightened risk of disease spread with the new delta COVID strain is front of mind with processors at the moment," one large operator told Beef Central this morning.
"Operators have done incredibly well to keep the disease at bay so far, especially considering a number of very large beef plants are located in areas with current high rates of community infection," he said.
Among a multi-layered approach to protection, all staff and visitors entering facilities are temperature monitored, and distancing regulations and PPE continue apply at many sites.
One plant manager said his business had in fact never come off the 'red alert' status that had been adopted around April last year, when the first wave of sickness emerged.
"If the Delta variant did get a foothold in a meat plant, it would be ugly," he told Beef Central.
"It would potentially be a show-stopper – that's why everybody is again taking a very clinical approach."
Equally, the US processing industry has done a fantastic job of keeping COVID at bay this year, after about 40pc of US production capacity was closed at one point during 2020. The fact that some 80pc of US processing workers were now fully vaccinated had helped in that.
While Australian processing plant workers were among priority candidates for vaccination, one operator told Beef Central that perhaps half his company's workforce was fully vaccinated, at this stage. That is expected to change rapidly over the next couple of months, however.
COVID is also again impacting international shipping performance, with limitations and blockages reported both in Australia and overseas this week.
One export trade source said he was concerned that shipping access could be a significant show-stopper for Australian red meat exports in coming weeks. More on that in a separate article tomorrow.
Grid prices continue to climb
Some processor slaughter grids have continued to climb this week, typically by another 5-10c/kg on steers and cows.
Some southern Queensland operators have added another 10c to already record-high numbers, with offers seen this morning of 680-705c/kg on four tooth HGP-treated heavy steers, and 640-655c/kg on good cows without too much waste. Central Queensland rates are 10c/kg behind those figures, as is normally the case.
Southern states processor grids continue to reflect the extreme tightness of mid-winter supply on top of drought-driven herd reduction, with most large plants currently operating at only four days a week or less. Southern NSW and South Australian grids have re-set records again this week, with heavy steers as high as 810c/kg on four-tooth grass HGP-treated steer, and cows at 680c/kg.
Those numbers fall into line with last week's report showing that Australian slaughter cattle prices continue to sit at the top of the table in the world league of beef exporting nations (click here to view).
The softer Australian dollar is providing a little relief for exporters still facing dizzying losses on slaughter cattle, as discussed in last week's report.
Kills subside
Last week's seven-day national slaughter to Friday subsided a little, falling to 98,581 head, about 1.5pc below the week before. To put the current 2021 season into some context, there have been only seven weeks since the Easter break this year when national slaughter levels have exceeded 100,000 head. For the same period last year, there were 13 weeks that exceeded 120,000 head, and a number within that above 130,000 head.
Queensland's kill last week eased 1pc on the week before to 50,158 head, while NSW declined 3pc to 26,891 head. In Victoria, processors accounted for 12,304 head, marginally down on the week before, while South Australia's mid-winter kill was unchanged at 2610 head. Tasmania's numbers fell sharply to 3677 head, down 18pc, while Western Australia reported a kill totalling 2941, much the same as the week before.