It's been a frequently visited topic in Beef Central's weekly Eastern States kill report for 12 months or more, but as is often the case, a well-executed graph can often portray a situation considerably better than any collection of words.
Take a look at the graph published here (click on image for a clearer view), from MLA's mid-year beef industry projections released yesterday. It illustrates the extent of female beef kill, expressed monthly, as a percentage increase over the same month the previous year.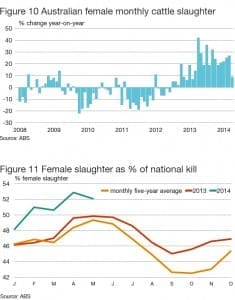 The mass of 'sky blue' above the zero line, over the period starting early 2013 and now, graphically illustrates the problem the industry now faces in terms of lost future breeding and production capacity.
The two big herd rebuilding years of 2010 and 2011 are also clearly evident (blue masses below the zero percentile), but nothing in recent history comes close to the female liquidation experienced over the past 18 months.
The trend is equally evident in the second graph, plotting 2013 female kill as a percentage of total beef kill for 2013 and 2014 YTD, against the five year average.
In the two states where female kill percent is routinely recorded – Queensland and NSW – the figure has frequently been above 48 percent this year, and at times, especially in the case of NSW, well above 50pc.
That applies as much for last week's seven day kill as it has earlier. In NSW, females last week made up an enormous 54pc of the weekly kill, a figure that is not sustainable under any circumstances. While the Queensland female kill percentage has started to subside, easing to 44pc last week, much of that is due to the extreme rate of female slaughter earlier. There simply aren't a lot of surplus females left in the state to kill, it seems.
As at May 2014, monthly female adult cattle slaughter had been higher, year-on-year, for 23 consecutive months – a sequence not seen in Australia since 1997-98.
While MLA's mid-year forecast has adjusted overall beef slaughter estimates this year to 8.3 million head, down 0.7pc on last year, that figure remains extremely high, in historical terms.
The Australian beef kill has not exceeded 8 million head for two consecutive years since 1978-79, at the tail end of the Beef Slump.
MLA now anticipates high slaughter levels to continue at least until the fourth quarter of 2014, starting October. That suggests that when there is a turnaround in conditions, northern cattle supplies will be tighter than those in the south.
The impact of the increased female kill throughout 2013 and 2014, from what was already a historically high slaughter level, will be felt significantly in the absolute number of calves branded from 2015 onwards. Looking further ahead, and taking into account not only the very high female slaughter levels, but also low branding rates and likely strong live exports, adult cattle slaughter is forecast to fall 900,000 head in 2015, to 7.4 million head.
Underpinned by fewer cattle coming through the system in the coming year, slaughter is likely to remain steady in 2016, at 7.4 million head, before increasing to 7.9 million head in 2020, MLA's Projections suggests.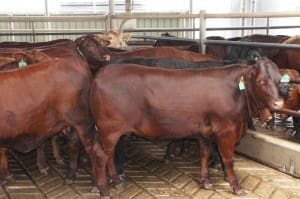 Last week the National Livestock Reporting Service logged an Eastern States seven-day beef kill of 169,947 head – down 0.7pc on the previous week's extreme, but showing no real signs of easing up yet.
Most states were virtually unchanged from the week before, with the exception of Victoria, which eased 3pc to 30,849 head.
Processors in Queensland notched up 85,804 head (+5pc on this week last year); NSW reached 40,187 head (+16pc on a year ago); South Australia killed 8211 head (+131pc on last year) and Tasmania reached 4896 head (+7pc on last year).
With winter now more than half complete, producers across Eastern Australia continue to show extreme caution over spring seasonal prospects, with the threat of El Nino still strongly indicated.
Oats crops in many parts of southern Queensland are now badly in need of a drink, with many approaching make-or-break time, which could in itself push more cattle to market unless growing areas receive some moisture relief.
Larger Queensland processors are still reporting heavy direct consignment bookings right through July and August, with some committed heavily right out to September. Some are reporting a noticeable decline in cow weights, condition and quality over the past few weeks.
Grid prices unchanged
Southeast Queensland meatworks grid prices have remained remarkably stable for the past four weeks or so, with no significant change evident again over the past seven days.
SEQ processor sell prices obtained this morning indicated grassfed four-tooth Jap ox at 320c/kg, 330c for milk and two-tooth, best cow 290c/kg. Grassfed MSA steer for slaughter ex-SEQ has held up relatively strongly, worth 375c/kg in one quote seen this morning, the same as EU grassfed steer suited to the Hilton quota.
As highlighted in this article published earlier on Beef Central, drawn from our recent Pasturefed Cattle Assurance System webinar, one of the highlights in cattle pricing recently has been the big premiums on offer for PCAS-eligible cattle.
One of the processors to engage in the program, Teys Australia, has forward price grids for October delivery onwards of 410c/kg top sell for PCAS-MSA steer. This followed 420c/kg for August delivery, and 430c/kg for September, but both those months are now virtually overbooked.
One of the perhaps unexpected outcomes of the big push into selling PCAS-certified trim into export markets is an emerging premium for PCAS-eligible cows, bulls and other slaughter stock, which aren't eligible for MSA. Teys is now offering a 10c/kg premium from October for all other (non MSA) cattle eligible under the PCAS program, to fill demand for certified pasturefed manufacturing beef.
Teys packed its first PCAS cow-meat cartons for export three weeks ago, and the company says it is looking for more manufacturing type beef, going forward.