JUST as 2017 has been a tough year for procurement for meat processors across Eastern Australia, next year is shaping up much the same.
In advance of its formal 2018 industry projections to be released at the end of January, Meat & Livestock Australia is talking about a modest rise in slaughter numbers – perhaps adding another 200,000 head to the 2017 tally – taking annual slaughter to around 7.45 million head. That potentially adds another 4000 head per week on average to the national kill during 2018, a modest rise from what were already low levels.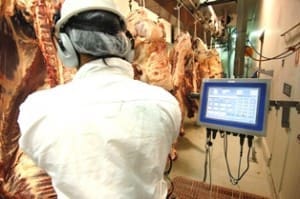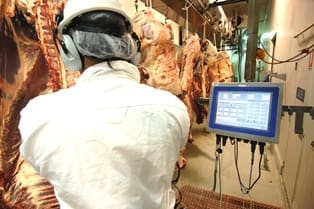 After a slow start to 2017, adult cattle slaughter started to ramp-up in the second half of the year. As our home page eastern states weekly slaughter graph shows, numbers processed have mostly tracked ahead of year-ago levels since June, as seasonal conditions deteriorated during winter, before an unexpected seasonal break in some eastern parts of Queensland and NSW in October.
Unlike chicken and pork where recovery in numbers can happen in dramatic fashion, the slow breeding cycle in beef cattle (single calves instead of litters, and 880 days between conception and typical slaughter at 20 months of age) dramatically delays any herd recovery process after drought.
It means 2018 is likely to display some progress in slaughter numbers, but not dramatic.
As always, weather will play a fundamental part in how 2018 slaughter supply plays out.
Large eastern states processors canvassed for opinions this week see the first quarter next year as being reasonably comfortable, in terms of numbers. That's due in part to the benefit of the early seasonal break in some parts of Queensland and NSW since early October, bring a few more cattle 'forward' of where they otherwise might be, weight-wise. However further widespread rain in late December or January might delay that somewhat.
In the southern procurement areas in Victoria and southern NSW, the opposite applies – a late start to the spring season is likely to push cattle that would normally have been processed in the fourth quarter back into the early stages of next year, processors said.
Through the middle of  next year, from April to September, its likely to be different story, with slaughter cattle supply again looming as very tough, before numbers start to grow a little late in the year due to better post-drought calving in 2016.
Contributing to tight supply conditions next year will be the strong trend for young cattle to go into feedlots this year, rather than remaining in grass paddocks for another year to finish as next year's grassfed bullocks. That will potentially leave a 'shadow' in next year's grassfed kill, processors suggested. That topic was discussed in detail in this item, published earlier.
Perhaps helping underpin slaughter cattle supply, at least in more northerly regions next year, will be a flow of cattle out of northern Australia, due to challenges in the live export market into Indonesia which look like continuing next year.
Some large northern pastoral companies are already factoring-in substantial cattle movements out of northern breeding properties back into Queensland, that would normally go on boats out of Darwin. Seasonal conditions in Queensland will determine how widespread that becomes, a large pastoral player said.
Season delivers 'have's and have not's'
While a lot of attention has focussed on grazing areas mostly in the eastern portion of Queensland and NSW which have received good to excellent rain since October, there are still large tracts of the central and western parts of both states desperate for rain.
Cows and calves have been leaving the Blackall area in numbers this week, heading for agistment at Goondiwindi and Moree, Beef Central was told. Other areas are patchy, at best. One processor estimate this week suggested 70 percent of Queensland was still in trouble, while the remaining 30pc was 'good' to 'exceptional'. Lack of run-of rain to fills dams was an issue in some areas that now had a body of feed for summer.
Other places that have had 80 or 100mm rain are coming from bare dirt after three years of drought, delaying their recovery process.
"For those fortunate to receive good earlier rain since October, they are going to get some longevity in their summer growing season for a change, so those cattle will 'do' well," one processor said.
"But a good supply of cattle early in 2018 will not necessarily mean that there are more cattle about. It will be like what happened this year in July and August – we killed the spring cattle early because of the dry circumstances, and next year we will be killing the autumn and winter cattle early, because of the (early October rain) circumstances," he said.
The second and third quarters will again be very tight for supply, processors believe, and any sign of early influence from herd rebuilding will not be evident until at least late next year, or even into early 2019.
"We might see a little of it in the last quarter next year, because there was a pretty good calving two years ago – but it's still early times in terms of herd rebuilding," one large processor said.
Export outlook
Internationally, the big challenge for Australia next year will be a wall of meat (not just beef, but all species, including chicken and pork) facing Australian exporters in international markets. As outlined in this earlier article, US beef production is forecast to reach all-time highs in the next couple of years.
Add the expansion in exports being seen out of Brazil, the world's largest beef exporter, and Australia faces a strident challenge in export markets next year. Brazilian beef exporters see shipments growing 10pc in 2018 after rising 9pc this year despite corruption and food safety scandals that temporarily closed major markets.
Brazilian exporters association ABIEC yesterday said Brazil would likely sell 1.68 million tonnes of beef overseas next year, up from 1.53mt in 2017. The bullish outlook is based on expectations of the US lifting a ban on fresh Brazilian beef and China certifying imports from more Brazilian plants, ABIEC said, which could boost exports to the Asian giant by 50 percent.
Arguably, it adds up to the most hostile competitive export trading environment Australia has faced in recent times.
Cattle price outlook for 2018
A considerable number of analysts have predicted price declines for Australian slaughter cattle next year, to better align with more competitive global beef suppliers like the US.
Already, several Queensland processors have grid offers in place for kills after business re-starts in January. Those offers are unchanged from current December grids, with four-tooth grassfed heavy steer at 490c/kg, 495c for milk and two-teeth; and 440c/kg for heavy cows.
Finished cattle prices have largely eased in recent weeks as seasonal plant closures draw near, and the US imported beef market softened.
While the national NLRS heavy steer and medium cow indicators remain below where they tracked this time in 2016 and 2015, finished cattle prices are still historically high – above any level prior to mid-2015.
Prices start to re-align with US
Recently, Australian cattle prices appear to have re-aligned themselves through 2017 to their historical ratio to the US market.
The graph below, produced by MLA, illustrates the relative price difference between finished cattle in both countries in US$. Australia has returned to a 20pc discount, after hitting a massive 57pc discount in the grip of drought (and record US prices) and a historic premium when both indicators crossed over for the first time in 2016.
While Australia appears to be back in sync with the US, currency movements and the growth in Australian cattle prices over the past three years have made South America a more competitive supplier to the global market. Up until 2015, Australia tracked relatively closely to Brazil, Uruguay, Paraguay and Argentina. However, steers in Australia are now tracking close to a 50pc premium to those in Brazil.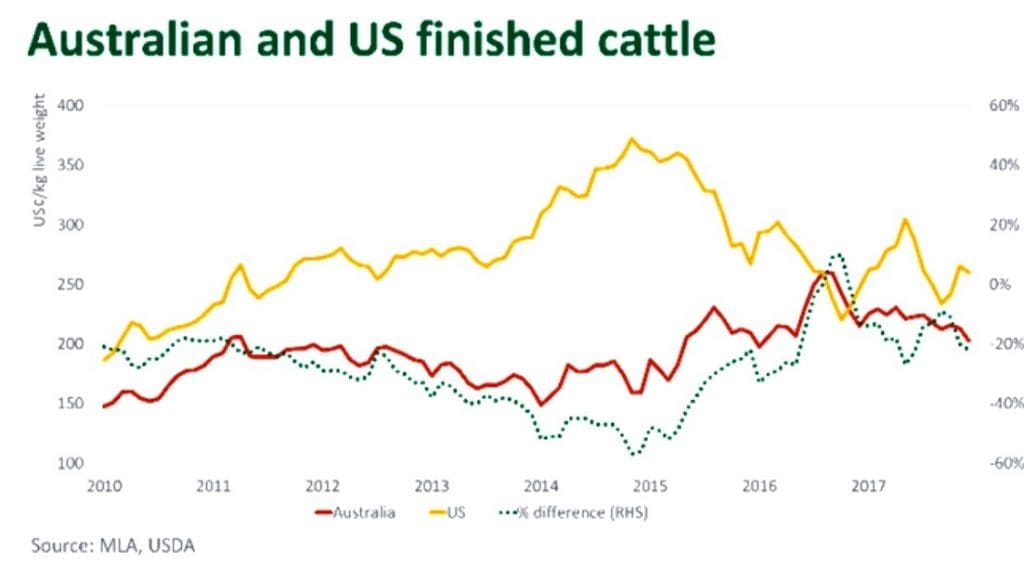 Feeding costs
Feeding cost will be a significant factor in grainfeeding activity next year. Feedlot ration costs in Queensland are currently around $100 a tonne dearer that they are in southern lotfeeding areas, due to grain price, and certainly some large commercial Queensland feedyards are now only two-thirds full, and continuing to decline, because the sums don't add up on feeding cattle.
One processor early last week said at current ration prices, lotfeeders would want 550-560c/kg to get out of the finished cattle – well north of the forward offers around 520-530c/kg floating around for February-March next year. He said his company had not contracted a grainfed beast for February delivery next year, when normally they would have had 5000-6000 booked away.
Final weekly kill
With many plants in Queensland and NSW now entering their seasonal shut-down phase, last week's kill was the last for the year under normal operating conditions.
The NLRS reported a five-state kill of 133,700 head for the seven days ended Friday, about 2pc down on the previous week. This current week's throughput will be well down, as some large plants are now shut for Christmas break, and others will join them before Friday.
This is the last weekly kill report for 2017, returning on Tuesday, January 16 as most plants get back to work.