South Australian meat processor T&R Pastoral has bought a 50 percent share of large, diversified wholesaler/distributor, Holco Meat.
T&R Pastoral chief executive Darren Thomas announced yesterday that the Murray Bridge-based meat processor had bought a half share in Holco, renewing a long-term relationship between the two companies.
T&R has an annual turnover of more than $1.3 billion and is the nation's largest lamb and mutton exporter and a significant beef exporter. Eighty percent of its business is in export, to more than 80 countries.
Mr Thomas said the benefits of the new alliance from T&R's perspective would include the ability to supply the general Australian retail market and food service sector with red meat, as well as chicken, pork and seafood.
"The benefits will flow back to the farming community and we will be able to focus on more branded products underpinned by the Meat Standards Australia guarantee of quality," he told the Adelaide Advertiser.
"It will give us an opportunity to promote some of our great brands on the domestic market that were previously only seen on the international market."
T&R operates four abattoirs in Murray Bridge and Lobethal in SA; Tamworth in NSW; and Wallangarra in Queensland, processing 120,000 sheep and lambs and 5000 cattle a week.
Mr Thomas said Holco would become the largest Australian-owned food service provider with access to a processor.
T&R employs 2500 people, while Holco's 300 employees process and deliver fresh beef, chicken, lamb and pork to restaurants, cafes, supermarkets, commercial caterers, mining sites and healthcare organisations across Australia.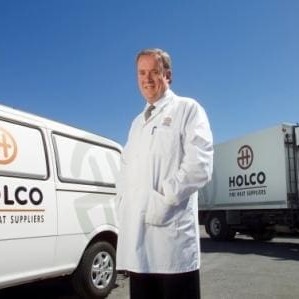 Holco, with an annual turnover of $130 million, will take over responsibility for the management and operation of T&R's Country Fresh Nationwide wholesale/distribution business, adding to Holco's existing distribution centre operations in Adelaide, Brisbane and Darwin. One of Holco's recent growth areas has been in providoring to the minerals and energy industry.
Holco owner and managing director Mike Rankin told the Advertiser the deal would provide it with greater access to a wider market, while giving T&R a platform concentrated on the Australian market.
Mr Rankin will continue as managing director of Holco, with Mr Thomas joining a new executive board to help guide its growth and future strategy.
By consolidating Country Fresh Nationwide and Holco, the combined business would do upwards of $200 million in business a year, Mr Rankin said.
T&R Pastoral has expanded significantly in the past few years, performing a major refurb on its Murray Bridge facility in 2010. The plant, with a capacity for 700 cattle and 8000 lamb a day is USDA and EU–accredited, and also is approved for contracts with McDonalds, Burger King, Woolworths and Coles.
Cutting–edge technology like loin, leg and trunk lamb boning machines have been introduced and the site prepares a wide range of value–added products. The dual–species Lobethal abattoir also includes state-of-the-art beef patty, rissole and sausage production lines.
In 2010, T&R bought Country Fresh Australia and it subsidiaries in the US and China.
That deal included CFA's processing facilities in Tamworth and Wallangarra, and a distribution network. Also in 2010 T&R bought 50pc of Foodcomm International, one of the leading importers of Australian chilled beef and lamb, as well as mutton and goat, in North America.