MEATWORKS grids for southern Queensland kill have risen sharply again in the past seven days – up to 20c/kg in places since last Tuesday – as further rain impact in some areas combines with the general shortage of slaughter stock in the market.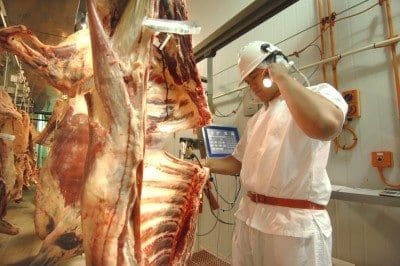 The extent and severity of the rises have taken much of the market by surprise, with most grids in the region being adjusted twice in the past seven days as larger processors increasingly desperate for cattle push the market higher – even if it means sustaining ever-larger losses.
Best offers for southern Queensland kills through to later in June from at least three large export competitors are 550c/kg top cell for the four-tooth grassfed steer, and 500-505c for the heavy cow (+280kg or +300kg, depending where you are consigning to).
For those that might have missed it, that is in fact an all-time record for the benchmark four-tooth grassfed steer, exceeding the 545c/kg high point experienced for a period last year as the market went on its rocket-like trajectory from around June. Cow money is not that far behind, being within sight of the 515c it hit during the peak of last year's market surge.
Worth remembering is that just a fortnight ago, that same steer was worth 30c/kg less, or $99 on a typical 330kg carcase.
The sharp rise in price has brought some cattle bookings forward, but nothing like the numbers hoped for, Beef Central understands.
While the A$ is perhaps US3-4c lower than where it sat this time last year, the big difference this year is that the super-heated international beef market demand that existed during much of 2015 has now turned from steam, into a soggy fog. US demand for grinding meat continues to be very flat, while markets like China and the Middle East are now being pillaged by ever-larger volumes of cheap Brazilian beef, at Australia's expense.
All that points to significant losses by Australian export processors at present. Two reliable sources approached on the topic suggest losses on the heavy grassfed steer this week may be approaching $100 a head, and perhaps $70 to $80 on the cow.
Confounding the slaughter supply challenge further at present is the Bureau of Meteorology's eight-day rainfall outlook, which indicates good prospects for precipitation across large parts of eastern Australia through to June 21.
Will higher prices flush-out more cattle?
Weather effects aside, the question now being asked is whether ever-higher prices will produce more killable cattle.
"You could offer 550c for cows tomorrow, but apart from a kneejerk which might flush a few onto the market for a week or two, it isn't going to add much to the available kill," one veteran processor said.
"The long forecast lack of numbers is here – it has arrived. Current pricing is all about protecting market share, and just trying to keep a very modest kill intact. But that's unsustainable, at current price levels."
Some of Australia's largest beef processing plants skipped days last week due to lack of supply, on top of reduced daily tallies and other survival measures implemented earlier. Several said kills this week were still a 'day to day proposition' and would not rule-out further closures later this week.
"Supply is now desperately short, and will stay that way for the timebeing," one contact said. "Most plants are now operating on the bare bones. Profitability has not been this bad since the very wet 2011-12 years."
'Everybody is running out of puff," he said.
"They aren't going to keep this up for much longer, unless one of two things happen – either the A$ has to lower in value dramatically, or there needs to be reinvigorated buyer demand from overseas. Neither is happening at the moment."
Roma store sale this morning saw feeder steers selling for 320c/kg 'everywhere', as the market lit up after earlier rain. Southern restockers were active, especially for lighter cattle.
There was no NLRS weekly kill report available by the time Beef Central's daily news alert was issued, due to delays caused by yesterday's public holidays in some states.