JBS, the world's largest meat protein producer, has had a greatly improved third quarter financial result, flagging a record R$19.4 billion (A$9.07b) net revenue figure in reporting to the market yesterday.
The revenue figure was 24 percent higher than the same period last year.
The third quarter also produced a record for pre-tax earnings for the company of R$1.38b (A$645 million), while adjusted net income came in at a record R$495m (A$231m).
Consolidated gross profit was R$2.48 billion, a 46pc increase over the same period last year and 17pc higher than the second quarter of 2012.
Quarterly record exports across the company's beef, pork and chicken operations in North and South America and Australia totalled A$2.43b, a 6.7pc increase over this time last year.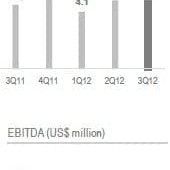 JBS's USA Beef division, which includes the Australian operations, produced a net revenue for the quarter of A$4.11b, outperforming year-ago results by 1.6pc. This came as a result of a 3.5pc increase in volume sold in the US domestic market, combined with prices trending 1.1pc higher.
Compared to the June quarter, US/Australia Beef division revenue remained stable.
"This quarter was the turning point for US/Australia Beef, when margins became positive in 2012," JBS's financial statement said.
Although raw material prices remained high, pre-tax earnings for the division totalled A$168m.
"The improvement in the dynamics of the sector in the US, due to the better balance between supply and demand, permitted an improvement in margins in the JBS USA Beef Unit," the company statement said.
The successful performance of the company's operations in Australia contributed to the solid results, JBS said. The USA/Australia beef business unit currently accounts for 45pc of the global company's net revenue.
Strong results were also recorded in JBS South America, where revenue was up 18pc on this time last year, and pre-tax earnings increased of 47pc over the same period.