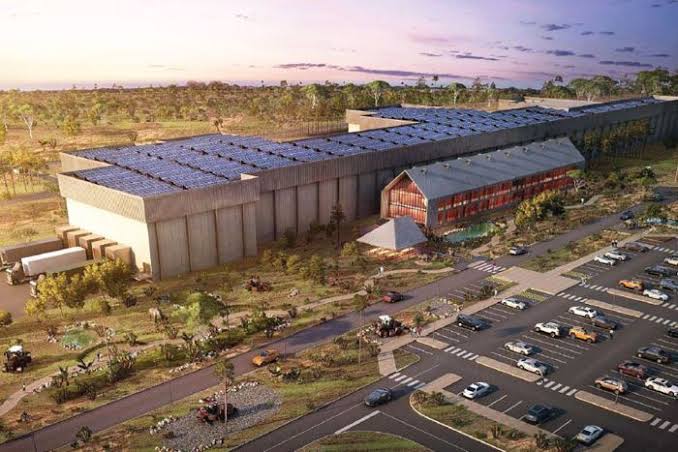 A proposal to build a major new export abattoir, solar farm and hydrogen energy plant in a State Development Area adjacent to the Port of Gladstone was publicly unveiled in October last year.
While the news was new, the project had already been several years in the planning up to that point, according to one of the project leaders, Leo Neill-Ballantine.
The project is significant in scale, with an estimated cost to complete all three integrated developments of over $300 million.
A new company, Asia Pacific Agri-Corp, has been formed to oversee and advance the project, comprising a group of Central Queensland cattle producers and business people.
Project partners have told Beef Central a non-disclosure agreement has now been signed, which includes an in-principle funding agreement, with a foreign investor who has existing meat industry interests overseas.
The identity of the investor has not been disclosed, but in this case the overseas party is understood to be not from China.
Applications for each development are said to be well advanced and soon to be lodged with the Gladstone Regional Council and Department of Environment and Science.
At this point the proponents say the timeline they are working on would see the facility up and running by 2022.
Under current plans the first stage of the proposal involves constructing an abattoir capable of processing 600 head per day in a single shift, increasing over time to 2400 cattle per day in multiple shifts, seven days a week.
The abattoir would process cattle with an average liveweight of 500kg to produce bone-in carcase and quarter beef, and chilled and frozen boxed beef for export.
The proposal as it currently stands would also include a 95 hectare solar farm, capable of generating one-third of the site's total estimated electricity needs, and an on-site 33 megawatt plant that will convert waste water into hydrogen for further energy generation.
One of the cattle producers leading the project, Leo Neill-Ballantine, a fifth generation beef producer from Calliope and former Gladstone Regional Councillor, has been promoting the concept of a new abattoir at Gladstone for several years.
He said the approval application process is now well advanced but it was still taking time to work through, because the proposed development effectively involves three large integrated projects in one.
"The three projects are all linked within the Development Application and the three projects have to be managed down the table like chess at the same time," he explained.
Mr Neill-Ballantine said the Gladstone State Development Area was an ideal location due to its proximity to Central Queensland, Australia's largest cattle producing region, and the Gladstone export port.
The Port of Gladstone was also the site of a long-running meatworks which was operated by the Queensland Abattoir Corporation from the 1890s through to the 1960s.
"Central Queensland has got more cattle than any other region in Australia and we have the second biggest port in the country. There's a lot of potential," Mr Neill-Ballantine said.
The region is already serviced by three large-scale abattoirs (two in Rockhampton and one at Biloela), and a growing live export trade out of Port Alma near Rockhampton, which will take about 50,000 slaughter weight cattle from the region this year.
Mr Neill-Ballantine said despite the existing competition he believed there was potential for greater competition in the region, evidenced by previous peak production periods when it could take three to four months for producers to get cattle booked into works.
While the industry is currently at the other end of that cycle, he believed the proposed abattoir's relatively modest initial processing capacity of 600 head per day would help its viability in tighter supply periods.
Mr Neill-Ballantine said there had been no new processing plants built in Queensland for a long time (the last in Beef Central's understanding was Coominya west of Brisbane in the 1990s), and long standing producers in the region felt there was a need for a modernisation of industry infrastructure.
"It has been a long time since the beef industry has had a significant leap forward," he said.
"From the outset the mindset was to go with a state of the art facility, with hydrogen and solar that can supply all of its own power in a micro grid, which can provide significant cost savings."
Mr Neil-Ballantine said a number of Central Queensland producers were also involved in the project and saw potential for it to operate as a hybrid ownership model between a producer cooperative, to allow producers to have a direct stake in the project, and an off-shore investor.
He also said the recent growth of live cattle exports from the region underlined the region's supply potential.
"When people start talking about a shortage of cattle, excuse me if some days I go, 'oh yeah?'"
"A well respected old cattle buyer from Rockhampton who I have spoken to numerous times always tells the story about a year when everyone was doom and gloom about there being no cattle and the following year they killed many thousands more than the year before, and that has happened more than once.
"It disappoints me when you can go to a sale and it's not hard to find someone going off about the industry one way or another, but as soon as someone gets off their pockets and decides to do something about it, it is like it won't work.
"Why won't it work? I mean Henry Ford never built the motorcar because everyone told him it wouldn't work."