The managing director of the Wodonga abattoir in northern Victoria, Jon Hayes, earned the meat processing industry's highest honour last night when he joined a select group of industry stakeholders named as Distinguished Australians of the Year.
As part of his long-standing responsibilities as an AMIC processor board member, Mr Hayes has taken a key role in representing Australia's interests in the field of Halal certification, allowing Australian exports to access a growing number of Halal-dependent markets around the world.
He has chaired AMIC's Halal committee for more than a decade, and has represented Australia numerous times at World Halal forums. Because of his integrity and commitment to the Halal cause, Mr Hayes has been one of the few non-Muslim representatives asked to speak at the forum events.
There is no doubt that Australia's reputation as a reputable and committed Halal beef and sheepmeat supplier has been greatly strengthened as a result of Mr Hayes' contribution to industry.
He was also large responsible for the formation of the former AQIS Halal Consultative Committee (as of yesterday renamed simply Department of Agriculture).
The committee comprises all Australian Halal stakeholders, including the 15 Islamic certifiers operating in Australia, individual processors, AMIC, AQIS and other government agencies. The committee's focus is to ensure that Australia's Halal systems and processes carry the highest integrity in international customers' eyes.
Mr Hayes worked his way up from the industry grassroots, starting work at Newcastle abattoir before training as a meat inspector. He worked as an inspector at a wide number of plants across Australia from Townsville to Homebush, Dubbo and Portland.
When the organochloride residue controversy broke in the late 1980s, he was called to Canberra to assist with the administration and clearance of product, and the implementation of new testing protocols.
In 1991 he accepted a position as managing director of the Wodonga abattoir and rendering business in Victoria, a position which he continues to hold today, 22 years later.
"John Hayes has been a truly great contributor to the betterment of the industry, and one with significant technical skill and experience," AMIC processor chairman, David Larkin said.
The Distinguished Australian of the Year was the culmination of a series of awards made during the concluding stages of the 2013 AMIC Meat Industry conference on the Gold Coast last night. Other awards included:
AWX/MLA Future Leaders Award
Two high-achieving younger industry stakeholders were announced as joint winners in the AWX/MLA Future Leaders award. Both will receive an international travel award to further their industry knowledge in a chosen field.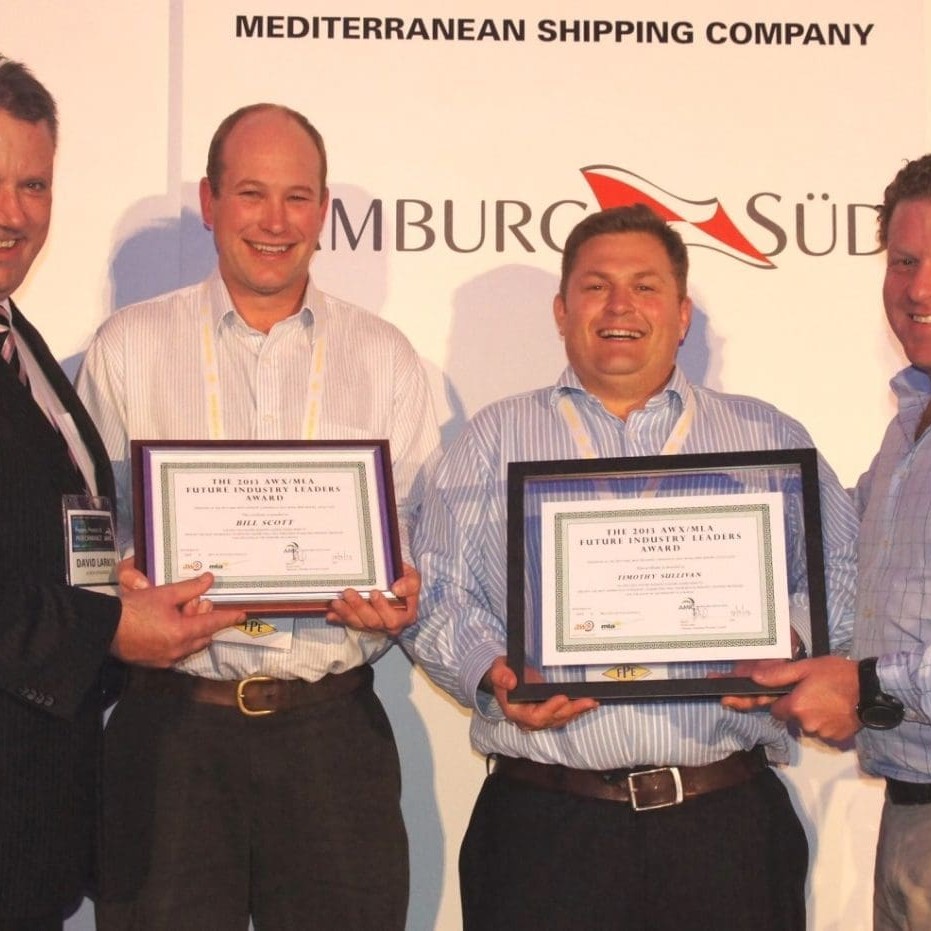 The first recipient was Bill Scott, from GM Scott Processing in Cootamundra.
Mr Scott (no relation to the Scotts associated with the business name) has spent the past three years as business/export manager for the Cootamundra plant, after previously working in for Mulwarra Export meat marketing role in Sydney after graduating from Orange Ag College. At a young age he has taken responsibility for GM Scott's tier one export business in sheepmeat, mostly into the Middle East and Vietnam.
The second Future Leaders winner was dynamic young meat trader, Tim Sullivan from Sanger Australia. Mr Sullivan is responsible for Sanger's business into the rapidly emerging Chinese market, having started his meat sales training after university in Ireland, where he spent three years with the Limited Foods group, servicing large retailers like Tesco, Safeway and ASDA.
He moved back to Australia to take up a position as export manager at Kilcoy Pastoral Co, followed by a brief stint at South Burnett meatworks before it closed. He then joined the sales desk at Sanger, where he has spent the past seven years. He comes off a beef and sheep property in Molong in Central NSW.
In addition to China, Mr Sullivan has responsibilities for other emerging markets like Thailand, Singapore and Hong Kong.
The awards were presented by AWX director Cameron Dart, who said the objective was to attract the next generation into industry representative roles. The award was open to any AMIC financial member 35 years or younger, endorsed by their company.
The award includes travel to a key export market, spending a week with MLA personnel in their market of choice seeing how they operate and identifying market opportunities and challenges. On return to Australia the winners move onto the MLA Industry Task Force covering that market, as an AMIC representative.
"As a key sponsor during the conference and a leader in the development and management of workforce for the Australian meat industry, AWX was honoured to be involved the event and have committed to sponsoring the Future Industry Leader Award over the next three years," Mr Dart said.
Special recognition award
The Special Recognition award was made to two senior processing/export industry stakeholders last night.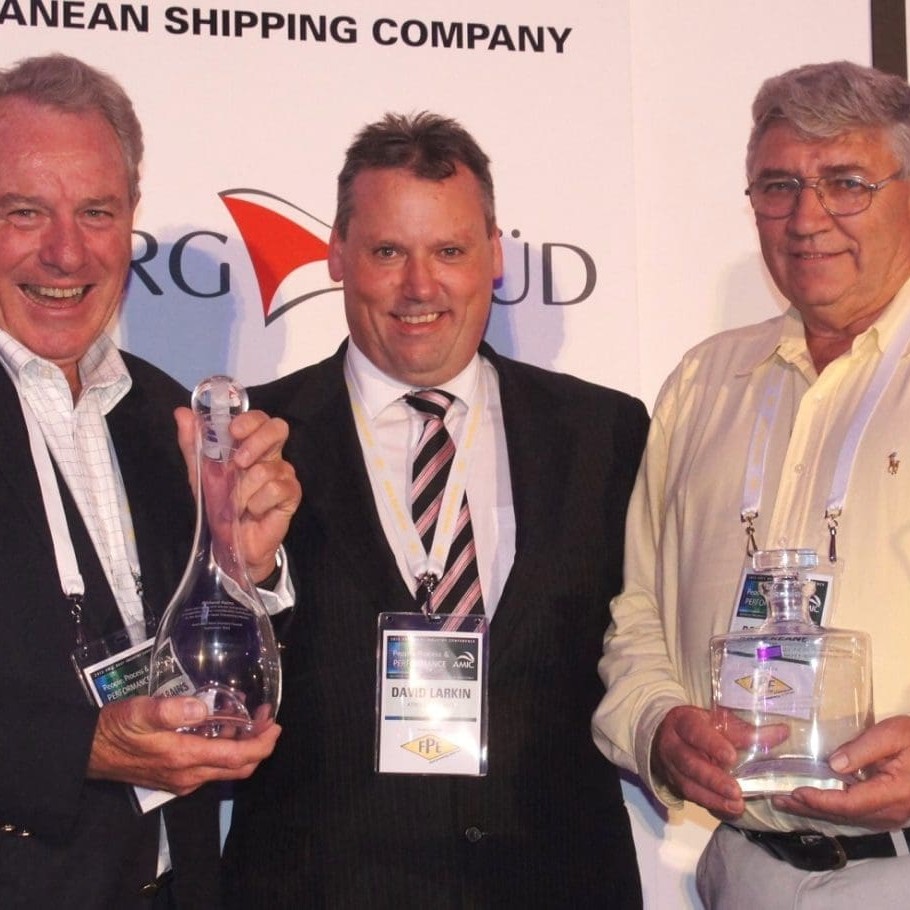 The first was made in absentia to former AMH chief executive, Peter White, whose award was collected on his behalf by Red Meat Advisory Council chairman Ross Keane. Mr Keane said Peter White was extremely humbled to be recognised by his peers with the award.
"Peter was a very strategic thinker, and a great mentor to many people across the industry," Mr Keane said.
The second award was made to former Sanger Australia chief executive, Richard Rains, who retired recently after a distinguished 40-year career in beef trading across the globe. Sanger is the nation's largest non-packer exporter.
Mr Rains joined Sanger Australia in 1976, later taking equity in the business and completing a buy-out of former owner John Cooper, with his long- term business partner Graham Greenhalgh.
During the late 1990s he convinced McDonalds North America that they should be using Australian beef in their North American burger patties, and was instrumental in establishing that grinding beef trade out of Australia, at a time when many in the industry thought it impossible.
Sanger has gone on to supply beef to McDonalds not only in the US, but also into Japan, Korea, Taiwan, China and across south east Asia, as well as domestically in Australia. Today Sanger represents a number of export processors including Bindaree and Monbeef with their export sales and marketing activities.
Sanger is also a pioneer and prominent processor/exporter and supplier to the Australian domestic market of Certified Organic beef and lamb under the Organic Meat Company label, processed out of the Stanbroke Grantham plant.
Cryovac AMIC Industry Study award
The Cryovac AMIC Industry Study award, presented by Cryovac's Richard Tomesevic, went to Teys Australia's respected plant engineer at Tamworth, Ross Shorrock. Collecting the award on his behalf was Teys Australia's Paul Day, pictured left with Cryovac's Richard Tomesevic and AMIC's David Larkin.
Intralox Excellence in Industry award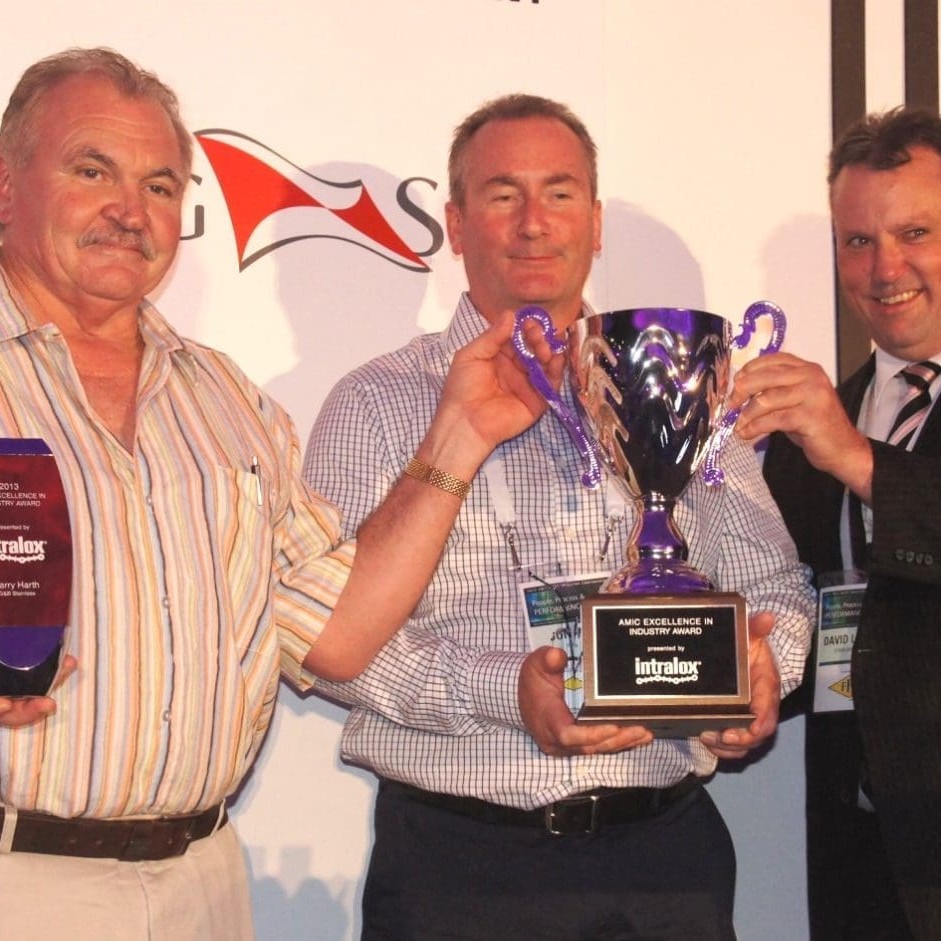 G&B Stainless managing director Barry Harth was awarded the Intralox Excellence in Industry award. His reputation as a 'problem solver' has led to his involvement in design and development of systems and technologies used in improving animal welfare and handling conditions across the beef and lamb processing industry.