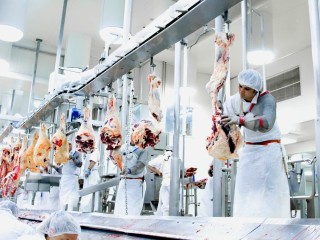 While it has not been a primary consideration since late 2010 in many areas, deteriorating seasonal conditions are again starting to exert a strong impact on beef processing patterns across Eastern Australia.
A lengthy list of industry stakeholders Beef Central has spoken to in recent days have noted the big surge in cattle movements over the past fortnight – both store and prime – as conditions rapidly dry off.
Large expanses of Eastern Australia are now getting desperate for a drink, with little sign of a spring break on the horizon. On top of a dry July, August rainfall in parts of southern Queensland was among the lowest on record, with a considerable number of centres recording nil precipitation.
As noted in Beef Central's coverage last week, the conditions have sparked a big correction in the Eastern Young Cattle Indicator, back yesterday to 358c, the lowest point in two years and an 8pc decline since the start of August.
The decision to offload cattle has put considerable price pressure on many market categories. Heavy steers in Queensland last week averaged 331¢/kg dressed weight – down 15c on the previous week. In the saleyards, grassfed bullocks at Dalby making well in the 190's a week earlier were selling at around180c/kg liveweight this week, depending on quality.
While current conditions are still a long-way off drought proportions, the drier spell has seen many producers adopting a defensive stance. Adding to that is the fact that many are in the process of herd rebuilding, and are carrying higher stock inventories than in earlier years.
Grid prices in both Queensland and southern markets have also come under considerable pressure as the supply base has grown.
Southeast Queensland grids among major processors including Nippon, Teys Australia and JBS have all came back 5c/kg across the board compared with last Tuesday's kill report.
Southern grids have taken an even larger correction, back 10-20c in many cases, although these were comparatively higher than Queensland's recent offer prices. Southern saleyards in some cases last week took a pounding, slumping +40-50c/kg liveweight in some categories starting late last week.
Some Southern Queensland processors spoken to yesterday said their kill schedules were now heavily booked two to three weeks out, with few larger roster spaces now available until early October.
Producers supplying southern Queensland plants this week can expect to receive public grid prices around 330-335c/kg on milk and two-tooth grassfed ox, 325-330c/kg on four-tooth ox, and 295-305c/kg for best cow. MSA grassfed steer were quoted to a top of around 350c.
The recent kick in the A$ back into the US105's from recently lows in the US102's is also exerting pressure on grid pricing, impacting on the price competitiveness of Australian beef in export markets. That could spark further grid adjustment in coming weeks.
Last week's Eastern States kill, as reported by the National Livestock Reporting Service, reached 132,342 head, a soft 1.5pc rise from a week earlier.
Queensland's kill reached 73, 296 head, up 2pc on the week previous, but still nowhere near what is regarded as 'full' kills for the state at this time of year above 75,000 head. Female portion of the kill again remained low, at just 28pc.
New South Wales also lifted 3pc to 32,502 head last week, up 4pc on this time last year, as dry conditions across many areas started to be reflected in processing activity.
Victoria was unchanged at 17,096 head, while South Australia's big rise of 13pc was partly attributed to the Adelaide show holiday last week, and the increasing flow of cattle out of Central and Northern Australia.
Tasmania was the big outlier last week, recording a 58pc drop due to a week-long seasonal maintenance closure at the HW Greenham Smithton plant. The permanent closure of JBS King Island announced last week will also leave a potential 150/week impression on Tasmanian kills for some time.
Export beef markets
As can be seen in Beef Central's 90 CL graph on the home page, imported beef prices in the US were generally lower last week, as US end-users continued to sit on the sidelines in the short term.
Higher slaughter in Australia, on the other hand, appeared to make a few more loads of grinding beef available and Australian exporters appeared willing to accept modestly lower bids despite a weaker US currency.
At the moment, all eyes are on the price of the benchmark US domestic 90CL fresh boneless beef price, which has defied expectations and continued to trade last week around US$2.15/lb.
Imported beef has tracked below domestic US 90CL beef price for much of the year but is still well above the levels established a year ago. Should domestic US lean beef prices decline in the short term, the expectation is that imported beef prices will track lower.
However US analyst Len Steiner, from Steiner Consulting, sees two problems with that assumption.
"First, will domestic prices fall enough to justify replacing imported loads in the formulation?" he asked.
Currently the spread between fresh domestic and imported frozen 90CL beef is about US10c/lb (A$21c/kg). If product will be used by plants near the west or east Coast, then domestic supply will have to incur between 8-12c/lb. Then there is the issue of frozen materials, as some end-users prefer to use some frozen product for temperature control in the heat-generating grinding process.
"In all, we're not convinced that domestic will fall enough to really have much of an impact on imported frozen 90CL values," Mr Steiner said last Thursday.
Secondly, the lack of LFTB was having a significant impact on the retail market for ground beef.
Retailers remain very aggressive in chasing lean grinding materials, especially given the very weak price of domestic US fat beef trimmings (below US50c/lb last week)
"End users are… justifiably expecting some weakness into October. We've seen prices follow this pattern in each of the last two years, but the lack of LFTB in the market skews these year-on-year comparisons," Mr Steiner said.
US cow slaughter rates continue to track well below year ago levels. Last week was forecast to be about 9pc lower than the same period in 2011. Seasonally there is some demand weakness for ground beef as retailers prepare for the holiday season.
Lower pork prices could have some marginal impact at the retail case but generally, with meat protein prices higher across the meat case, it is hard to make a case for a significant pullback in ground beef demand.
Food service demand, in Steiner Consulting's view, remains key and that portion of the demand clearly reflects the situation in the broader economy.
US employment growth has been anaemic, and this was reflected in recent disappointing restaurant performance numbers.
"We think this represents probably the more significant downside risk for the market for lean grinding beef going into 2013," Mr Steiner said.