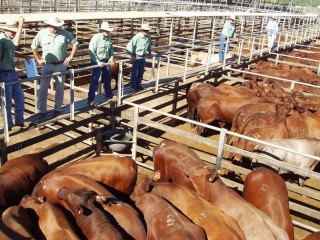 The magnificent once-in-a-lifetime season in the western Channel Country has been translated into scale-busting carcase performance in export meatworks in South Australia and Queensland recently.
The first of this season's Channel Country bullock turnoff started to arrive at processing plants last month amid high expectation, and the buyers were not disappointed.
"Not only are they carrying huge weights – some entire consignments have averaged 400kg dressed weight – the pleasing aspect is that they are all very young cattle. They are showing incredible weight for age," said Teys general manager livestock, Geoff Teys last night.
In some isolated cases among this season's Channel Country four-tooth bullocks, they are in fact attracting a penalty for being above the normal 300-420kg carcase weight range seen in heavy grassfed slaughter cattle. That's virtually unheard of in normal Australian meat processing operations, apart from old full-mouth ox.
"I hate to think how heavy the six and eight-tooth bullocks will be when they hit the scene later this year," Mr Teys said.
In a good year, Far Western Queensland's Channel Country is regarded as one of the world's truly great cattle-fattening resources, along with the Argentine Pampas and Brazil's Mato Grosso.
On Monday and Tuesday this week, Teys Beenleigh was working its way through a mob of 400 milk and two-tooth Glengyle composite steers, carrying exceptional weight, consigned through S. Kidman and Co.
"We think we will potentially see Channel cattle like this right through until late November this year," Mr Teys said. "It's as good a run of grassfed cattle as I have ever experienced in my lifetime in the industry," he said.
Reflecting badly on the decline in Queensland Rail livestock services, every beast killed out of the Channels this year has arrived by road – further compounding damage to Queensland's already disastrously damaged and over-worked post-flood road network. QR will no longer accept liability, in the event of a derailment or an accident, making rail freight unacceptably high risk to processors, Mr Teys said.
S. Kidman & Co managing director Greg Campbell said the company's early 2011 steers harvested from massive Channel Country properties like Glengyle, Morney Plains, Nappa Merrie and Durham Downs had averaged well over 370kg carcase weight, with plenty of individuals topping the 400kg barrier. Most are four teeth, with a few older types. Even the two-tooth steers are still dressing 330kg or thereabouts.
The main peak of Kidman's turnoff will still be in Spring, but the company normally tries to get the first of the consignments moving by May, barring a late wet, Mr Campbell said.
Kidman is likely to consign close to 30,000 steers out of the region this year. To put that into some perspective, it will represent almost 20,000 tonnes of beef, liveweight, from a single vendor.
Grainfed-like carcase quality
One of the remarkable aspects in carcase performance out of the region this year has been the whiteness of fat colour and abundance of marbling. As the accompanying photo shows, the cryovac ribs look like they have come from a 150-day grainfed beast, not one finished on native sorghum, clover and herbage in the Channels. Putting a grassfed AusMeat cipher on product like this does not do it justice.
It begs the question: why can't the industry develop a seasonal brand program, "Channel Country Beef" for use by all stakeholders, to celebrate such an occurance, or even on an annual basis?
Because of their location at the junction of Qld, NSW and SA, Kidman properties have the luxury of shifting cattle East, back into southern Queensland plants, or southwest to Naracoorte. While a slight freight disadvantage applies, just recently the price incentive has been strong enough to send bullocks back into SA, for slaughter at Teys Naracoorte. Back in April, however, the pendulum swung the other way, and the early cattle headed east.
The rapid drop in East Coast grassfed ox grids in early May was the catalyst for the move back to SA supply for the company, with prices falling 40c/kg dressed weight in a fortnight. The followed the big rise on the A$, roads drying-out allowing more cattle to hit the market, and the crisis in Japan.
Three-cornered contest
Mr Campbell said from a livestock competition standpoint, it was good to see Nippon Meat Packers' Oakey plant operating strongly in the market, providing a third significant processing option for Channel Country bullocks. Historically, it has been a two-cornered contest between JBS and Teys.
Nippon was so impressed with the dressing percentage it achieved on a couple of hundred Kidman bullocks it bought through Roma saleyards recently, that it came back with an undertaking to buy on a grid basis, Mr Campbell said. Sir Sidney would be pleased.
Quilpie-based livestock agent Tony Lilburne from Grant Daniel Long quipped that the channel country bullocks were weighing so much this year "it's a wonder they can load them on the top deck".
He said that even the country east of the channels around Quilpie was looking a picture and brimming with feed this year.
"It is the best it is has looked for 30 or 40 years," he said. "The cattle coming off this country at Quilpie have been amazing. There are no claypans showing, it's just all grass."
* Click on the small photo images below for a good look at Kidman's Morney Plains bullocks sold recently through Roma saleyards; a vac-packed rib sample displaying grainfed-like fat colour; and part of the run of flatback Glengyles being processed at Beenleigh yesterday.
* Go to Markets section for a comprehensive listing of NLRS saleyard reports, uploaded within hours of completion of each sale.