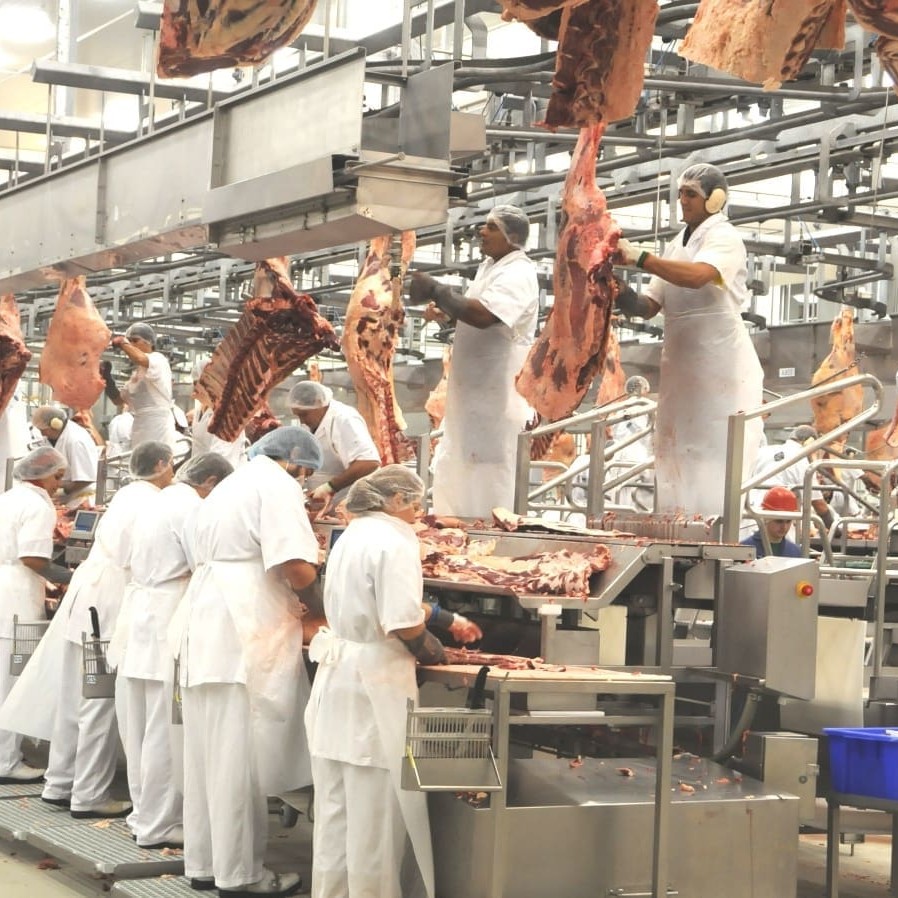 Another Eastern States kill record was set last week, as supply pressure from very dry to severely droughted western areas of Queensland, NSW and Victoria continues to challenge the processing sector's capacity to slaughter cattle.
The National Livestock Reporting Service logged an Eastern States kill for the seven days ended Saturday of 155,935 head, the biggest number seen since this data-set was established back in July, 1998.
The figure is up about 700 on the previous record set in late March.
While Queensland's result was boosted by the return to work last week of the Kilcoy Pastoral Co export shed after its scheduled seasonal break, the state's kill figure of 81,500 fell just a little short of the late-March record of 82,800.
If anything, it was the size of kills in southern states that helped deliver the outright record for Eastern Australia last week. The absence of an autumn seasonal break across western regions of NSW and Victoria has prompted more producers to offload numbers, producing an accumulation on top of already very large Queensland kills.
Roughly east of the Newell Highway in NSW and the Hume in Victoria are still in reasonable condition, but areas west of there are in bad shape, and getting worse, local sources say.
In NSW, last week's kill at 37,432 head was 3pc higher than the previous week, and a whopping 37pc higher than the same week last year, when weather was disrupting supply.
It was a similar story in Victoria, where the NLRS kill last week also lifted 3pc from a week earlier to 23,785 head – 55pc higher than a year ago.
South Australia was 50pc higher than last year's equivalent weekly kill at 8577 head, while Tasmania was +44pc at4690 head.
Processing plants nationally will skip a day's kill this Thursday, due to ANZAC Day, which will put a hole in the current week's kill – but there are few disruptions then until the June 10 Queen's Birthday holiday, meaning some big kills inevitably lie ahead.
Southeast Queensland processor grids have remained unchanged to 5c cheaper this week, across most categories, but there is still a big gap evident between direct consignment rates and saleyard rates for the same cattle. Best cows are currently finding 260c on public southeast Queensland grids, and 300c the four-tooth grassfed ox. Equivalent cows have struggled to make 210-220c in some saleyards recently.
Female kill stays historically high
As highlighted in last week's kill report, rates of female kill have again provided a strong indicator of the serious state of seasonal conditions.
Queensland's female kill at 34,326, represented 42pc of the state's total, while for the second consecutive week, NSW recorded almost 51pc of its weekly kill as females.
Despite the heavy pressure on kills, there are still slots available in some Southeast Queensland plants for the week commencing May 6. While they may not be able to accommodate extreme large runs of cattle, reasonable sized consignments should be able to find a home during May and June, some processors told Beef Central yesterday.
Are processors the big winners?
Despite the savage declines seen in livestock prices over the past six weeks, in Beef Central's opinion this has not translated into a bonanza for processors, in terms of margin.
While typical export processor margins weren't bad prior to Easter, contacts say there has been a gradual erosion in export beef values to most significant markets since, and the general high value of the A$ (albeit falling into the US 102s over the past few days) has meant there is no great profit opportunity for processors under current conditions. In Japan, the A$ worth around 84 Yen two months ago was this morning trading at 102 Yen, and as high as 104 yen recently.
"It's a situation where there is no great joy for either the production or processing sectors," one export trade contact said. One large processor went so far as to say there were signs of 'opportunism' amongst importer customers, fully aware that Australia has an abundance of beef to sell under the current circumstances.
Graphically illustrating the sheer magnitude of the current liquidation cycle, one southern Australian processor on Friday took a single booking for a one-brand consignment of 167 decks of cows, out of the Northern Territory.
To put that into some context, the 3500 head involved will occupy more than two days' kill at the plant. Those cows would have $200 freight on their backs, and given a likely over-the-hooks value of around $480/head at current rates, that's leaving a net profit after freight of around $280.
Beef Central has heard of some recent slaughter sale outcomes considerably worse than that.
Roma's store sale today was drawing for about 12,500 head, right up there with some of the biggest yardings seen before Easter. This week saw the EYCI fall below 310¢/kg for the first time since early January 2010.
Wholesale market still remarkably resilient
One of the surprising outcomes from the current sequence of extreme high kills is the lack of real impact so far on the wholesale meat market. That suggests export markets have been found for the growing supply of beef, if at a price sacrifice.
"But there's nothing to say these kills won't stay where they currently are, and that could make life very difficult for the domestic wholesale trade going forward," a reliable wholesale market contact said yesterday.
"You'd be a game man to get too far forward buying meat in the current environment," he said. "Nobody wants to be out of the market by 30, 40 or 50c/kg, which could happen very suddenly given the current supply pressure. So most traders, wholesalers and customers are very current."
With the onset of cooler weather, grilling cuts would likely soon become harder to shift, making the challenge even harder, should stockpiles begin to grow on the domestic trade.
"Big supermarkets look like staying aggressive on beef cuts, which may in fact help the whole market clear the beef backlog, but price could suffer," the contact said.
One unusual factor at the moment was that a lot of Australian table meat was currently being shipped to New Zealand. While the big drought across NZ, and particularly the North Island, had seen massive slaughter cattle turnoff, this was mostly cows and manufacturing lines, and as a result there was a shortage of good table meat in NZ at present, particularly loin cuts, which was helping soak-up Australia's surplus just a little.
"Obviously prices into export markets are below what we were getting, but you have to keep moving it, because the meat will keep coming," the trade contact said.