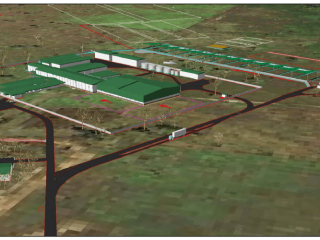 It may not be on the official agenda, but one of the key talking points when producers gather in Darwin for tomorrow's Northern Territory Cattlemen's Association annual conference is likely to surround whether AA Co will receive the Government funding support it needs to progress with its planned $80m northern abattoir.
The timing is all pointing to an announcement either way in the next day or two, particularly after the AA Co board publicly nominated March 31 (this Saturday) as the deadline for a funding answer so it can decide on the project's future.
AA Co says it has $80m ready to spend on the project, which will create 270 permanent jobs and will have the capacity to process up to 1000 northern cattle a day.
However, the major capital investment is contingent on the capacity and willingness of the Northern Territory and Federal Governments to bring forward $36 million worth of planned highway and port upgrades, which are essential for the project's viability.
With the deadline looming the rumour mill has been in overdrive in the past 24 hours that funding is close to being signed, sealed and delivered.
However if that is true the key parties are not letting on, with the Federal Government remaining typically tight lipped, and AA Co also dismissing any speculation that a deal may have been done.
It is also important to note that the project is still yet to receive environmental approval from the NT Government. While that decision is expected any day, any public announcement relating to funding for associated infrastructure would be highly unlikely before that process has been completed.
AA Co General Manager, Northern Australia Beef, Stu Cruden, said AA Co was in "positive talks" with the Government, and that the Government was aware of the time frame set by the AA Co board so it can make an investment decision.
However, he said there had been no formal indication either way as to whether Government support would be forthcoming.
"I can tell you that we have not heard from the Government (about funding), we are expecting to hear in the next couple of days," Mr Cruden said.
"They have been working with us.
"But we haven't had any indication whatsoever on how or what that funding, if it comes forward, will look like."
Mr Cruden said the reason for the March 31 deadline was based on the time that had already passed to date.
"This project has been going for about two years," he said.
"The board has always made it clear that we would need infrastructure support to make this project work.
"Even if we had the money, we can't do any work on the Stuart Highway, or invest in the port.
"So from a board point of view, really they are just saying that at some stage we need to put a line in the sand and ascertain, is there the opportunity to build in the Northern Territory, and if there is not, then what are the options.
"The other reason they put this deadline in place is that we're about to move out of the wet season and head into the dry season, and for this to be successful we need to be constructing during that dry season, otherwise we lose another year."
He said that a lot of the infrastructure the company was asking for had been budgeted by both levels of Government for completion over the next five to seven years.
"What we're asking them to do is to bring it forward to fit the project's timelines, it does not all need to be signed off on day one," Mr Cruden said.