ONE of the most common questions Resource Consulting Services (RCS) general manager David McLean says he hears from young people in agriculture is this: with the price of land as high as it is, how do I actually make a start?
RCS, based in Yeppoon, has been a leading provider of livestock and business management training and professional development for farming families and ag corporates across Australia for more than three decades.
Over that time it has gained many evidence-based insights into what it takes to run successful rural enterprises and how to help rural families to achieve their goals.
At the Young Beef Producers Forum in Roma on Friday, Mr McLean, who grew up in a family farming operation down the road near Mitchell, outlined five basic steps for young producers to make a start in ag, and how to progress in business.
It was one of several speeches at the forum that reinforced the importance of investing in knowledge, and in particular gaining financial literacy skills, to ensure young producers are well-positioned to capitalise on future opportunities that arise.
Mr McLean emphasised to the more than 200 young cattle producers from around Australia that the secret to success lies in being prepared.
There was a big difference between 'being lucky', and having put yourself in a position, through good preparation and investment in knowledge and skills, to take advantage of 'luck' when an opportunity arrives.
STEP 1: KNOW YOUR GOALS
The most important first step is to have a clear goal on where you are heading when you start.
This step might easily be dismissed as trivial, but it is absolutely vital to the big picture.
If you don't set a clear goal at the start, you're effectively approaching life like someone 'throwing darts in a pub at three in the morning while blindfolded': you're throwing darts everywhere, and few, if any, are actually hitting the target.
It is not just about being busy. It is about making sure everything you do is aimed towards a clear, clarified purpose as you go forward, Mr McLean said.
"For us in the consulting trade, the biggest thing that we have to spend our time doing isn't teaching people how to set up a grazing system or analyse a business or how to communicate.
'Action without vision is just passing time'
"It is actually helping people to know really, truly what they want to get out of life and where they want to go.
"If you don't know what you are aiming for, and you can't see what you're aiming for, it doesn't really matter where you throw the darts does it?"
Despite the simplicity and importance of this message, Mr McLean said most young producers he encounters do not have a clear vision on where they are going or what they want to achieve.
If you want to own your own property or get a start in ag, a clear starting point is to clarify what you want – do you want to run a cattle, sheep or cropping property? Where? How big? How small? Do you want to employ people?
Or, as he suggests, take Nelson Mandela's word for it: "Action without vision is just passing time".
STEP 2: FINANCIAL DISCIPLINE
If you are going to be in a position where you can actually take advantage of opportunities that come up, you're clearly going to need money.
This involves two things: control and discipline.
Control is about having a budget and monitoring where your money is going.
Whether you already own your own business or are a wage-earning employee, this is equally important to everyone.
A budget is just putting on paper what you intend to do.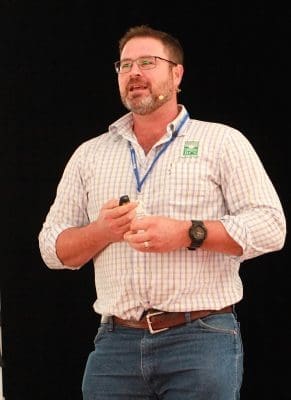 "If you don't think about what it looks like on paper, how do you know what it looks like?" Mr McLean said. If it doesn't work on paper, it has little chance of working in reality.
"Have a budget and monitor against it, it doesn't matter what circumstances we are in, we need money to survive.
"You don't need expensive accounting programs. Most of you have all you need to do a budget on your phones now. You just need to start."
Discipline is about actually knowing how much money you have, and saving.
The best way to save money is by not spending it.
20 plus years of benchmarking work by RCS shows that as the price of beef increases, the cost of production quickly increases behind it, eroding profit margins.
"Our benchmarking that has just come in for the 2016-17 financial year shows that for the average producer in northern Australia, even though the average price received was $3.14/kg for beef, the expense ratio (which is basically how much you spend compared to how much you earn) is at 99pc again.
"So we have just received the highest figure we have seen in beef prices but we're spending it all.
"There is no fat in the system for cattle prices to drop.
"If we take this back to those who want to get going in a business, if you don't save 10 percent minimum of what you are earning now, how are you ever going to be in a position to invest in a business to actually buy that first mob of cattle, or to get that loan on that block of land that comes up?"
Another key aspect of financial discipline is to pay yourself first.
"This is a really powerful one," Mr McLean said. "If you don't pay yourself first, there is never going to be anything left, there are always things you can spend money on, there are always plenty of things you can go and do, the problem is that as people's income rises, their cost of living and cost of production usually rises to match the income." (Another tip Mr McLean offers here: read "The Richest Man in Babylon" – a short book that teaches simple lessons in financial wisdom and the importance of paying yourself first, told through a collection of parables set in ancient Babylon).
STEP 3: INCREASE YOUR NET WEALTH EVERY YEAR
Know what your balance sheet looks like, monitor it, and really focus on increasing your net worth, or your equity, year on year on year.
"If you have no equity now and you take it to $5000 in 12 months time then you are growing," Mr McLean said.
He showed the cartoon below, a very simple take on net wealth: everyone in the picture has a debt of some kind apart from the homeless man who has received $2.73 in donations – and who has perhaps the highest net wealth of anyone in the picture: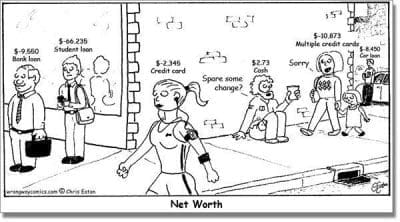 "Really be careful about your net wealth and where you are spending it," Mr McLean said.
"If you are going to spend all of your money buying assets that are going to depreciate and cost you money, is that going to get you where you want to go?"
STEP 4: INCREASE YOUR KNOWLEDGE AND SKILLS
Again this sounds like pretty basic advice, but how many people are actually doing it?
Ask anyone above the age of 40 and they'll tell you the years only seem to rush by faster and faster the older you get. "If you don't actually make a conscious effort to increase your knowledge and skills, you will get another year down the track and be no better off. You have got to focus on this.
'Investment in knowledge always pays the best interest'
Benjamin Franklin said "investment in knowledge always pays the best interest".
"You need to focus on knowledge and skills in production, it is about how you maximise the beef production you are getting off your land."
Key areas of knowledge producers need to be working on include production systems (reproduction, nutrition, genetics, stock handling), business management skills (budgeting, monitoring, discipline, analysis), land management skills (soil health, grazing management, feed budgeting, nutrition analysis, property development), and people management.
Mr McLean said learning how to feed budget was a critically important skill for grassfed cattle producers to learn. They are, after all, in the business of growing grass – without which they cannot produce a single kilo of beef.
"Learning how to feed budget was the single most valuable tool that I learned, it is worth millions of dollars. So please get those skills, it is very powerful, because if you get it wrong, it is going to cost you millions of dollars."
STEP 5: CONTINUALLY FOCUS ON WHAT IT IS YOU WANT
Tying back in with the first step is to continue to focus on where you want to go, to keep working towards your goals and tracking your progress.
A Steve Jobs quote reinforced this point: "If you are working at something exciting that you really care about, you don't have to be pushed, vision pulls you."
"Know your goal, know where you are headed, if you don't know where you are headed, you will follow any old track," Mr McLean said.
"Be disciplined with your finances, know where they are coming from, know where they are going, and increase your net worth every year.
"If you set that as your goal, you put a dollar figure on that, you will be amazed at what you can achieve."