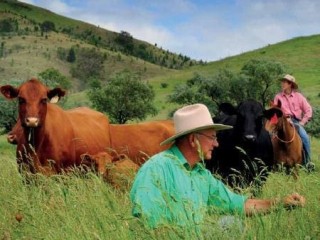 For the first three months of 2011 the seasonal and market stars all seemed to have aligned for the Australian beef industry.
A widespread break in the season in many areas, historically high beef prices and an outlook buoyed by growing consumer demand in a diverse range of markets presented a welcome turnaround from the run of dry years and global economic uncertainty that went before.
But as anyone with even a short history in agriculture knows, good times are never to be taken for granted.
As Meat and Livestock Australia chairman Don Heatley reflects in Meat and Livestock Australia's 2010-11 annual report released this week, a series of natural and man-made disasters quickly took the wind from the industry's sails.
The March 11 earthquake and tsunami in Japan had a devastating impact on a nation that accounts for 23pc of Australia's beef production. At the same time demand in US, Europe and the Australian domestic market retreated as consumer confidence was shaken by fears of a return to global economic recession.
To compound those challenges, the Australia dollar soared above parity against its US counterpart and stayed there, eroding the important price-advantage Australian beef has long-enjoyed in key export markets. Wild daily fluctuations have also made life extremely difficult for exporters.
Then it was not so much wind taken from sails but anchors dropped on ships that added a further blow to the industry when exports to Indonesia, Australia's largest market for live cattle, were halted on animal welfare grounds from June to August.
Despite those challenges, the news was not all bad in 2010-2011.
Favourable seasons contributed to an increase in beef production to 2.13 million tonnes carcase weight.
Average profitability of cattle enterprises improved in line with the good season (with the obvious exception of those directly affected by the Indonesian export ban), despite increased input costs.
Annual beef exports rose by 4.1pc to reach 937,000 tonnes shipped weight, highlighting the benefits of work by export processors and industry bodies such as MLA to diversify export markets.
With traditional key markets of Japan and US subdued, emerging markets such as South East Asia, China, Russia and the Middle East accounted for a record of more than 30pc total beef shipments for the year.
Domestically 742,230t of beef were consumed, a decrease of 3.4pc, which reflected the increased demand from export markets which left less supply for domestic consumption.
Mr Heatley, who retires from the MLA board at its annual general meeting in Longreach later this month, pointed to reasons for optimism ahead.
The Australian red meat industry was ideally placed to take advantage of rising demand for protein in the emerging economies of Asia.
While the live export ban had been difficult, Mr Heatley said it had provided the impetus for the trade to improve its welfare credentials which in turn would help to increase community trust in the industry.
"Producers should look beyond short-term volatility towards the fundamental trends and opportunities underlying our industry," Mr Heatley said.
"MLAs work in building demand, productivity, and trust for the red meat and livestock industry can provide you with the tools to identify and take advantage of these opportunities into the future. "
Meat and Livestock Australia 's 2010-11 annual report can be viewed by clicking here
MLA's annual report for 2010-11 by the numbers:
MLA completed 2010-11 with a surplus of $900,000.
Expenditure decreased by 2.5pc to $166.5 million.
Revenue decreased by $2.6m to $167.4m.
.$76.1m was spent on Research and Development and $90.4m on marketing programs.
Income from levies decreased marginally to $96.1m.
The $A appreciated by 18pc during the financial year against the US dollar to rise to $1.09 in May, and $1.06 at the end of June
Producer levies made up 57pc of MLA's total revenue.
MLA has 47,500 beef, sheepmeat and goatmeat producer members in 2010-11.
Grassfed cattle producers remain the single largest contributor of transaction levies to Meat and Livestock Australia, accounting for $56,191,000 of MLA's transaction levy funds or 58pc.
Lambs account for $28,683,000 or 29pc of transaction levy funds, followed by grainfed cattle with $8,469,000 (9pc), sheep $2,144,000 (2pc) and goats $616,000 (<1pc).
Other revenue sources included Government $40.3m, R&D partnerships $10.4m, processor contributions $8,980,000. Live exporter contributions totalled $2,167,000.