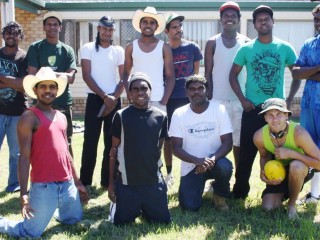 Twelve indigenous northern Australian youths taking part in the "Boys from the Bush" program are being given a helping hand by the NSW Department of Primary Industries (NSW DPI) Murrumbidgee Rural Studies Centre at Yanco.
Murrumbidgee Rural Studies Centre manager, John Collins, said he had responded to a request to provide accommodation for a year at the centre, while the young men spend 12 months working in the region to gather qualifications in the Riverina beef industry.
Six young women, who are also involved in the program, are being billeted out to various households in Leeton and Narrandera.
"These young people, aged between 15-18 years, who started work earlier in the year at JBS Australia?s Riverina Beef feedlot and abattoirs near Yanco, are undertaking training and assessment in a number of appropriate vocational qualifications," Mr Collins said.
"Once the youths are established in their work routine, the centre will be helping with language, literacy and numeracy skills, and at the end of the year participants will be eligible to gain a certificate in their relevant work field."
The Boys from the Bush organisation, founded by Milton James, is committed to addressing systemic disadvantage through helping to close the gap for indigenous Australians.
The organisation believes the best way to help these young people is to offer them an immediate employment opportunity, physical and social mobility, and engagement in mainstream social structures and social systems.
The program, in its second year in the Riverina, has been funded by the Federal Department Employment, Education and Workplace Relations.
Mr Collins said this year was the first time the Murrumbidgee Rural Studies Centre has been involved in the program and he was looking forward to a long and fruitful relationship.
"We have wonderful facilities at Yanco, which are ideally suited to working in partnership with industry on such programs as Boys from the Bush," he said.
"I think it is a marvellous program because it helps alleviate the skills shortage in rural industries, while at the same time makes a real impact on the gap between indigenous people and the wider Australian community, in terms of employment status, health and education."
Niel Erasmus, Human Resources Manager with Riverina Beef, said he welcomed Murrumbidgee Rural Studies Centre?s involvement in the Boys from the Bush program.
"The boys and girls from the program are hard workers and we value them, and we are delighted to be able to assist such a worthwhile program," he said.
Source: NSW DPI