PICTURE a stadium the size of the Sydney Olympic Park surrounded by buildings almost as big and carparks full of "dually" trucks and you will get an idea about the size of operations at the Houston Livestock Show and Rodeo (HLSR).
The Texas city, which is fourth largest in the United States, opens its main sporting facility, NRG Park or the Astrodome, each year for the largest livestock show in the world.
Houston Livestock Show is set to be one of the main events on Beef Central's Texas study tour next February, with the corresponding International Livestock Congress expecting to hear from former Rabobank and now American AgCredit analyst Don Close, Tyson Foods sustainable foods director Justin Ransom and professors from the well regarded Colorado State and Texas A & M Universities.
The tour will also visit the historic Fort Worth stockyards district for the Texas Longhorn cattle drive, the Texas Cattle Feeders Association and several renowned commercial and stud breeders.
Over three weeks, the Houston Livestock Show hosts about two million people and 7,000 head of cattle – mostly drawn from Texas and surrounding states, with some from South America and northern parts of the US. To compare, the triennial Beef Australia in Rockhampton broke records last year with 115,000 attendees and hosted almost 5,000 head.
The 2022 HLSR was the first time the event was held in three years, with the onset of COVID 19 pandemic stopping the show halfway through the 2020 event and 2021 cancelled due to the Delta outbreak.
Aside from the rodeo, which is main event, the show hosts cattle judging, auctions and a led steer competition that last year saw the winning animal sold for US$1 million.
Rodeo on another scale
While the livestock show is impressive, the rodeo is main attraction – with the best riders in the US competing for more than $2 million in prize money. It also runs for three weeks and attracts some of the world's biggest performers for the after-show entertainment – Keith Urban, Ricky Martin and George Strait this year.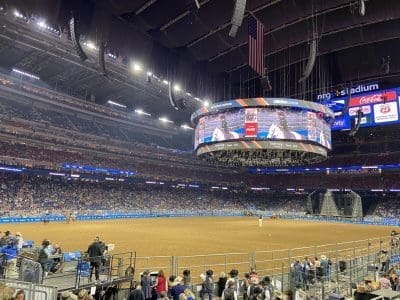 Fans cram into NRG park, which is right beside Houston's Astrodome and has a capacity of 80,000 people.
The retractable roof stadium is the home of the Houston Texans NFL team and opens itself for some major college football tournaments.
The floor is said to be retractable and can be taken outside in 8-foot by 8-foot trays. This allows it to be interchangeable for different sports – the NFL turf can be taken out for the dirt rodeo floor, which still has another week of fierce competition.
More stories from the states
Earlier this year, Beef Central sent Eric Barker to the Houston Livestock Show and International Livestock Congress. Here are some of his stories:
Register for the tour here