A lot feeder and engineer working in the heart of one of Australia's most intensively developed coal seam gas areas is calling for more extracted groundwater to be given to the livestock industry.
Max Winders is a Brisbane-based private engineering consultant and the owner of the Wambo Feedlot near Dalby.
He believes there is a lack of equity in the constraints the Government has placed on the livestock industry's use of groundwater in the Surat Basin of Southern Queensland, and the relatively unrestrained access that the Coal Seam Gas industry has been given to extract from the same resource.
He said the livestock industry produced significant levels of economic production per megalitre of water. A 2007 ACIL Tasman study showed that coal mining generated $86,000/ML of value per megalitre of water used; electricity and gas production $52,000/ML and cotton farming $500/ML. By comparison, he has calculated the production from intensive livestock production (feedlots) to be $54,000/ML, while that from dryland grazing approximates $20,000/ML.
Despite the value produced from each megalitre of water by the livestock industry, hundreds and possibly thousands of stockwater bores are set to be negatively impacted by the CSG industry as it extracts in excess of 100,000 megalitres from the Surat Basin every year.
CSG production involves pumping pressurised water out of coal seams to allow trapped gases to flow to the surface for collection. Most produced water is stored and ultimately evaporated in holding ponds, with some water re-injected back into coal seams or treated and onsold to paying customers, where treatment infrastructure is in place.
Landholders are concerned that the large-scale extraction of water can depressurise, drain and/or contaminate connected freshwater aquifers which are currently relied upon for water by the livestock and farming industries and by rural communities.
A Queensland Water Commission study released earlier this year revealed that a multitude of grazing bores within a 250km footprint from Roma to Cecil Plains are likely to drop by at least five metres in the next five to 10 years as a result of CSG industry drawdowns.
Another independently prepared report, commissioned by Arrow Energy, suggested the losses would be even greater – well beyond 100 metres for individual bores in the same region.
Property owners have been told not to fear because Queensland state legislation requires gas companies to 'make good' any losses caused to water infrastructure by gas extraction.
In practice the onus will still be on landholders to produce the definitive evidence required to prove CSG activity is responsible for future bore impacts, which may not be easy against well-resourced legal teams acting for gas companies, regardless of how obvious the link between bore losses and CSG production might seem at face value.
Water return
Mr Winders believes there is a simple solution to the water problem.
He wants to see legislation changed to require CSG companies to hand treated water back to local landholders in accordance with recognised water cost structures.
He said the value of water used by livestock production is far greater than it would cost the coal seam gas industry to treat and deliver water back to landholders. He also believes that this is a cost the gas industry could and should bear.
He says giving producers access to produced water or, where required, treated CSG water would provide long-term water security to local landholders instead of insecurity and uncertainty, and would potentially improve the values of properties in close proximity to CSG extraction, rather than diminishing it.
"If treated water could be offered to affected landholders and communities it would serve as partial compensation for the industry's impacts," Mr Winders said.
Mr Winders is hoping the various sectors of the beef industry – graziers, lot feeders, processors and retailers – will support moves to change legislation surrounding how CSG companies manage and dispose of produced water.
He also believes the Queensland Government should develop a business plan for managing the treatment of CSG water for beneficial re-use in the wider Surat Basin community, as well as to the licensees of existing bores.
Mr Winders said every megalitre of groundwater can provide water for 20,000 head days, or about 60 cattle for a year.
"If there were only 200 head in paddocks served by one windmill or bore and the bore became dry, then the grazier would lose $216 per day or $78,840 each year of gross income, and what would be the value of those paddocks then?
"No grazier should be exposed to this risk, nor should the community lose this amount of production.
"I think that making good is something that should be overseen by the Government, and not at the discretion of gas companies, and we need legislation to make it happen."
Pilot treatment project at feedlot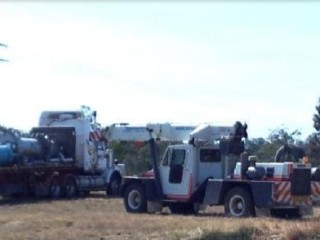 At his Wambo Feedlot, the water level of the main bore has already dropped by 8m since CSG production began at the nearby Daandine gas field.
Mr Winders is currently trialling a small but production-scale treatment plant at the feedlot, which can take water produced by Arrow Energy's nearby gas fields, with total dissolved solids (TDS) of about 5000 mg/litre, and use ion exchange processes to produce water with a TDS of around 1500 mg/L – suitable for irrigation and livestock. The process can also produce by-products from the waste of further value, such as liquid gypsum and commercial grades of salt.
The system is designed to recover more than 90pc of the untreated water and to deliver it into the Wambo feedlot supply dam for use in watering the facility's 8000 cattle, as well as in augmenting the effluent irrigation system in its backgrounding paddocks.
If the pilot project at Wambo works, Mr Winders would like to see a series of larger desalination plants constructed and operated by approved water service providers to deliver treated water to local farmers, graziers, industries and communities through a local water grid.
He said that managing water was a costly and logistically-difficult process for CSG companies, involving transportation of produced water in bulk to centralised holding ponds and subsequent treatment in large reverse-osmosis treatment plants.
A 2009 study carried out for the Queensland Government on the viability of the LNG industry showed that water treatment to urban quality standard and delivery to a point 150km away would cost less than 10pc of the cost of production of CSG at the well-head.
In Mr Winders' view gas companies could benefit and save costs by outsourcing treatment of extracted water to government approved water service providers operating local desalination plants, which in turn made treated water available to nearby landholders and farmers.
"The aim of the pilot plant is to show that such a process can produce agricultural-quality water and to provide financial data for a business model to support the financing of future water service providing projects," Mr Winders said.